Biology Major: Bachelor of Science Degree in Biology

Majoring in biology is the perfect preparation for graduate school, medical school, veterinary school, or dental school. After grad school, many GMercyU biology alumni continue on to exciting research positions within an industry, a research hospital, or academia. That's why research experience is a requirement for biology majors.

Your degree can also lead to direct entry into a well-paid, in-demand career in the sciences. Many GMercyU biology alumni have launched successful careers in the local pharmaceutical industry hub.

Love science but unsure what career path to pursue? Our program will help you discover the right one for you.
Program Overview
GMercyU's Biology program features an emphasis on molecular and cellular biology, genetics, and biochemistry. When you complete the program, you'll automatically earn a minor in chemistry with your degree.
The program offers training in modern laboratory skills using current technology that is applicable to graduate research and is in demand by biotechnology and pharmaceutical companies. All Biology majors must complete a research experience, giving you the practical, hands-on experiential training that's critical for your future career or graduate study.
Careers in the sciences are essentially recession-proof. There is always a need for innovation and progress. 

—Michelle McEliece, PhD, Program Coordinator
Program Degree Options
As a Biology major, you could choose one of these specific paths if they suit your career goals. 
Prepare for a career as a physician, veterinarian, and more
At GMercyU, we offer a pathway to help you achieve your pre-professional goals, whether it's medical school, veterinary school, dental school, or other health professional programs! The biology program ensures you'll take the courses you need to enable you to apply to professional programs.
With a dedicated Pre-Professional Advising Office, supportive faculty members, and a curriculum rich in molecular and cellular biology and biochemistry, you'll develop all the skills you need to jumpstart your career in the medical field. Read more about the Pathway to the Professions and learn about GMercyU's pre-med requirements, courses, and career outcomes of our pre-med biology students.
Earn a biology degree and master's degree in education in just five years

Want to teach biology in a secondary school setting? With this unique 4+1 MsEd degree option, you can take graduate level courses during your senior year– as part of your undergraduate tuition. This prepares you for your fifth year, where you will complete your MsEd degree with online courses and a student teaching requirement. This degree offers a path to certification.

*Certification: This program was designed to meet the certification requirements of the Commonwealth of Pennsylvania. If you reside in a different state, you should carefully review your home state's certification requirements prior to enrolling in this program.
Earn a Two-Year Degree in Natural Science

The Natural Science degree is a two-year program designed for students wishing to gain a foundation in scientific theory and practice. Students who earn their Associate of Science Degree will qualify for entry-level employment or continued education toward the baccalaureate degree. The degree is ideal for part-time students already working in the science field who are looking to advance in their current position. The program is closely aligned with the first two years of the Bachelor of Science Degree in Biology, making the transition from the AS to BS degree seamless.
Program Details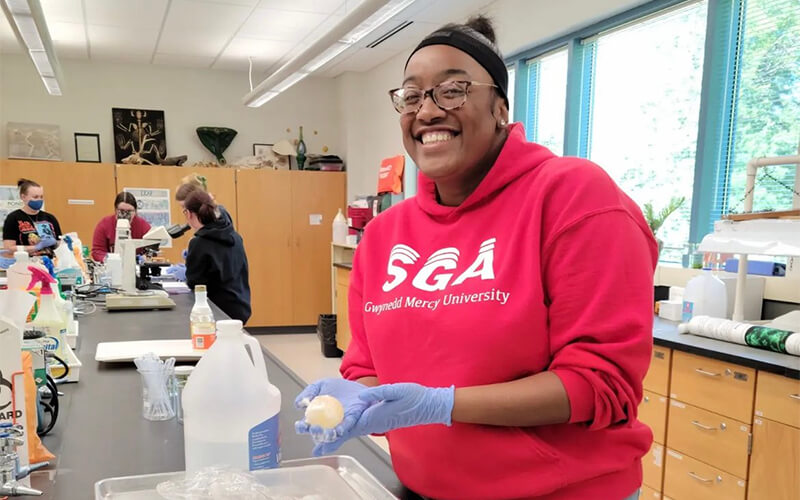 In addition to the unique degree options above, GMercyU offers a compelling mix of advantages you won't find at other colleges that offer biology:
Small classes with GMercyU's low 10:1 student-to-faculty ratio
State-of-the-art laboratory facilities
Our new Anatomage Table, a life-size 3D anatomy visualization and virtual dissection table that offers an interactive look at the human body, 150+ species of animals, and 1,300+ clinical cases.
Opportunities to conduct research and to present and publish your work, under the mentorship of experienced faculty
Internship opportunities at companies like Johnson & Johnson and Novartis or research hospitals, such as the Children's Hospital of Philadelphia (CHOP)
You'll learn directly from experienced, full-time faculty members with doctoral degrees, as opposed to the teaching assistants (TAs) you may find at other schools that offer biology. This means richer learning opportunities in the classroom, the laboratory, and the field, as well as closer mentoring relationships with our faculty.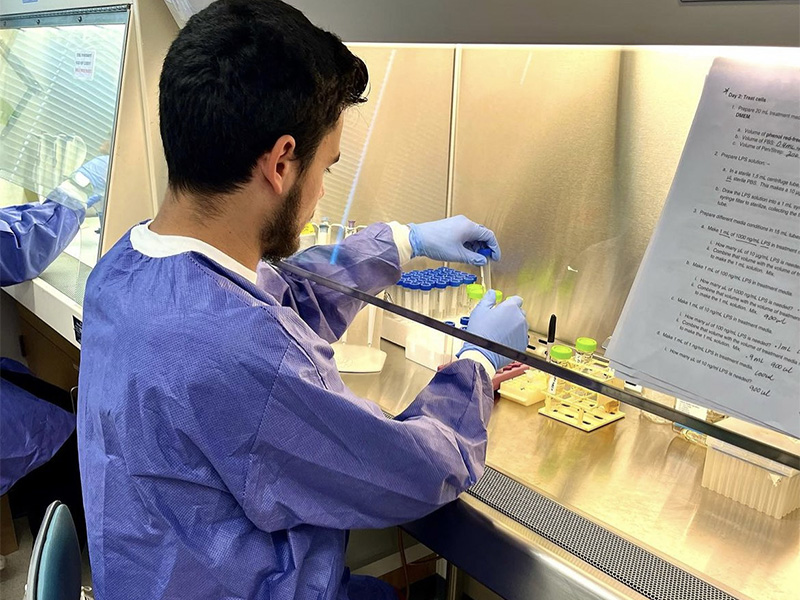 All biology majors are required to complete a research experience to prepare you for graduate school, medical school, or the workforce. And, almost every required course has a laboratory component, because the best way to learn is with hands-on experience guided by faculty experts.

See a lab activity completed by our Developmental Biology students — they studied the process of fertilization by collecting gametes from live sea urchins and mixing the sperm and egg together.

GMercyU's laboratories feature modern instrumentation and facilities for biology and chemistry: thermal cyclers, electrophoresis equipment, a research room with tissue culture hoods used for work in cell culture, and more.

Recent research projects include:

Studying how the brain's neuroimmune cells contribute to alcohol-induced brain dysfunction and degeneration
Contributing to a national research project focusing on the search for new antibiotics secreted by soil-dwelling bacteria
Investigating organic compounds with the potential to function as anti-cancer agents
Students can also present their research, contribute to publications, and even receive a financial stipend for summer research. See what our Biology majors presented at our Spring 2023 University Research Conference!
Summer Research:
See how students spent a summer sampling fish
from a local stream and evaluating a variety of factors regarding responses to the environment and the reaction of the immune system to pollution. They worked side-by-side with faculty.
All of these research opportunities give GMercyU biology students an edge in their job searches and graduate school applications.
In addition to general education course requirements, our bachelor of science in biology students will complete the following courses:

Major Requirements – 57 Credits
| | |
| --- | --- |
| BIO 203/203L | General Biology I/Laboratory |
| BIO 204/204L | General Biology II/Laboratory |
| BIO 230/230L | Ecology / Laboratory |
| BIO 251/251L | Genetics/Laboratory |
| BIO 402/402L | Molecular Biology of Cell/Laboratory |
| BIO 415/415L | Developmental Biology/Laboratory |
| BIO 421 | Biology Research (may be satisfied by BIO 440 - Internship) |
| BIO | Biology Elective |
| BIO | Biology Elective |
| BIO | Biology Elective |
| BIO | Biology Seminar I- Capstone     |
| CHM 151/151L | Principles of Chemistry I / Laboratory |
| CHM 152/152L | Organic Chemistry I / Laboratory |
| CHM 203/203L | Organic Chemistry II / Laboratory |
| CHM 204/204L | Biochemistry I / Laboratory |
| CHM 301/301L | Biochemistry II |
| CHM 302 | General Physics I / Laboratory |
| PHY 241/241L | General Physics II / Laboratory |
| MTH 234 | Probability and Statistics |
| MTH 245 | Calculus |
Wondering what your classes will look like as a biology major? Here's a closer look at just a few GMercyU Biology Program courses.

BIO 251 Genetics
An investigation into the fundamental principles of Mendelian and non-Mendelian inheritance and the molecular and cellular basis of heredity, including the molecular and biochemical processes behind inheritance, gene expression and development. Additional topics include pedigree analysis, mutation and cancer, the conflict between nature and nurture, modern DNA technology, population genetics, evolution, and the ethical impact of genetics on society.

BIO 402 Molecular Biology of the Cell
This is a project-driven laboratory course that introduces students to the world of mammalian cell culture. In addition to learning basic cell culture techniques, students will use cell viability assays, spectrophotometry, RNA isolation, reverse transcription PCR, and DNA gel electrophoresis to investigate important research questions in cell biology. Students will also gain experience in experimental design, data analysis, presentation of experimental results, and maintenance of a detailed laboratory notebook.

BIO 415 Developmental Biology
A study into the biochemical, molecular and genetic factors that regulate organismal growth and development. The field of classical embryology will be combined with molecular biology to investigate the mechanisms by which DNA dictates organism form and function. The course will cover topics including cell fate determination and differentiation, fertilization, embryogenesis, pattern formation, the regulation of gene expression during development, plant and animal cell lineages, tissue and organ formation, gene rearrangements in adult cells, aging, and developmental responses to the environment. Molecular mechanisms of development will be examined in species ranging from bacteria to higher plants and animals.

CHM 301 Biochemistry
Chemical structure, function and reaction of biologically important molecules, including nucleic acids, proteins, carbohydrates and lipids; biological membranes; enzyme kinetics, regulation and mechanisms.

For all Biology course descriptions, please refer to the undergraduate catalog.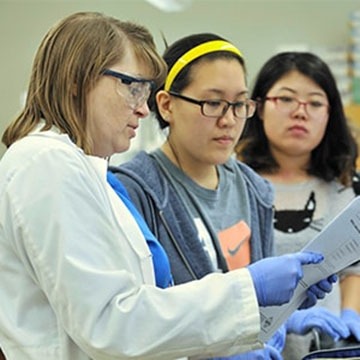 Michelle McEliece, PhD
Position: Associate Professor, Coordinator of the Biology Program
Did You Know? Dr. McEliece served as a post-doctoral fellow at Fox Chase Cancer Center.
Read bio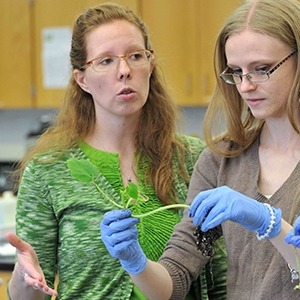 Stacey Lettini, PhD
Position: Associate Professor, Biology
Did You Know? Dr. Lettini's research interests include the ecology and energetics of host-parasite relationships.
Read bio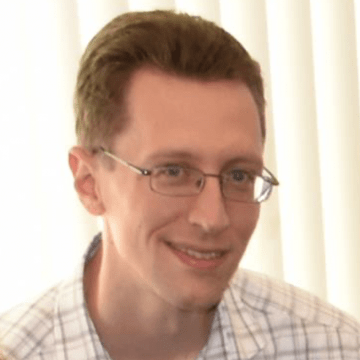 Justin McClain, PhD
Position: Associate Professor, Biology
Did You Know? Dr. McClain served as an NIH-funded postdoctoral scholar at the University of Kentucky.
Read bio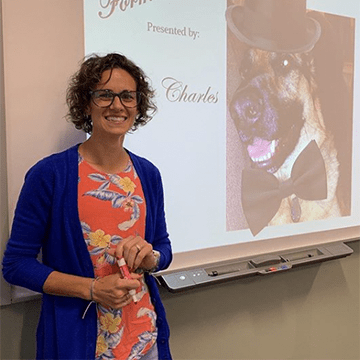 Maria Winters, PhD
Position: Assistant Professor, Chemistry
Did You Know? Dr. Winters' interests include the synthesis and evaluation of enantiopure hydroxylamines as IDO-1 inhibitors of ketoreductases as chiral catalysts.
Read bio
[Biology professors] Dr. McEliece, Dr. Lettini, Dr. Barbieri, Dr. Winters, and Dr. McClain have all been incredibly helpful and supportive throughout my four years at GMercyU. They always challenged me and pushed me to be the best version of myself.

—Seydel Acuna '22
 Real-World Experience
All GMercyU biology majors are required to complete a research experience. Many students satisfy this requirement by conducting research on campus under the direction and mentorship of program faculty.

You can also opt to complete your research at a summer internship off-campus. Here are some of the organizations where GMercyU biology students have interned:

M.D. Anderson Cancer Center
Children's Hospital of Philadelphia (CHOP)
Colorcon
Drexel University
Emerson Resources, Inc.
GlaxoSmithKline
Johnson & Johnson
Merck
Novartis Pharmaceuticals
Philadelphia Zoological Garden
QC Laboratories
Thomas Jefferson University
Vanderbilt University
Wissahickon Water Shed
Explore some of your options through the successful GMercyU Biology alumni below. As you read their stories, you'll see they all share an appreciation for our Biology faculty, who will work closely with you on your career path, mentoring you every step of the way. This mentorship often continues after graduation.

Biotechnology / Pharmaceuticals
Rachel McNulty '23 - Biologist (Scientist II) at Eurofins Scientific
Amanda Pirrone '18 — Scientist at Merck & Co., Graduate Student at Drexel University College of Medicine
Natalee Danko '18 — Researcher at a Pharmaceutical Company
Miles Kehs '18 — Associate Scientist at PPD, Graduate Student (Immunology)
Meredith Weir '12 — Technical Writer at Pace Analytical Labs, Improv Comedian at The Second City
Sean Carney '11 — Scientist, J&J Pharmaceuticals
Garrett Gincley '10 — Head of Manufacturing for Precision Biosciences

Scientific Research
Iqra Siddiqui '19 — Clinical Research Coordinator III at Sidney Kimmel Medical Center 
Julia Tasca '17 — Biochemistry and Molecular Biophysics PhD candidate at the University of Pennsylvania

Medicine
Joseph Giordano '20 — Medical Student at Sidney Kimmel Medical College at Thomas Jefferson University
Joseph Pandolfi '19 — Physician Assistant
Dhaval Patel '18 — Medical Student at Arkansas College of Osteopathic Medicine
Mark Pappadakis '08 — Attending Physician in the Emergency Department at Capital Health in New Jersey
Jennifer Lorine '06 — Proprietor & Physician at Jennifer Lorine, DO

Public Health
Jordan Abelson '21 — Master of Public Health Student at Brown University
Casey Gonzaga '18 — Disease Intervention Specialist at Montgomery County Department of Public Health
Meet more Biology students and graduates. 

More Possible Careers for Biology Majors
Aquaculture Farmer
Aquarium & Museum Worker
Aquatic Biologist
Barrier Beach Manager
Biochemist
Bio-technologist
Botanist
Brewery Laboratory Assistant
Coastal Resources Worker
Commercial Fishing Engineer
Dentist
Dietitian & Nutritionist
Ecologist
Environmental Engineer
Environmental Health
Environmental Protection
Epidemiologist
Ergonomist
Fisheries Conservationist
Food Scientist
Forester
Genetic Counselor
Genetic Engineer
Health Officer
Hydrographic Survey Technician
Marine Fisheries Worker
Medical Librarian
Medical Technologist
Microbiologist
Mining & Petroleum Industry
Molecular Biologist
Mycologist
Neurobiologist
Optometrist
Pharmaceutical Salesperson
Pharmacologist
Pharmacy Technician
Physical Therapist
Physiologist
Physician Assistant
Public Health Worker
Quality Control
Science Illustrator
Science Teacher
Science Writer/Technical Writer
State Parks & Recreation
Toxicologist
Veterinarian
Water Quality Technician
Wildlife Resources
*Some of these careers may require additional education.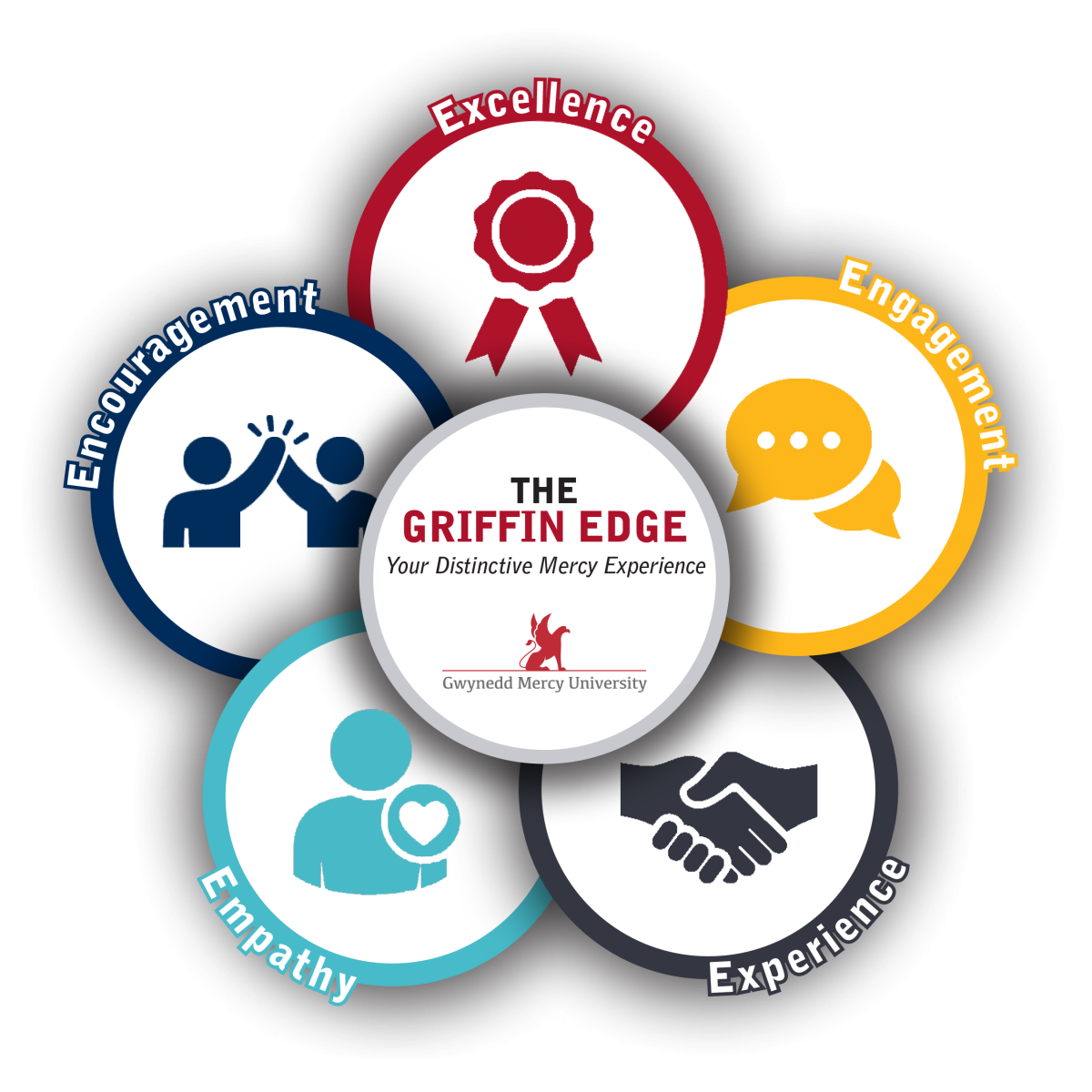 The Griffin Edge is comprised of five touchpoints -- Excellence, Engagement, Experience, Empathy, and Encouragement -- that become the cornerstones of your Distinctive Mercy Experience as a full-time undergraduate student.
The Griffin Edge includes an e-portfolio for documenting your GMercyU educational and extracurricular experiences (no matter your major), reflecting on those experiences, and receiving feedback from faculty. It's designed to help you take ownership of your educational journey and chart the right career path for you. It will also help you learn how to talk about your college experiences in meaningful ways — and that can make all the difference in a job interview. 
For example, a student might say in a job interview: "I conducted research at the undergraduate level." 
A Griffin Edge student might say: "The opportunity to conduct my own research alongside expert faculty taught me the importance of being exact in my data collection and analysis. I was even able to present my findings at our annual research conference! I know this is the career for me."
Learn more about the Griffin Edge here.
Next Steps
Have questions about GMercyU's admission requirements? Contact us! Our Admissions staff is ready to walk you through the process of applying to GMercyU's Biology Program.

Email: admissions@gmercyu.edu
Phone: 215-641-5510
At GMercyU, we strive to make a quality education accessible to all through financial aid, scholarships, and grants. As a military-friendly university, we welcome service members and participate in all VA educational benefits programs. 
Get the education you need for a career in the sciences at one of the top biology schools in the area. Earn your Bachelor of Science Degree in Biology at GMercyU!