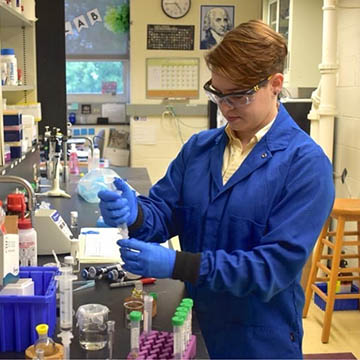 Current Position: Biochemistry and Molecular Biophysics PhD candidate at the University of Pennsylvania
I transferred to Gwynedd Mercy University from Montgomery County Community College. It felt like following a legacy. My grandfather, Dr. Jules Tasca, taught at GMercyU and my dad and sister both received their bachelor's degrees from there. GMercyU had been a part of my life as long as I could remember, so the choice to transfer felt natural.

When I transferred to GMercyU, I originally decided to major in Psychology. I had a passion for Public Health* and wanted to pursue an MPH which required so many science courses, so it made sense for me to switch my major to Biology.

While I was nervous to switch majors and take some of the scariest classes I'd seen on my transcript, Dr. Michelle McEliece, who is the Biology's Program Chair and served as my advisor, helped make the transition as smooth as possible and was there to guide me from the day I switched majors to the day I walked off campus with my diploma.
GMercyU takes care of its students in every sense - from academic struggles to personal hardships. GMercyU has the capacity to support the needs of its students, no matter how unique or complex. I know from experience that GMercyU will take action to let you know that you matter. This school gave me a sense of purpose and structure that I carry with me today even in a terminal degree program.
No matter what career you choose, GMercyU's positive culture makes the pursuit of success attainable and enjoyable. The campus itself is stunning with lots of places to study, including in the lofts in Keiss Library or on the benches on a sunny day outside of University Hall. Also, don't forget to grab a slice of pizza at The Pep.
Experience in Biology Program ​
The Biology program was not easy, especially because I completed it in three years, but believe me when I say it was the best decision I've made for myself as it set me up for the life I have today.

The program really surprised me and opened me up to things I never thought possible. If you told me ten years ago that my favorite subject would be organic chemistry, I'd have said you have the wrong person. I could not have excelled in the program without the unwavering support of my professors, Dr. McEliece, Dr. Stacey Lettini, Dr. Thomas Umile, and Dr. Felicia Corsoro-Barbieri, all of whom I now call my friends and am in contact with frequently.

Conducting research as an undergrad at GMercyU was the catalyst for my passion for research today. My research involved investigating the relationship between a pathogenic amphibian fungus and a protective bacterium in the context of a global amphibian pandemic using various microbiology and analytical chemistry techniques. I presented my research at several conferences including the American Chemical Society Mid-Atlantic Regional Meeting. My undergraduate research also served as a basis for my graduate research at Villanova University where I studied amphibian and plant chemical ecology.
​I always felt heard, seen, respected, and welcomed by my professors.
The class sizes were small, so I never felt like a seat in a giant auditorium. The team of professors that foster such a caring environment where its students can thrive is what sets GMercyU's Biology program apart from the rest. Now that I am at the PhD candidacy stage of my career, I look back and am grateful for the level of preparation I received at GMercyU thanks to the Biology program professors keeping every single one of us from slipping through the cracks.

Outside of the classroom, I made incredible, life-long friends through studying, axe throwing, and Chipotle trips - sometimes more than once in a day. I was also a member of and later a mentor in E-STEM (Ethics in Science, Technology, Engineering, and Mathematics) in which various ethical topics were discussed and debated. E-STEM created a space for people to learn about right and wrong in the context of science which proved to be valuable, as the answers weren't always obvious.
Post-Graduation Success
My goal after graduating from GMercyU in 2017 was to pursue a PhD in a related field, although I wasn't sure which field to choose. I really enjoyed chemistry, but I wasn't sure if I wanted to spend several years in a Chemistry PhD program. Instead, I attended Villanova University where I earned a Master of Chemistry degree over the course of two years to gain research experience as a chemist.

I decided to combine my love for chemistry and background in biology, bringing me to where I am today. I am a Biochemistry and Molecular Biophysics PhD candidate at the University of Pennsylvania. My dissertation topic involves studying the role of RNA-binding in nuclear protein function. The program takes about six to seven years on average, and I am in year three.

After I obtain my PhD, I'd like to split my time between academia and industry where I can hopefully draw from my experiences in industry at the cutting-edge of my field to teach students more than what is written in their textbooks.