Meredith Weir
Biology 2012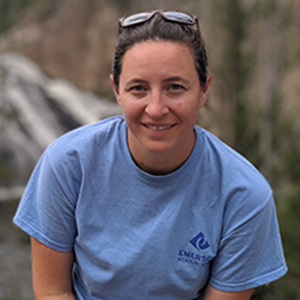 Current Positions: Technical Writer at Emerson Resources, Improv Comedian at The Second City
GMercyU led to Meredith's two very different jobs, and she is lucky to love them both.
Her Career in the Pharmaceutical Industry
As a junior in GMercyU's Biology program, Meredith landed an internship with Emerson Resources, Inc. (now called Pace Analytics), a pharmaceutical company. She worked in their analytical testing department, where she used lab instruments to confirm the precise amounts of a drug's ingredients.

"As far as lab work, I remember being surprised when I started my internship that I knew what I was doing. I didn't have to ask 'What is this machine?' or 'What is this acronym?' I felt really specifically prepared for the field that I entered. I definitely had a leg up on the interns from other schools," she said of the lab experience she'd gained at GMercyU.

That internship led to a permanent job after graduation, where she moved from the analytical testing of the drugs to the formulation of the drugs in the lab. As a scientist, she was doing a great deal of lab work while documenting it, so when the opportunity to focus solely on writing became available, Meredith jumped.

"After several years I realized that lab work wasn't for me any more, whereas I found I really liked writing. I write the instructions that the operators use to manufacture the drugs, and I really, really enjoy it. I am really thankful," she said.

The content of her work varies, which keeps it interesting. "My company does a lot of small batches, we don't manufacture millions of [of the same] product, " Meredith explained. "We do solid dosage form drugs: capsules, tablets, topical ointments — a really wide scope of what the pharma industry can do, so my work is always a little bit different."
Advice for Future Pharmaceutical Scientists
For those interested in a pharmaceutical industry career, Philadelphia is a terrific place to job search. The area serves as a base for companies with worldwide recognition, in addition to many smaller companies.

Meredith believes that smaller companies come with huge benefits.

"I'm such a proponent of small pharma, you learn so much more. You get a taste of everything," she advised for those starting out. She recommending trying a small company first, one that has their hands in a lot of different pots to help you get varied experience and figure out what you most love to do.
How Biology Led to… Comedy?
As a GMercyU Biology major, Meredith was required to complete a mini dissertation. At the time, many of her classmates gravitated to topics of biology and its connection to mental health, depression, and anxiety, but her rebellious nature led her to just the opposite – what makes us laugh.

Her dissertation was entitled "The Evolution of Humor and Laughter Based on Neurology and Acoustics"; her varied research included projects like studying the laugh patterns of primates and observing classes at the Philly Improv Theater.

There, Meredith fell in love with improv. Sitting in on those classes evolved to her taking and completing all four levels of classes offered at the theater, then performing on teams and teaching classes. Eventually she went on to take classes and perform in New York City.

With the ability to work for Emerson remotely, Meredith decided to apply to the famed Second City's film school in Chicago. She wrote her application as it were a scientific research paper and was accepted. "They still talk about it," she laughed.

So would she have discovered comedy if not for biology?

"I think maybe I would've eventually found it," she said. "My family is just a bunch of really funny people. But I do credit my thesis for getting into improv early – teaching and directing. Now improv is the current wave."
What She Loved About GMercyU
Meredith was recruited as a student-athlete for GMercyU's Track and Field team, for the high jump. She also played soccer.

As a high school student, she had applied to a large state school but its massive size was not for her. In addition to the lab experience that set her up for career success, Meredith really enjoyed GMercyU's small classes.

"It was much more personal. I still have a relationship with Dr. McEliece," she said. "She sends emails to all the alumni and a couple of times, I've shared with her that my company is hiring. In fact, one of her alums who just graduated started at my company."