Garrett Gincley
Biology 2010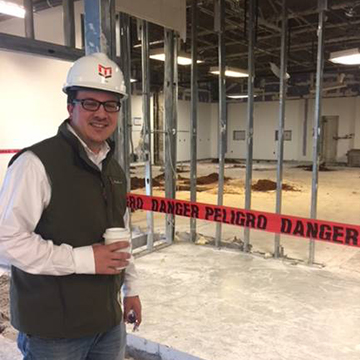 Current Position: Head of Manufacturing for Precision Biosciences
I chose Gwynedd Mercy University because I truly felt at home during my visit as it had the small school appeal that I was looking for. GMercyU also offered me the best package of tuition assistance, academics, and proximity to my hometown so I could easily go home and visit whenever I wanted to.

I really enjoyed the GMercyU campus and the close-knit community of students. From attending basketball games, to all the social events, there was seemingly always something happening on campus that you could attend that night.
GMercyU will afford you the experience to go in any direction you want to after you graduate. You will be able to go into teaching, go to grad school, go to medical school, or enter the work force like so many of us do.
Experience in Biology Program
I was always drawn to STEM and knew I would major in either in a science or a mathematics degree. I had a teacher in high school named Suzanne Camp that shaped my love of science through her teaching. My sophomore year of high school she taught my chemistry class and after that year I knew what I wanted to major in in college.

My experience in GMercyU's Biology program was a great one. The academics were challenging, but the core teachers really knew how to get the best out of their students and challenge us each day. The wealth of knowledge in that department of professors was apparent from the first class in Biology 1.

A few professors that really stood out to me during my time at GMercyU were Dr. Farrior who always had a way of making class fun and exciting and never let you take yourself too seriously. Dr. McEliece was another one of my favorites. Her passion for teaching and science is on full display for anyone who is lucky enough to take one of her classes. I'll never forget the drosophila fly experiments in her labs! Dr. Fallon was also one of my favorite professors. Although I only had him for two small classes, he left a lasting impression on me. He ALWAYS demanded your best but was always there to listen to you if you needed to vent or just wanted to bounce an idea off him.
For me, GMercyU's Biology program prepares students for life after school. So many programs only prepare students for graduate school, medical school, or some other formal academic training after you undergrad, but for many of us who major in Biology, we step right into the work force after we graduate. This was an important piece of my professional career, and there is no doubt that GMercyU gave me the tools I needed to be successful in the real world.
Post-Graduation Success
Currently, I am the Head of Manufacturing for a Cell and Gene Therapy company called Precision Biosciences. We utilize a proprietary enzyme that we call ARCUS to make specific knock in/knock out edits in the DNA of cells. We also have a plant division called ELO Life Systems that utilizes ARCUS to create sustainable crops.

My journey, however, did not start in cell and gene therapy. Instead, I took the first job that was offered to me when I graduated from GMercyU, with Rainin Instrument as a Good Manufacturing Practices (GMP) Calibration Technician. In this job, I brought home just enough money to pay my student loans, and fill my gas tank up in my 1998 Jeep Wrangler every morning since my commute was 1.75 hours one way!

I worked this job for almost a year before I was contacted by a recruiter looking to fill a Manufacturing Associate role at a small and up and coming gene therapy company called Fibrocell Science. This role further strengthened my GMP knowledge and allowed me my first opportunity to work in a lab. During my time at Fibrocell we filed a Biologics License Application for a drug called LaViv. This was a big step in my career learning the process of getting a drug from final phases to commercialization and how the FDA operates.

I worked this job again for a year before transitioning to Merck working in Small Molecule Assay Development. It was here that I found the research side of things was not what I wanted to do with my career, so after another year I was afforded the opportunity to move back to Fibrocell as a Manufacturing Supervisor.

For the next five years, I led the Cell Therapy group at Fibrocell as we transitioned from a basic fibroblast process (LaViv) to a full-scale Clinical Gene Therapy manufacturing company. We made it a point to go after rare and orphan diseases by fixing the DNA of patients with these indications. All our products were what is called "autologous," meaning that the cells come from the patient and go back into that same patient. It was during this time that I was able to lead a manufacturing group through multiple successful FDA audits, and progress drug products from Phase I to Phase II. This furthered my understanding of the FDA lifecycle of cell and gene therapy products.

After my time in this role building our manufacturing team, infrastructure, and bolstering our overall relationship with the FDA, I decided it was time for a new challenge and was lucky to take a role down here in North Carolina with Precision Biosciences.

When I arrived at PBI, we had no internal manufacturing and instead utilized a Contract Manufacturing Organization (CMO) for the clinical manufacturing of our one product, an allogenic CAR-T therapy. Being Allogenic meant that our T-Cell product was intended to be donated by a screened, healthy donor, and was able to be administered to anyone in need.

When talking about cancer therapies, one can see the benefit of an allogenic off-the-shelf CAR-T product as opposed to an autologous product. In theory, the patient does not need to wait for their much-needed T-Cell therapy to be manufacturing, quality reviewed, and quality tested, which many times takes upwards of six months to perform. Instead, when the patient is in need, there is already a batch of Drug Product available to ship to the clinic. Thus, the turnaround time from need to administration is greatly reduced. However, you cannot simply take T-Cells from one person and put them into someone else without causing host vs graft disease. Because of this, our process employs an additional step over autologous where we knock out the gene that "encodes" these T-Cells to the host. With these gene knocked out, the cells are freer to enter a different host and attack the specific cancer cells that they are marked to attack.

My challenge when arriving at PBI was to build our internal infrastructure from the ground up. We decided to move into a building previously utilized by Glaxo Smith Kline and began internal demo almost immediately upon my arrival. We built a state-of-the-art modular cleanroom that had many aspects that were firsts of its kind in a cleanroom. We wrote every GMP document from Standard Operating Procedures to Batch Records, to Validation Protocols (over 300 documents in total) and fully commissioned, qualified, and validated the space in less than 10 months.

Within the first year, we had successfully tech transferred a new product into the space and manufacturing our first batch that went into a patient with Relapsed Multiple Myeloma. We are in our third year at our facility and now have 5 CAR-T products, and soon to have 2 AAV products, one with our partner Eli Lilly to combat Duchene Muscular Dystrophy. Our technology has shown success across multiple platforms as we recently announced positive 3-year pre-clinical study results showing long-term durability and safety of ARCUS in vivo gene editing to cut LDL cholesterol levels in Nonhuman Primates in a collaboration we have been working on with the University of Pennsylvania.

There is no doubt that without all of the "real-world" science that I learned at GMercyU, I would not be in the position that I am today. I think another note for any graduating senior to consider is that most times your dream job will not fall in your lap after graduation. Instead, take what you can and learn what you can, never burn bridges, always work hard and never turn down the chance to learn something new and you will be well on your way to finding what is your true dream job. You never know where that first job will lead!