Michelle McEliece Receives Faculty Distinguished Teaching Award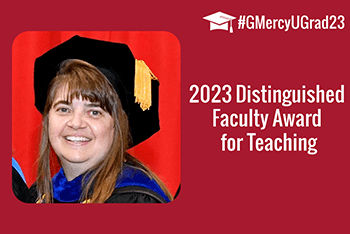 Michelle Kulp-McEliece, PhD was honored with the 2023 Distinguished Faculty Award for Teaching at this year's Undergraduate Commencement ceremony.
Dr. McEliece joined the GMercyU faculty as an assistant professor of biology in 2003. Since then, she has earned the rank of associate professor and tenure, served as the Biology Program Coordinator and Natural Sciences Division Chairperson, secured a major grant from the National Science Foundation, and chaired or co-chaired many committees. With each accomplishment, Dr. McEliece has remained focused on her passions: teaching and advising.
Dr. McEliece was a driving force in refocusing the program's curriculum on molecular biology and undergraduate research, which prepare students for careers in the sciences and for graduate and pre-professional programs. She has developed and taught Biology Program courses, as well as courses in support of the health professions, general education, and the Honors Program. The results are rigorous courses that increase students' science literacy, their critical and ethical reasoning, and their writing, research, and problem-solving skills.
Dr. McEliece excels as an educator in lecture and laboratory courses and as a thesis advisor, in part because, as one student declared, "her love of science and learning is infectious." Her lecture courses provide scientific knowledge with the aid of technology, collaborative assignments, and a variety of pedagogical approaches. In the laboratory, she teaches basic lab skills to all first-year biology students, and in upper-division courses, she designs some of the students' favorite lab activities. In the biology capstone courses, her senior research advisees benefit from her close collaboration and her meticulous thesis review.
An outstanding academic advisor and mentor, Dr. McEliece connects with all incoming students before they arrive on campus, she has an open-door policy for current students who frequently seek her knowledge and advice, and she maintains an ongoing relationship with many alumni.
Students describe Dr. McEliece as an exceptional teacher, who creates an environment in which they feel supported to flourish and achieve their goals: "Her kindness is unmatched, and she inspires her students to [be successful], while providing them with the resources to do so." One student nominator summarized the impact of Dr. McEliece's teaching and mentorship as inspirational: "It has been an uplifting experience to witness such a confident, strong and honorable woman in the sciences."