Medical Laboratory Science Program (Bachelor of Science)

Turn Your Love of Science Into an In-Demand Career
Have you taken a COVID-19 test? A medical laboratory scientist processed the test to determine your results.
These healthcare professionals have played a significant "behind the scenes" role in recent years, yet they were in demand even before the pandemic.
Medical laboratory scientists obtain, prepare, investigate, and analyze samples of biological material (such as blood, tissue and urine) from the human body in order to identify sources of disease and determine the validity of data that allows physicians to make their patient diagnosis or determine the effectiveness of treatment.
If you have a passion for science and a drive to understand the world at a cellular level, you can turn your interests into an exciting career that makes a difference.
This is a job with no direct patient interaction, well suited for those who would prefer to work in labs.
Program Details
Whether analyzing blood and tissue samples, matching blood types, looking for cellular abnormalities, or identifying parasites and bacteria, GMercyU's bachelor's degree (BS) in medical laboratory science will help you develop problem-solving skills in a clinical lab setting.  
GMercyU's 3+1 Medical Laboratory Science program includes three years on our campus for completing required general education and science courses, and one year of hands-on and classroom instruction at an affiliate program as you prepare to pass the American Society for Clinical Pathology (ASCP) boards. The program was designed to increase your employability by graduating with a bachelor's degree and the preparation you need to gain certification as a medical laboratory scientist (MLS) by passing the ASCP boards.
GMercyU also offers a 2+2 option through an articulation agreement with Thomas Jefferson University. This route is extremely competitive but offers advanced options such as cytology and bioscience.
Even though you never meet the patients, you get to know them in a sense and see them recover through numbers. ...There is always a need for more laboratory staff as healthcare is ever-changing.

—Caitlin Saalfrank '21, 

Medical Technologist, Doylestown Hospital
Real-World Opportunities
As a GMercyU MLS major, your senior year will be spent off-campus at an affiliate Medical Laboratory Science Program and their clinical education sites, gaining the additional classroom and hands-on experience you need to succeed in this field. Students must apply to affiliates and be accepted to attend. 
Students attending affiliate programs will pay the tuition of that program and a small fee to Gwynedd Mercy University for the fall and spring semesters instead of the regular University tuition (a significantly lower amount). University issued scholarships and grants will no longer apply however, students may continue to apply for federal financial aid through the University. For students receiving VA benefits, the University is no longer the liaison. It is the responsibility of the student to contact affiliate programs of interest to determine if VA benefits can be continued.
GMercyU holds affiliations with the area's four leading MLS programs:
Pennsylvania Hospital's School of Medical Laboratory Science (Philadelphia, PA)
Reading Hospital's School of Laboratory Science (Reading, PA)
St. Christopher's Hospital for Children's School of Medical Laboratory Science (Philadelphia, PA)
Hackensack-Meridian Health, Jersey Shore University Medical Center Florence M. Cook School of Medical Laboratory Science (Neptune, NJ)
Graduates of these programs will receive a certificate of completion. The B.S. degree will be granted by Gwynedd Mercy University.
GMercyU also holds an articulation agreement with Thomas Jefferson University. Contact the Campus Coordinator for additional information.
After graduating from GMercyU's Medical Laboratory Science Program, your skills will be in high demand, with the Bureau of Labor Statistics projecting faster than average job growth for clinical and medical laboratory scientists through 2030.
Your degree can open the door to these jobs and more:  
Blood Bank Technologist
Medical Equipment Sales Representative
Medical Laboratory Manager
Medical Laboratory Technologist
Pharmaceutical Sales Representative
Research Assistant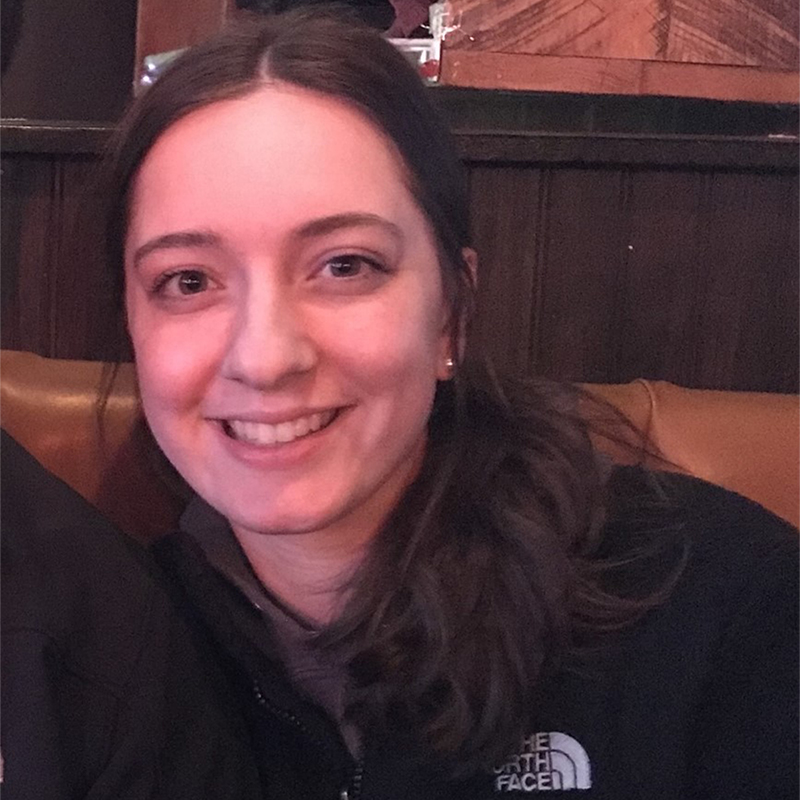 Caitlin Saalfrank '21
Current Position: Medical Technologist, Doylestown Hospital
Caitlin loves that every day is different at her job, and that it allows her to work in healthcare in a more "behind the scenes" role, with no direct patient contact. 
There is opportunity in this field, she says. "Most of the current MLS employees are closer to retirement age, and there are not many people coming out of school with this degree."
Next Steps
Have questions about GMercyU's admissions requirements or transferring eligible credits? Contact us! Our Admissions staff is ready to walk you through the process of applying to GMercyU's Medical Laboratory Science program.

Email: admissions@gmercyu.edu
Phone: 215-641-5510

Please note: Students enrolling in this program must have the ability to obtain a U.S. background check and other clearances for placement in a U.S. clinical/school setting. U.S. citizenship or permanent residency is also a requirement for licensure within certain academic programs. International students and students who are under DACA status or are undocumented should carefully review the licensure requirements in their state before enrolling in a degree program that leads to licensure. Additional information can be found on the National Conference of State Legislatures website.

Licensure: This program was designed to meet the licensure requirements of the Commonwealth of Pennsylvania. If you reside in a different state, you should carefully review your home state's licensure requirements prior to enrolling in this program. For more information, please visit our Program Licensure Requirement page.


At GMercyU, we strive to make a quality education accessible to all through financial aid, scholarships, and grants. As a military-friendly university, we welcome service members and participate in all VA educational benefits programs. 
While at an affiliate MLS program: Students who receive tuition assistance from the Veterans Administration (VA) should be aware that once they enter the affiliate program, the University will no longer be the liaison for processing VA tuition transactions. It is the student's responsibility to contact the affiliate program to find out if they are a VA participating program prior to applying.  The certifying official at a VA participating affiliate will assume the role of processing VA benefits while enrolled in the affiliate program. The student should also contact the VA directly for additional information.