Mark Pappadakis
Biology 2008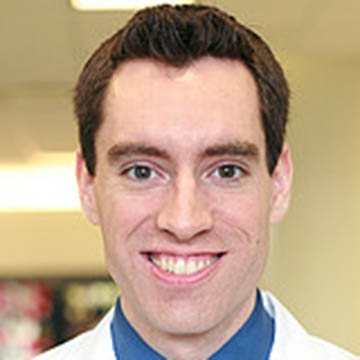 Current Position: Attending Physician in the Emergency Department at Capital Health in New Jersey
Mark always wanted to work in medicine, so majoring in Biology was a logical choice first step.

Today, he works between Capital Health's two main hospitals serving Hopewell/Ewing, NJ, and Trenton, NJ. He is also a co-founder of Grassroots Emergency Medicine, an organization focused on healthcare advocacy at a grassroots level.

"I have always had a drive to serve my community, and I get to do that with my career in medicine," said Mark, who participated in community service at GMercyU through food drives and Mercy Garden cleanups. "However, my work with Grassroots EM takes it a step further and lets me advocate further for the patients I serve. We will soon use it as a platform to inform the community with regards to medical news and a basic insight into public health and wellness."

At GMercyU, Mark was a member of the Biology Student Association (now called SAS), serving as secretary during his junior year. He also signed up to be an English and ESL tutor for the Academic Resource Center (now called Student Success Center), but eventually tutored most of the sciences.
Being a tutor helped me realize a love for teaching that I employ now as an Attending Physician with the nurses, medical students, and soon-to-be Residents I work with.
Read more about Mark's GMercyU experience and career below.
Why He Chose GMercyU
When choosing colleges, I knew I wanted to stay local and commute to save money. When I applied to GMercyU [then Gwynedd-Mercy College], I received a call from one of the admissions coordinators inviting me to a tour. My parents and I were immediately impressed by the individual attention she gave me, along with the smaller class sizes compared to a large, city university.

It also helped that GMercyU was able to give me a partial scholarship to help offset some of the financial costs. I remember leaving both the admission session and later, the Open House, not feeling like a number. It was one of those gut feelings that made me ultimately go with GMercyU.
Guidance from GMercyU's Faculty
Everyone's needs change year to year as they develop and mature. When you're a first-year student, it's scary to be taking college-level courses and hitting that next step up from high school. Dr. Michelle McEliece was my Biology professor at the time, and provided a level of reassurance and comfort that I needed as I explored this new phase of my life.

When I was a sophomore, Dr. Donna Allego was one of my literature teachers, and I took several classes of hers, which let me explore my interest in Mythology, but also shaped my critical thinking and understanding of different points of view. This was compounded by my first foray into the Honors Program headed at the time by Dr. Carol Breslin, who also challenged me and pushed me to grow intellectually.

My junior year became about the MCAT and looking into medical school applications. Dr. Felicia Barbieri was the medical school advisor, and her guidance is what set me up on the path towards med school.

Finally, by my senior year, Dr. Paul Langer was in a way like a life coach for all of us. He got me in the mindset of life after college, gave career advice, and kept all of us grounded into what lay ahead for us regardless of our ultimate career paths. Finishing up the Honors Program that year also made me realize how far I had come from a critical thinking level, and it was also fitting I had my last Honors Program class with Dr. Breslin, too, who got to see us as we progressed through the program and showed us from where we came.
You won't be some random number in a lecture hall, but rather get advice and guidance from excellent professors who know the field.
Being Prepared for Medical School
I earned my D.O. degree (Doctor of Osteopathy) in 2016 from Touro College of Osteopathic Medicine in New York City, and I specialize in Emergency Medicine after completing a three-year Residency at Metropolitan Hospital in NYC in 2019.

GMercyU definitely prepared me for the level of study needed while in medical school. People think medical school coursework is difficult, and it is for sure. However, it's a different level than in college because you're essentially drinking out of a firehose; the amount of content we are required to know and learn in such a short amount of time is half the challenge.
The Undergraduate Skills He Uses Today
The practice of medicine though is largely critical thinking — taking the information you memorized and drilled and applying it to real-world problems. Though I credit my education in the natural sciences with my academic success in medical school, I actually credit all the literature and philosophy courses within the Honors Program to my overall success as a Physician.

The ability to synthesize and weigh pieces of information and apply it to treating my patients is one of the most challenging aspects of my career. The other is having a level of empathy for my patients where I can effectively treat them as a person, not just a body with moving parts.
Seeing things from another perspective, taking a mental journey into conversations and topics you're uncomfortable with I believe is key to understanding the kind of impact social pressures have on the diseases my patients present with.
That level of thinking and analysis was strongly developed during my time in the Honors Program and cultivated by many of the professors that taught me.
Navigating COVID-19 as a Physician
On a professional level, this last year was like trying to herd cats through a dark tunnel with a handful of wet matches. Physicians of all specialties were navigating uncharted waters, and a profession that prides itself on "evidence" was suddenly faced with a significant lack thereof. When the breakthroughs occurred, they were celebrated but always met with an uneasy feeling of when the next shoe would drop. When setbacks occurred, it was defeating to say the least. In one moment, people were calling us heroes, and in the next, lambasting us for not doing enough.

For the last year, I fought a war on two fronts: in the ER with patients dying in front of me from a virus we didn't — still don't — fully understand, and on social media against a misinformation campaign that has led to more unnecessary deaths. Despite this, many in my profession — myself included — had their salaries and hours cut. Volume is what drives staffing, and when volume went down, so did our job opportunities and pay.

Though our hospital is seeing a rise in volume and a return to normal staffing, I know colleagues across the U.S. who are still facing financial difficulties in their private practices and hospitals.

On a personal level, I have many images and faces of the patients I have cared for imprinted on my mind. I was one of the first in my group who intubated a Covid-positive patient before we knew delayed intubation and permissive hypoxia was a viable thing for treatment.

I witnessed family members checking in, and saying goodbye, to their loved ones in the ER on FaceTime. I put myself into a two month-long quarantine away from my parents and fiancé in an effort to see if the precautions I took at work would be enough to prevent me from getting ill.

At night after a shift, I would wonder if I made the right choice in distancing myself from my family, or would it all be for nothing and would my last memory of them be on an iPad as they lay in an ICU bed on a ventilator anyway, and how I missed out on just a little more time with them. Or would their last image of me be like one of many physicians and nurses who lay dying in an ICU from this virus, another number in an already grim statistic.

The pandemic hit during my first year as a fully-fledged Attending, and it was a crash course in what it really means to run an ER and deal with incredibly complex pathology. Now with the vaccine out, our Covid numbers are declining and the fear that once gripped me every time I walked in for a shift has given way to hope.

After postponing our wedding last year, my fiancé and I are excited to resume our wedding planning for this fall. I'm also looking forward to seeing friends and family that I hadn't seen in well over a year.

If there is one lesson to be learned from this last year, it's that time is fleeting. Little things that we take for granted can be taken away in an instant, so best to enjoy them in the moment.