Natalee Danko
Biology 2018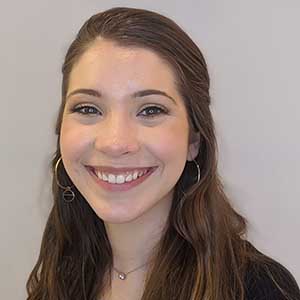 Current Position: Researcher for a Pharmaceutical Company

Natalee, a graduate of Norristown Area High School, enrolled at GMercyU for the small class sizes and the sense of community within the Biology department. "My favorite parts about GMercyU were the biology professors and the friends I made there," Natalee said.
Being in small classes allowed Natalee to grow close with her peers. They scheduled study sessions with one another before exams and assisted each other with homework.
Dr. Michelle McEliece and Dr. Stacey Lettini are two professors that stood out to Natalee.
"They were both excellent professors that went above and beyond to make sure their students succeeded," Natalee said.
During her time in the program, Natalee completed research with Dr. Lettini and Dr. Justin McClain. With Dr. Lettini, Natalee studied the histological effects of a parasite found in fish that they caught in a local creek. Her research with Dr. McClain focused on culturing microglia cells and studying the changes in neuroimmune cell function when exposed to alcohol.


Life as a Griffin
During her time at GMercyU, Natalee participated in two Alternative Spring Break experiences. On a trip to Vermont, she volunteered on a sustainable farm run by members of the Sisters of Mercy. In Arizona, she volunteered at an elementary school on an Apache reservation.
Natalee was also a member of the Ethics in Science, Technology, Engineering, and Mathematics (E-STEM) Scholar program. The goal of the program was to provide students with leadership, decision-making, and proper ethics skills.
She also participated in the Griffin Student Leadership Institute (GLSI) program in the Exceptional Leaders tier. In the program, she was matched with a mentor who also graduated with a Biology degree from GMercyU.
"She gave me good insight on what the job market looked like for someone entering the pharmaceutical industry with a BS in Biology," Natalee said.
As a member of the Sigma Phi Sigma Honor Society, Natalee helped run the Thanksgiving food drive by preparing meals and providing resources to low-income mothers.
Natalee was also a Griffin Ambassador for Admissions where she gave tours to prospective students.


Post-Graduation
Natalee's first job after graduating involved manufacturing a CAR-T cancer treatment.
Later, she transferred departments into a role where she developed tests to detect a protein of interest in the drug product. "I found this area of work had flexible hours, more independent work, and a much better work-life balance," Natalee said of that new role.
After a few years in this position, Natalee decided she wanted to expand her skillset, which is how she ended up in her current position as a researcher.
Natalee now works for a pharmaceutical company that specialized in manufacturing generic drugs. Her primary role includes developing tests that detect the potency of these generics. Once the test is developed, she runs comparisons between the name brand drug and her company's generic drug.
On a typical day, she spends time checking emails, performing calculations on her experiment, and then heads to the lab to execute her experiment.


Why Choose GMercyU?
"I'd recommend GMercyU to a student who might need small class sizes and someone who pictures themselves utilizing office hours with professors for questions and one-on-one attention," Natalee said.