Bachelor of Science in Public Health

A career in public health is much more than just virus prevention and mitigation.
Anything that impacts the health of communities — from the opioid crisis to obesity to climate change to gun violence to food deserts to vaping — is something you can address through evidence-based problem-solving. By promoting wellness, your goal would be to help prevent people from getting sick rather than treating them once they are ill.
GMercyU's Bachelor of Science in Public Health is a terrific option for those who want to make a difference in the healthcare industry outside of a clinical practice.
With your degree, you can address social inequity in the form of health disparities and promote healthy lifestyles and choices in your community and around the world.
Program Details
Gwynedd Mercy University is an applicant for accreditation by the Council on Education for Public Health (CEPH). The accreditation review will address the Bachelor of Science in Public Health and Master of Public Health degrees. Other degrees and areas of study offered by this institution will not be included in the unit of accreditation review. See https://ceph.org for more information.
My [Public Health] professors have played a significant role in providing support and guiding me toward my passion: environmental epidemiology. This field investigates the impact of environment stressors on health, encompassing both the built and natural environment. 

— Justin Hartranft '24, 4+1 MPH student
Real-World Opportunities
As Public Health major at GMercyU, you will complete a seminar focused on exploring internship opportunities, so you can find the right fit for your interests. Then, in your final semester in the program, you will gain invaluable experience in a setting that matches your unique career goals. Here are just a few of your internship options:
American Red Cross Tri-County Chapter
Berks WIC Nutrition Center
Bucks County Heath Improvement Project  
Chester County Health Department
Coatesville Center for Community Health
Chester County Food Bank
Valley Youth House – Chester County Office
Family and Community Services of Delaware County
Pennsylvania Resources Council Eastern Regional Offic
Montgomery County Health Department
Women's Center of Montgomery County
Health Federation of Philadelphia
Philadelphia Department of Public Health
Philadelphia Health Partnership
Public Health Management Corporation
Even before the COVID-19 public health emergency, public health has been a field in need of workers.
Today, job opportunities in this field are expected to increase nationally by 7% through 2032, more than double the national average, the Bureau of Labor Statistics reports.
A broad and diverse field, public health experts are needed all over the world to work for government health departments and agencies, private corporations, non-profit organizations, community clinics, schools, and more.
Jobs for those with a bachelor's in public health can include these careers and more:
Community health worker
Disease prevention specialist
Emergency response planner
Health education specialist
Healthcare consultant
Prevention program coordinator
Public health advocate
Public health planner
Public health officer
Public health scientist
Researcher
Earn a Master of Public Health (MPH) degree to advance your career!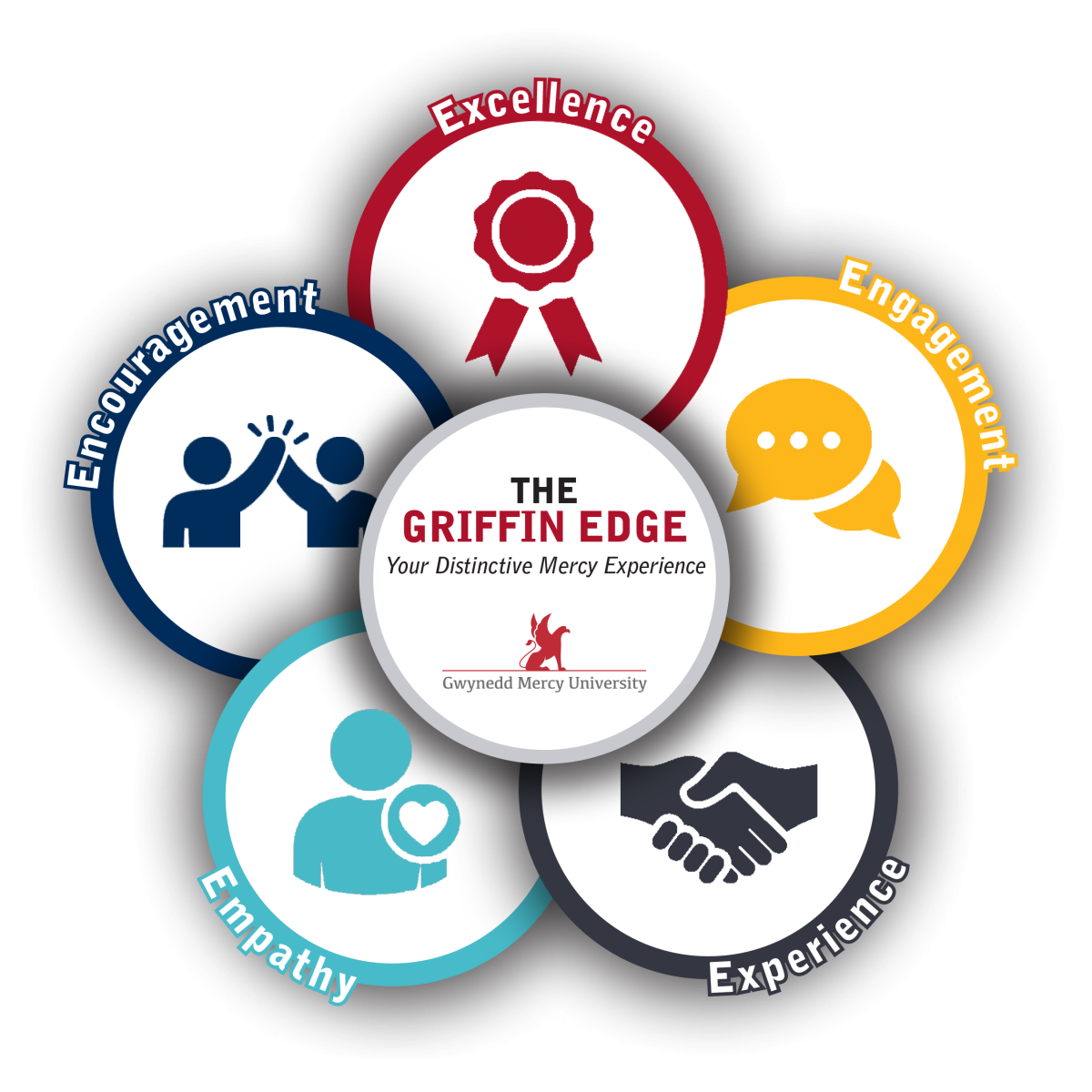 The Griffin Edge is comprised of five touchpoints — Excellence, Engagement, Experience, Empathy, and Encouragement — that become the cornerstones of your Distinctive Mercy Experience as a full-time undergraduate student.
The Griffin Edge includes an e-portfolio for documenting your GMercyU educational and extra-curricular experiences (no matter your major), reflecting on those experiences, and receiving feedback from faculty. It's designed to help you take ownership of your educational journey and chart the right career path for you. It will also help you learn how to talk about your college experiences in meaningful ways — and that can make all the difference in a job interview. 
For example, a student might say in a job interview: "I conducted research at the undergraduate level." 
A Griffin Edge student might say: "The opportunity to conduct my own research alongside expert faculty taught me the importance of being exact in my data collection and analysis. I was even able to present my findings at our annual research conference! I know this is the career for me."
Learn more about the Griffin Edge here.
Next Steps
Have questions about GMercyU's admission requirements? Our Admissions staff is ready to walk you through the process of applying to GMercyU's Public Health Program.

Email: admissions@gmercyu.edu
Phone: 215-641-5510
At GMercyU, we strive to make a quality education accessible to all through financial aid, scholarships, and grants. As a military-friendly university, we welcome service members and participate in all VA educational benefits programs. 
Get the education you need for career that improves lives. Earn your Bachelor of Science in Public Health at GMercyU.