Alumni Association Awards Undergraduate, Graduate Students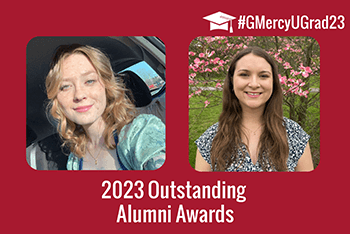 Gwynedd Mercy University's Alumni Association presented two students, one at the undergraduate and one at the graduate level, with an award at the 2023 Honors Convocation Ceremony on Friday, May 12.
Grace deFreese
Grace deFreese played an integral role in developing and raising money for the Monarch Garden on campus as part of her Senior Capstone Service Project. She specifically coordinated bake sales, the annual poinsettia sale, and milkweed propagation and planting.
Within the Biology program, Grace served as a Peer Mentor, specifically aiding first-year Biology students into college life and the major. Grace routinely meets with her mentee and helps run and plan peer mentoring events, including ethics sessions and study skills. As part of the curriculum, Grace was required to conduct research and write a thesis. Her thesis topic was on the Reduction of Ketones for Pharmaceutical Use.
On campus, Grace was a member of the Student Association of Science (SAS) and Sigma Zeta Honors Society. She also assisted the Biology program by serving as a student representative at Open House events.
Grace's plans to attend graduate school at Quinnipiac University for pathology.
Jordan Truntich
Jordan Truntich graduated with her Bachelor of Health Science in Occupational Science in spring 2022 and is graduating with her Master of Science in Occupational Therapy degree tomorrow.
Jordan was an Occupational Science undergraduate representative for the Student Occupational Therapy Association and served as the Fundraising Committee Chair. She was also a Peer Mentor for students in the Integrated Studies Program. As a co-leader of the campus volunteer project Integrate for Good, Jordan helped empower youth and adults with disabilities through social capital thinking, civic engagement, and community connection.
Jordan also participated in campus events such as Play 4 The Cure, Take Back the Night, and Walk a Mile in Her Shoes. During her undergraduate studies, Jordan was a four-year member of the GMercyU Field Hockey team.
Outside of the classroom, Jordan volunteered with Integrate for Good and other service opportunities through The Mercy Center and the Student Occupational Therapy Association.
Jordan presented at the Crossroads Presbyterian Church, the sponsor of disAbilities Ministry, on Health and Medical Conditions and Their Implications Regarding Sports Participation. To build on the work with disAbilities Ministry, Jordan and her classmates implemented six modules for community members during fall 2022 and her research was voted "Best Poster" by her peers.
During the last semester of her undergraduate studies, Jordan was instrumental in developing a community-based adaptive sports program as part of her Level I fieldwork. For her Level II fieldwork, Jordan drafted an article on assistive technology (AT) for a professional newsletter.
Alongside four of her peers, Jordan created an adaptive and inclusive sports program called Activities for All Abilities. After implementing the program, Jordan and her peers conducted research to see if there was an increase in sports activities and a change in social participation levels.
In October 2022, Jordan and two of her peers presented at the Pennsylvania Occupational Therapy Association Conference on a project titled disAbilities Ministry Fieldwork: Removing Barriers to Participation. At the American Occupational Therapy Association Conference in April 2022, Jordan presented on research titled Fieldwork I: Removing Barriers to Participation through Adaptive Sports. She also presented at the 2023 American Occupational Therapy Association (AOTA) Conference.
After graduating and finishing her fieldwork placement at Kennedy Krieger, Jordan plans to take the NBCOT and begin her career as an Occupational Therapist.