Iqra Siddiqui, MS
Biology 2019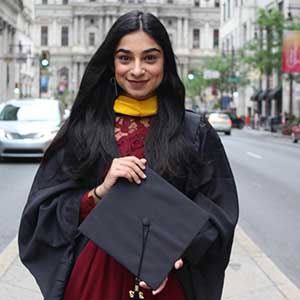 Current Position: Clinical Research Coordinator III at Sidney Kimmel Medical Center 

Iqra Siddiqui, a graduate of Methacton High School, knew GMercyU was right for her when she attended Accepted Students Day and met Dr. McEliece, professor and program coordinator of the Biology program. "After interacting with her, I knew I wanted to attend this institution," Iqra said.
As a Biology major, the faculty continued to inspire her. 
"I had great relationships with Dr. McEliece and Dr. Barbieri at the time, and they pushed me throughout my undergraduate career at GMercyU. Without their support, I don't think I would've developed the right skillset for success in the future," Iqra said. "The reason why I enjoyed my time at GMercyU was because of how supportive and encouraging the faculty was."
Like most college students, Iqra occasionally struggled with study habits and figuring out how to perform better on her next exam. She found encouragement in Dr. Barbieri, who would say, "One little hiccup does not mean to shift your career path entirely."
I would recommend GMercyU because of how intimate the classes were, especially for the Biology program. I had open communication with my professors which developed into a beautiful relationship. It also helped me approach them whenever I needed help.
Internship Experience
After her first year, Iqra worked as a research volunteer at Einstein Healthcare Network in Philadelphia in the pediatrics department.
During her junior year, she became an employee and research assistant at Einstein Healthcare Network. In the role, her main duties consisted of recruiting, enrolling, and performing patient data analysis. Her research study compares breastfeeding rates pre and post-implementation of the pacifier policy. The pacifier policy is a delay in the use of pacifiers in newborns.
"The study concluded that a Baby-Friendly-aligned pacifier policy did not impact overall pacifier use or breastfeeding rates at one month of age," Iqra said.
Also, during her junior year, Iqra completed research in a wet lab at Drexel University College of Medicine. There, she studied whether or not hypothermia is an effective treatment for neonates. She also chose this study to be the topic for her senior thesis.


Post-Graduation
For one year after graduating, Iqra worked in the emergency department at Einstein Healthcare Network. Just as she did during her junior year, Iqra's job was to recruit, enroll, and perform data analysis. In addition, she oversaw many clinical trials, from drug trials to medical device trials.
Iqra was still working at the hospital during the pandemic, where she participated in COVID-19 clinical trials, and provided positive patients with plasma to see if their symptoms decreased.
In August 2020, Iqra began to pursue her Master of Interdisciplinary Health Sciences at Drexel University College of Medicine. At the time, she was still working in the emergency room as a part-time research associate.
Iqra completed her master's degree in May 2022, and is currently applying for medical school.
She is also set to start her new job in Fall 2022 as a clinical research coordinate III at Sidney Kimmel Medical Center at their oncology site. Her role will be to recruit, enroll, and screen patients in addition to other responsibilities like managing clinical trial submissions.