Joseph Pandolfi
Biology 2019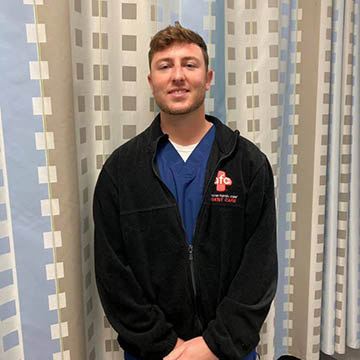 Current Position: Graduate Student in the Physician Assistant Program at the Philadelphia College of Osteopathic Medicine
After he graduated from GMercyU, Joe worked at an urgent care as a medical assistant, where he performed laboratory tests, administered medications, and assisted providers with medical procedures. Given that his site was a major COVID-19 testing center, it was a hectic year.

"I performed thousands of COVID-19 tests over the year. We were averaging over 100 patients a day in a 12-hour shift," said Joe. "But I think it was an excellent experience to have personally — during this pandemic, some people may have discovered that health care may not be for them, but it solidified for me that I am right where I should be on the front lines."

Fortunately, Joe stayed healthy. "I am glad to see that we are starting to shift back toward a normal life," he said. "It has been a long time coming."

Read below about his GMercyU experience and why he's excited to become a physician assistant.
His Path to GMercyU's Biology Program
The lacrosse program is what ultimately brought me to GMercyU. A former teammate played lacrosse at GMercyU and had nothing but good things to say about the school and lacrosse program. I reached out to Coach Lindstrom to watch me play at a fall tournament. Not too long after, I came to campus for an overnight visit. Coach Lindstrom, the team, and the beautiful campus sold me on GMercyU.

In high school, I wasn't quite sure what career path I was going to take. On my overnight visit, I sat in on business classes only, but my family has a history of practicing medicine. After a few months of thinking it over, I decided that I wanted to pursue a career in medicine, which led me to choose the Biology program.
Sharpening His Study Skills at GMercyU
When I first began the Biology program, I was shell-shocked. I never really developed study habits and a good work ethic in high school. Therefore, when I got college-level work, especially the science classes, I was not performing well. I had a pretty rough first year, where I finished with a low GPA. Going into my sophomore year, I joined E-STEM. I had a great peer mentor who helped me not only that year but throughout my college career until he graduated. I learned study skills and that it was okay to ask for help with school work. After just a couple of semesters in E-STEM, I changed many of my bad habits and became a much better student.

E-STEM also prepared me for the future with ethical debates. Dr. McEliece and Dr. Hellings always chose various ethical situations, including many that related to medicine. Therefore, I developed my ethical decision-making skills, which will help me greatly when I am a physician assistant.

Lastly, when I was a senior, I got to become a peer mentor myself. This allowed me to take my knowledge and experience through the Biology program and help younger students as someone did for me.
GMercyU's Biology Faculty
The Biology program is very close and supportive as a whole. Every professor had extensive office hours and was more than willing to help. I'm sure any of my professors would tell you I wasn't shy to pop in their office and ask a hundred questions.

Biochemistry 1 and 2 were probably among the most challenging classes I've taken, but Dr. Barbieri often related it to medicine. This made the courses more interesting to me personally, with my future interest in medicine. Dr. Barbieri also helped me extensively with pursuing a career in medicine.

I'll never forget microbiology with Dr. Lettini, where we were growing bacteria samples collected from nearby soil on campus in search of antibiotic-resistant bacteria. I spent a significant amount of time with Dr. McEliece and Dr. McClain between the classes I had and working on my thesis with them. Working on a thesis is a unique experience in college, and both of them pushed me to do my best work and truly become an expert on a topic in Biology.
Overall, I think all of my professors made a significant impact on the student and person I am today.
Life as a Student-Athlete
I played four years of college lacrosse at GMercyU. Being a student-athlete in college is a one-of-a-kind experience. I had a full schedule every day, which meant I had to manage my time wisely. Most mornings, we had workouts, then a full day of class until 4:00 p.m., followed by practice later that day. In my freshman year, I had a hard time balancing lacrosse and schoolwork. It took me the entire year to learn how to balance everything.

The lacrosse team was like a second family to me; we were very close. Between my teammates and Coach Lindstrom, they were an amazing support system through college.
Being a student-athlete made me exceptionally mentally tough. The pressure of keeping my grades up while competing on the field every day builds character and work ethic.
After I graduated and began working, I noticed that the rigor of being a student-athlete prepared me for the stress that comes with long workdays. I am forever grateful that I had the opportunity to be a student-athlete in college and had an amazing set of teammates throughout my four years. I still talk to my teammates that I graduated with frequently.
Career Goals
I am in the Physician Assistant program at Philadelphia College of Osteopathic Medicine (PCOM). Working at urgent care has given me a ton of valuable experience that will help me as I navigate through physician assistant school.

I chose to become a PA because it allows me to perform hands-on tasks such as physical examination and surgery while also diagnosing and creating treatment plans for patients. I like being able to be involved in both levels of care for patients. Also, PAs can switch specialties, giving me the ability to make an impact across several specialties in medicine.

I enjoy learning new things, which is perfect for medicine because it is almost impossible to know everything. There is also a perfect work-life balance when you are PA, which is extremely important to me. The PA profession is the perfect fit for me, I couldn't picture myself in any other profession.
Why Choose GMercyU
The Biology program at GMercyU will prepare you exceptionally well to succeed in the professional world. The professors are amazing and super supportive. They are flexible with their office hours, always willing to help, and want you to succeed in every way. It is a challenging program, but it will prepare you to enter whatever field you decide to pursue after college.
I didn't understand why my professors were always so hard on us until I graduated and entered the real world.
Not too long after I started interviewing for schools with other students and working with other people, I realized how grateful I was that they were hard on me. I was more than prepared and experienced when it came to the interview process, and my work ethic made me excel in the workforce.

I emailed Dr. McEliece and thanked her for helping shape me into the person I am today because I realized how crucial it was to my success and how it prepared me for the future.