Jordan Abelson
Biology 2021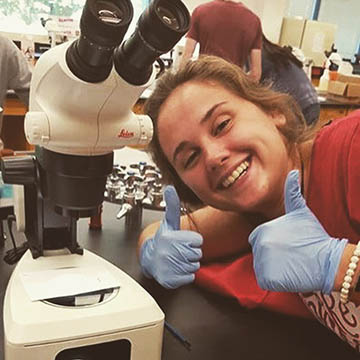 Current Position: Graduate Student, Brown University
Story Last Updated: January 2019
Current Position Updated: August 2021
Even though I still do not know where my career or educational journey may lead, I am sure I am in the perfect place to guide me. 
Why I Chose GMercyU
There were many reasons and factors that pulled me and influenced my decision to become a Griffin. Applying to schools my senior year of high school, I felt lost and confused. It is a daunting idea that you are potentially picking a lifestyle and home for the next four or more years. After graduating from high school and having been accepted into a much larger, well-known university, I decided a gap year was in my best interest. Being a student who was always involved in too much and had interests in almost everything, I was overwhelmed by the idea of picking one area to specialize in and having to give it 100%. Taking that semester off and reanalyzing my core values and beliefs, was crucial to how I see myself presently and how I hope to see myself in the future.

After going to GMercyU's Accepted Student Day and talking to current staff and students, it was one of the first times I felt that my story was similar with other's academic paths. I heard similar tales of feeling lost and overwhelmed at picking a major and more importantly, how the professors at GMercyU helped ease that anxiety and some of the advice they gave to their current students. During the lunch that was provided, I had multiple professors come up to me individually and introduce themselves to me. This was the first university that I had visited that not only were the professors involved in prospective student events but were engaged and encouraging to the fact I really had no clue what I wanted to do or what major I wanted to join.

Ultimately, the decision to choose Gwynedd Mercy University came down to the welcoming feel of the campus, staff and faculty. I entered as undecided freshman within the Honors Program. I felt comfortable in the idea knowing that GMercyU was equipped to handle untraditional students such as myself but also was open to allow myself to feel and explore other majors and concentrations until I found my niche on campus.
Finding Where I Belonged
Quickly into my first semester I found that the science department, especially the classes of Dr. McEliece and Dr. Barbieri was where I found myself constantly challenged and engaged. I was always passionate about science and health but never was involved in high school mainly due to my time being put in Student Government and other clubs. GMercyU was the first exposure I had to the rigorous schedule and demands of a science class.

The first class I had at Gwynedd Mercy University was my 8:00 a.m. honors course called From Observation to Impact. This was a discussion-based class where we debated and educated ourselves on controversial scientific topics that have changed and evolved over time. Walking into the classroom that first morning and seeing that I was one of four students in the class and then having them introduce themselves as seniors, my stomach dropped.
Yet, this class confirmed to me that I found a university that would challenge me and my ideals but would also give me the support and encouragement to further my learning. It reinforced that I belonged here and I had made a right decision of where to pursue my education.
The one-on-one attention I was given, not only within that course but all of my courses, is something that makes me proud of this university. I am proud that I feel comfortable that I can email any of my professors and receive a personal email back. I am proud that most of the staff I interact with know my name. I am especially proud that I am comfortable enough to go to the board in Chemistry class, knowing I most likely got the answer wrong, but having a relationship with the professor to ask questions and have her challenge my calculations and personally help me see where I went wrong. I felt at home and a sense of belonging in the science program even though my "commitment issue" deferred me from officially declaring a major in Biology with a Chemistry minor until almost finals week of my first semester.
School of Arts and Sciences
The courses that are required within the biology program are difficult and I have received grades I never dreamed I would ever receive on exams. My roommate has many times seen the effect of what a C grade on an exam does to me. The work ethic and time that is required to be successful within this program was something I was not initially ready for. Never studying in high school and rarely ever receiving grades I was not proud of did not prepare me for my first semester at GMercyU. After receiving those first initial grades back, I talked to my advisor and senior students and reevaluated my learning style and study skills. I feel as if at a larger university I would have been more willing to give up but having the close relationships to my peers and advisors they pushed me until I started seeing grades that I am proud of and excited about.

GMercyU's E-STEM Program is another aspect I wouldn't trade for anything. E-STEM meets once a week for an hour. Every week it changes as to what we focus on but it can be anything from ethics to study skills to even a social event. This club is an encouraging place to be and has been an amazing place to find likeminded peers who share the same values, goals and lifestyles. Being an active member in the E-STEM Program and a student of the Honors Program, I feel as if I am exposed and educated not only on topics specifically surrounding my major but also of other majors and topics.

I felt inspired by the classes I took within the Honors Program and some of the electives I had chosen so I decided entering my second semester to also pick up a minor in Communication. I feel very balanced and comfortable in my education as I feel as if in both paths I am constantly learning new things and gaining life experience I possibly would've missed out on at a larger university. Between my assigned advisors within Biology and Communication, Honors Program professors, senior students and Career Development, I feel reassured that I am in the perfect place for me. Even though I still do not know where my career or educational journey may lead, I am sure I am in the perfect place to guide me.

*Check out Jordie's Vlog series on GMercyU's YouTube channel!*

In Spring 2021, Jordie was named GMercyU's Undergraduate Commencement Speaker.