Joseph Giordano
Biology 2020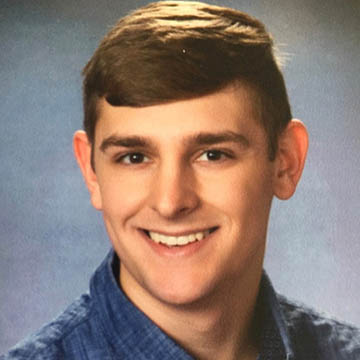 Current Position: Medical Student at Sidney Kimmel Medical College at Thomas Jefferson University
I've always been interested in science; however, I started as a Nursing major and finished freshman year in that major. For the next three years, I fast-tracked Biology.

My end goal was to attend medical school, and I thought I could do this via a nursing major, but it turned out that the prerequisites did not match up. Nursing was just too specialized to fit everything.

I was drawn into Biology after talking to Dr. Barbieri, the medical school advisor at GMercyU. She laid out all my options and set me on the right path - something I am super grateful for.

Biology was just the best fit for my goals. It did, however, end up being a diamond in the rough, and I had an awesome time. I can't say enough about GMercyU's STEM staff. They are unequaled in their care for students and knowledge over their subjects.
Experience in Biology Program
GMercyU's Biology program stands out because of the excellent, unparalleled staff. The professors truly care about students. The atmosphere is one of friendships and mentors more so than just teachers. Alumni constantly came back to visit, and this is something I don't expect to change anytime soon.

Due to the smaller number of students, the professors can provide individualized help. In my own experience, I got very sick during my junior year of college. I had to take a lot of time off and was back and forth with the University about withdrawing for the year. The only reason I was able to stay and finish out the year was because the professors were willing to work with me and completely rewrite my schedule for the year. I ended up getting my work done and having one of my best semesters in terms of grades.

This outcome was no miracle; it was because the professors in GMercyU's Biology program are excellent. At a bigger school, this scenario would have never happened, and I would have been forced to withdraw. Even at another small school, the chances of something like that being possible are low. This experience really speaks to the care that the Biology/STEM professors have for their students and their success.

I also found that the small-school feel allowed me to get comfortable talking to people in leadership roles above me or any superiors in general. This acclimation has been immensely beneficial for networking skills - which is something that really can't be understated.

As far as professors who stood out in particular, the Biology program truly had no weak points in teaching. All the professors in Biology are excellent -labs, seminars, etc. I am especially thankful for Dr. Barbieri because she was my advisor and kept me on track.

During undergrad, I did a lot of research on Diabetic Retinopathy. My lab studied the metabolic processes in this disease state, especially those relating to oxidative stress/ stress pathways. I am a co-author on one article from this time. This summer, I am currently working as a lab tech in the same lab.
Life Outside the Classroom
At GMercyU, I played lacrosse, was a member and Vice President of the Student Association of Science (SAS), and participated and was a mentor for the E-STEM program. I also did some volunteer projects and a decent amount of job shadowing.

Playing lacrosse was awesome. It certainly made time management much more difficult, but it taught me some valuable lessons and led to me making some of my best friends in the world. The clubs and programs I was a part of were also awesome. I had a blast in both SAS and E-STEM. E-STEM was uniquely influential for its value in developing moral critical thinking (something arguably of utmost importance in medicine).
Mercy Focus on Haiti
Mercy Focus on Haiti was something that GMercyU Bio had just started to help with my senior year but was a super awesome initiative. After going back and forth with the Sisters of Mercy in Haiti, we determined that our time was best spent helping with Hens for Haiti. This was a program with the goal of raising chickens for eggs in Haiti; however, in the past, the hens had become malnourished and died. It was our goal to figure out what nutrients were missing and how to supplement those nutrients.

I grew up in a small farming town, so I had some contacts in the industry to get over information on what the hens needed. We came up with a few simple chicken feed recipes that could be used. When COVID hit, communication became greatly limited, and I haven't really heard anything since the start of the pandemic. This is something that deeply saddens me. It is easy to remove yourself from suffering that is happening in the world when it is not on your doorstep. I think the impact of this program and others like it helps to show people true need.

I'm sure, in some ways, this has made me a more compassionate person; however, I'm not sure if looking at it from the point of personal gain is the right thing to do. I just hope they are doing well there, that tensions with war are slowing down, peace is spreading, and that the hen problem is solved so the citizens can have fresh eggs for food. I think all students should participate in projects such as this to help them understand that not everyone is as well off as we are as students at GMercyU.
Post-Graduation Journey
During my senior year and after graduation, I applied to medical school. This application was a lengthy process that involved studying for the MCAT, a primary application, a secondary application, and interviews. I also have been job shadowing since graduating and worked landscaping as well as in the lab as a lab tech.

Currently, I am working two jobs and waiting to start medical school at Sidney Kimmel Medical College at Thomas Jefferson in Philly.

The Biology professors at GMercyU are world-class. Don't be afraid to become friends with your professors because the best mentors are the ones you can trust. These professors will genuinely care about your success with whatever goals you have. I know from experience that they will do everything they can to help you see these goals through. This support is something super rare at the college level. The benefit of it can't be understated.

At GMercyU, you are not just a number, you are a person. If you want to make meaningful connections as opposed to just going through a curriculum, choose GMercyU.