Celebrating 75 Years
A look back at the remarkable accomplishments of the University, where Mercy has always made the difference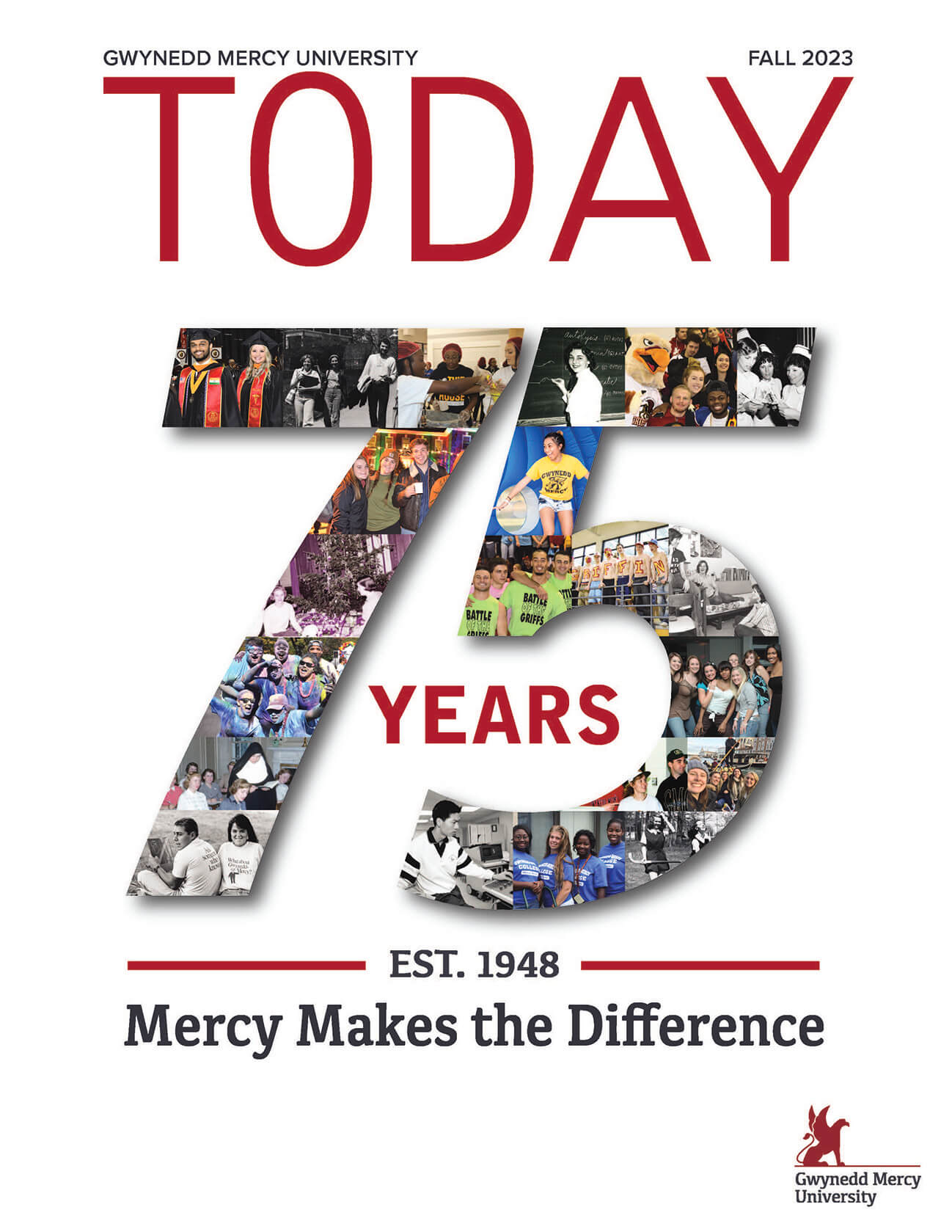 The commemorative issue of TODAY Magazine, celebrating GMercyU's 75th anniversary, is out now! Read it here

Message from the President
On October 1, 1948, Gwynedd Mercy University was officially launched by a group of adventurous and tenacious Sisters of Mercy.
They really didn't have any experience with creating or running a college, but that didn't stop them. They saw a need to provide a place where women, in particular, could earn a college degree and be grounded in Mercy values to use their knowledge and education to better themselves as well as others in the greater community, much like Catherine McAuley did when she opened the House of Mercy in Dublin, Ireland in 1827.

I am happy to report that this Mission has not changed in 75 years... read more
1947
Mother Mary Bernard, founder and First President of GMercyU, searches available properties in the area and by late 1946 decides that "the Gwynedd Valley estate was extremely desirable for our purposes."

The Sisters of Mercy purchase 84.5 acres of property from the Taylor family for $100,000 on May 7, 1947.

Mother wrote: "Treweryn, Gwynedd Valley is ours! Thanks be to God! May it exist and be developed from now on only for His Glory!"

At the estate, Mother promptly converts the manor house into a convent and offices, and the barn into classrooms. The Academy moved to Gwynedd Valley in 1947. 
1948
GMercyU, originally named Gwynedd-Mercy College, is founded in Gwynedd Valley, Pa, by the Religious Sisters of Mercy of Merion as a junior college.

The initial class numbered 28 and there were seven faculty/administration members: Mother Mary Bernard Graham (President), Sister Mary Gregory Campbell (Academic Dean), Sister Mary John Aloyse (Registrar), Sister Mary Virginia (Treasurer), Sister Mary Cecilia, Sister Mary Catherine Laboure, and Rev. Garrett F. X. Murphy.
On Sunday, October 31, 1948, his Eminence, Cardinal Dennis Doughtery gave Benediction of the Most Blessed Sacrament at the newly opened Gwynedd-Mercy Junior College. 

This ceremony was known as the "28 Roses Ceremony and Reception," with each rose representing a member of the entering class.

In the early years, five courses of study were offered:

secretarial
medical-secretarial
pre-laboratory technician
merchandising
liberal arts
GMercyU held its first Carol Nights celebration. The tradition continues today with the Voices of Gwynedd hosting three concerts to kickoff the holiday season. The concerts are followed by a live navity scene.
More Celebrating 75 Years