Dining Services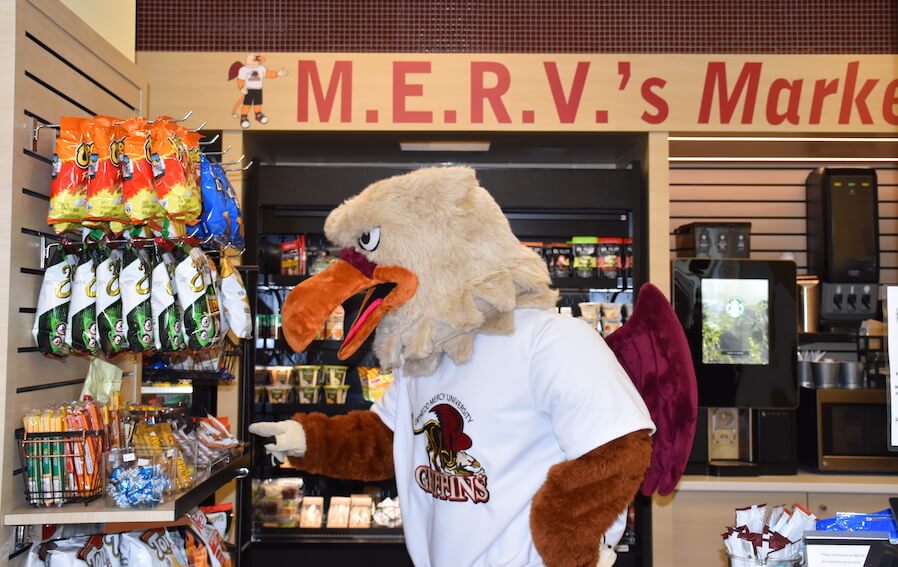 Relax with friends over a meal in the Waldron Café, share a late-night pizza with friends at the Pepperazzi, or place a mobile order to go with Griffins Mobile!

We know meals plans are an important part of your lifestyle, so we offer flexibility in our dining options through our exclusive caterer, Parkhurst Dining Services. You can learn more about your meal plan options on our Tuition & Fees page.

M.E.R.V. Bucks
All of our plans include M.E.R.V. Bucks, which can be redeemed at dining spots around campus without using a meal. It's the perfect solution when you're between classes and looking for a snack or cup of coffee. They can be used for additional meals, guest meals, and commercially packaged products at the Waldron Cafe, Pepperazzi, or Pop Up Events.

If you run out of M.E.R.V. Bucks before the semester ends, you can purchase additional Flex Dollars. If you have M.E.R.V. Bucks left over from fall semester, they will transfer to the spring semester, but they do not transfer from the spring semester to the following fall semester.

Flex Dollar Accounts
Using your student ID, you can establish a Flex Dollar Account, which acts as a debit account for purchases you make on campus. The balance on your account is carried forward each semester until you graduate or formally withdraw from the University.

You can purchase flex dollars at the Campbell Solution Center or online through eAccounts on the GMercyU Portal. You can purchase any amount but any purchase over $50 will receive a 10% enhancement.

Casual Meal Rates
Breakfast: $5.95

Lunch: $9.43

Dinner: $10.38


Special Meal: $11.79
University Meal Periods
Breakfast: 7:00 a.m. – 10:00 a.m.
Lunch/(Brunch Weekends): 11:00 a.m. – 2:00 p.m.
Lite Lunch: 2:00 p.m. - 4:00 p.m. (Monday - Friday) and 2:30 p.m. - 4:00 p.m. (Saturday/Sunday)
Dinner: 4:00 p.m. - 7:00 p.m.
Late Night Dinner (Pepperazzi Only): 7:00 p.m. – 10:00 p.m.



NEW: M.E.R.V's Market in University Hall
Conveniently located for a quick bite between classes, you'll find fan favorite products like bottled beverages, energy drinks, chips, candy, healthy snacks, and freshly-brewed Starbucks coffee. 
Thanks to its self-checkout kiosk, the market is available during all building hours. Simply choose what you're craving, use the kiosk to scan in the barcodes or add non-barcoded items, then pay with your campus ID (Flex Dollars or M.E.R.V.) or a credit card. In addition to frequent visits by our team members to keep inventory stocked, our camera system will monitor the location throughout the day.
Hours: Open during all building hours

Waldron Cafe
You'll find an assortment to please every palate in this "all you can eat" dining hall. Our chefs take great pride in developing creative menus encompassing multicultural entrees and delicious sides. The signature double chocolate cookies and self-serve ice cream are a hit with our guests. From holiday-themed meals to chef specials, we work with our student dining committees throughout the year to provide rich dining experiences to our campus community. Students using a meal plan just swipe their card for access and other guests may pay with Flex Dollars, cash, or credit card.
Waldron Cafe Hours
Monday-Friday:
Breakfast: 7:00am – 10:00am

Lunch: 11:00am – 2:00pm


Dinner: 4:00pm – 7:00pm
Saturday:
Mobile Order Pick Up only, no in person dining
Sunday:
Sunday Dinner Series: 5:00pm - 7:00pm 

Pepperazzi
One step into the Waldron Student Center and the aroma of fresh, hand crafted pizzas will leave you wanting a slice. "The Pep" is known for its classic and innovative pizzas and accompanying Italian cuisine, and uses the best quality cheese, vegetables and meats. Our house-made marinara and pizzas are made with pride. Dine in, take out, or have us bring it to you with a catering request. Meal Exchange Equivalency is available during lunch and dinner, or you can pay with Flex Dollars or cash.

Pepperazzi Dining Hours

Monday-Thursday:
Lunch: 11:00am - 2:00pm

Lite Lunch: 2:00pm - 4:00pm

Dinner: 4:00 - 7:00pm


Late Night Dinner: 7:00pm - 10:00pm
Friday:
Saturday/Sunday: Closed

Griffins Go
To better meet your needs for fast and convenient meals, snacks, and drinks, we're evolving our Transact Mobile Ordering to offer you Griffins Go, a virtual dining location served up from our Waldron Cafe Kitchen! Contact-free pick-up shelves will save you time, and you can use meal swipe equivalency ($9.50) for the best value. And, back by popular demand, Mobile Ordering for Pepperazzi will have additional menu options and an expanded selection of snacks and drinks.

Griffin Mobile Hours
Monday-Friday:
Lunch: 11:00am - 2:00pm

Lite Lunch: 2:00pm - 4:00pm


Dinner: 4:00pm - 7:00pm
Saturday:
Brunch: 11:00am - 2:00pm


Dinner: 4:00pm - 6:00pm
Sunday:

Catering
To make arrangements for catered food events, please contact Parkhurst Dining Services at 267-448-1328 or email parkhurst@gmercyu.edu Monday-Friday from 8 a.m. to 4 p.m. You can also check out our Catering Website and our Dining Website.

More Dining Details
Students may use their meals at Waldron Café or Pepperazzi. Students can also choose to use a meal for Mobile Order Pick Up instead of in person dining.
Mobile Order Pick Up will be available at all meal periods. All Mobile Orders can be picked up on the first floor of Waldron Student Center across from Pepperazzi.
Cash Equivalency is available for Mobile Ordering or any On the Go prepared meals. Cash Equivalency is also available at Pepperazzi for both In Person Dining and Mobile Ordering. Students using Mobile Ordering can use their Cash Equivalency Meal Swipe for a meal up to $9.50 on Griffins Mobile or $6.25 at Pepperazzi.
Students on a 15 Meal Plan can use 1 meal per meal period with a maximum total meals of 4 meals used per day. Students on this plan can not use their meal plan at two locations during the same meal period.
Students on a Block plan can use multiple meals per meal period at any location.