Psychology Major - BA or BS Psychology Programs
Did you know you don't need a doctorate to work in the field of mental health?

Earning a bachelor's degree in psychology is the first step to a rewarding career that puts your expertise and empathy to work. 
Pursue either a Bachelor of Arts in Psychology (BA) or a Bachelor of Science in Psychology (BS), based on your interests. 
Our faculty closely mentor every student to help you plan your next step, whether it's diving immediately into full-time work after graduation, earning your master's degree and license to become a licensed therapist or counselor, or pursuing one of the many other careers that value training and experience in psychology.  
We get to know every student really well and work with you one-on-one to find the right career path for you. Then we help get you where you want to go. Our career mentorship with students is a key component of this program. 

—Rebecca Gullan, PhD, Professor and Program Coordinator, Psychology program
Real-World Opportunities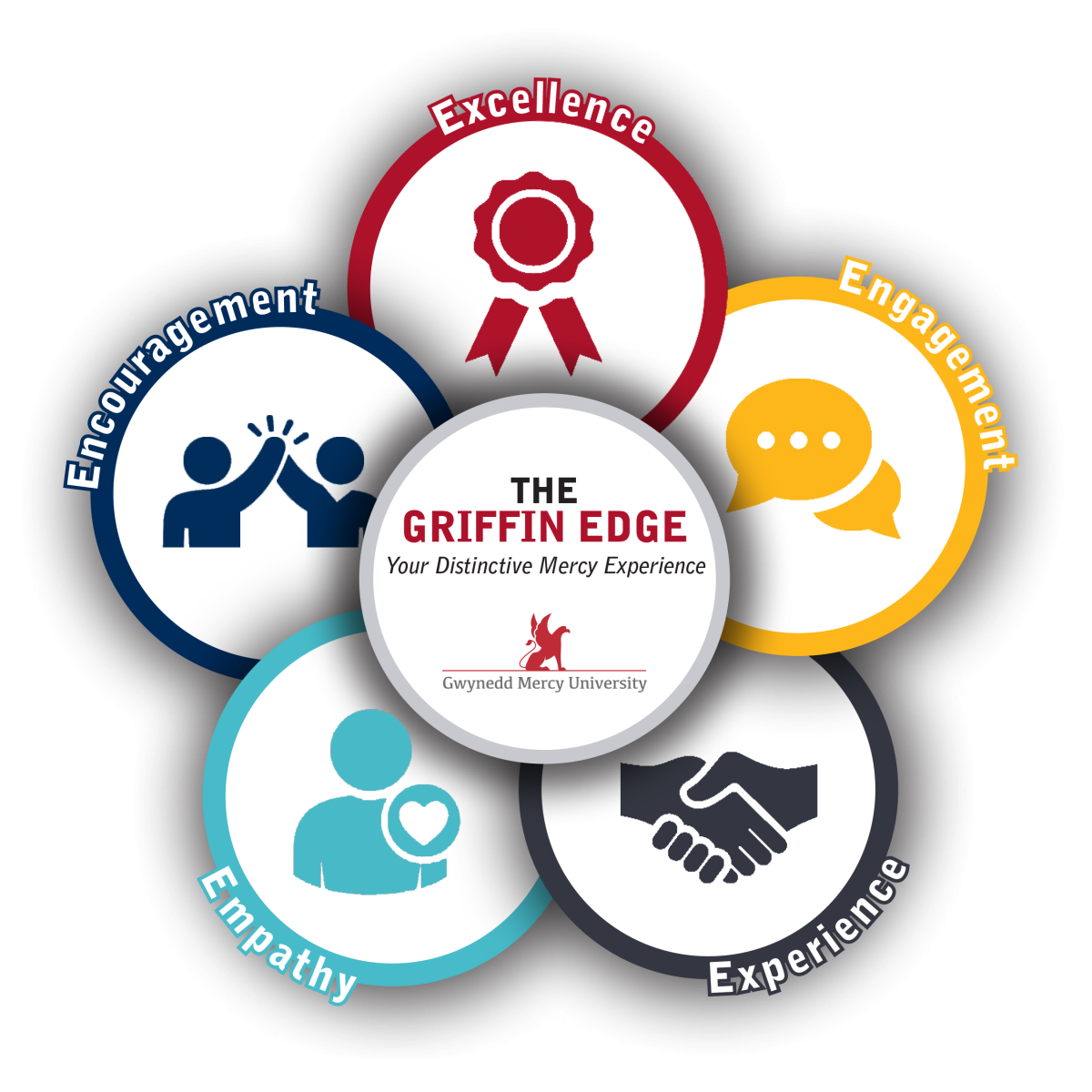 The Griffin Edge is comprised of five touchpoints -- Excellence, Engagement, Experience, Empathy, and Encouragement -- that become the cornerstones of your Distinctive Mercy Experience as a full-time undergraduate student.
The Griffin Edge includes an e-portfolio for documenting your GMercyU educational and extracurricular experiences (no matter your major), reflecting on those experiences, and receiving feedback from faculty. It's designed to help you take ownership of your educational journey and chart the right career path for you. It will also help you learn how to talk about your college experiences in meaningful ways — and that can make all the difference in a job interview. 
For example, a student might say in a job interview: "I conducted research at the undergraduate level." 
A Griffin Edge student might say: "The opportunity to conduct my own research alongside expert faculty taught me the importance of being exact in my data collection and analysis. I was even able to present my findings at our annual research conference! I know this is the career for me."
Learn more about the Griffin Edge here.
Student internships help you put the skills you learn at GMercyU into real-world practice. They also enhance your resume with work experience and professional references.
Interning is also an excellent opportunity to explore a psychology specialty. You could intern with organizations that assist people dealing with crisis situations, domestic violence, workplace wellness, or substance abuse recovery.
GMercyU psychology students have recently served and learned at a number of local organizations:
A Woman's Place
Caring Hospice
Children's Hospital of Philadelphia – Roberts Research Center
Gwynedd Mercy Academy High School
Horsham Clinic
Lansdale Catholic High School
Mind of the Athlete
Mitzvah Circle
Penn Foundation
Philadelphia Police Department
Project Home: Jon Bon Jovi Souls Homes
The Philadelphia Zoo
The Training Room
The University of Pennsylvania School of Veterinary Medicine
Valley Forge Hospital and Rehabilitation Center 
Valley Youth House
Women's Center of Montgomery County
To build your resume for immediate employment or a graduate school application, all GMercyU Psychology majors:  
Complete an internship of clinical work
Take at least two advanced research courses
Present your research at GMercyU's Undergraduate Research Conference
Here are some career options for those with a bachelor's degree in psychology:
Behavioral Health Technician
Substance Abuse Counselor
Market Research
Advertising and Consumer Behavior
School Support Specialist
Mental Health Technician
Residential Support
Clinical Research Associate
Human Resources
Here's what you can do with the right master's degree and/or license:
Licensed Professional Counselor
Licensed Mental Health Counselor
Licensed Social Worker
Industrial Organizational Psychologist
Clinical Research Coordinator
Entry into doctoral programs across all areas of psychology 

Here's a closer look at just a few of the many career paths for psychology majors.
Substance Abuse Counselor
Description: A substance abuse counselor works with individuals struggling with a drug or alcohol addiction. They often work in an independent practice, addiction treatment facilities, prisons, and mental or community health programs.
Degree Requirements: Bachelor's degree
Average Salary: In 2022, the average annual salary in the U.S. was $49,710 per year, with the highest 10 percent earning more than $82,710.
Source
Licensed Professional Counselor
Description: Licensed Professional Counselors (LPCs) assess and treat mental and emotional disorders and work with individuals, couples, families, groups, and organizations in a variety of settings.
Degree Requirements: Master's degree
Average Salary: The current average salary is $54,378.
Source
Psychologist
Description: A psychologist uses observational and conversational skills to identify the root cause of behavioral, cognitive or emotional struggles an individual may be facing. Work in a private practice or in the health care or school setting.
Degree Requirements: PhD or PsyD in psychology. Additional licensure may also be required.
Average Salary: In 2021, the median annual salary for a psychologist in the United States was $85,330, with the top 10% earning more than $141,910.
Source
At GMercyU, we'll help you hone in on the right career path for you. You may find inspiration from these Psychology program graduates.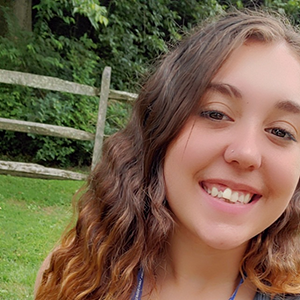 Alyssa Yiaski '23
Current Position: Master's in Counseling degree student at GMercyU
In 2023, Alyssa was interviewed by KYW Newsradio on why Gen Z is so open to discussing mental health and the role social media plays. Read the article or listen to the podcast here. Alyssa's plan is to become a therapist working with teenagers who are aging out of foster care. Eventually, she'd love to earn her doctorate and open her own practice. Learn about her GMercyU experience.



Eduardo Moreno '22
Current Position: Registered Behavior Technician, Behavior Interventions, Inc.
Launching his career after graduation, Eduardo works for an organization that offers ABA (Applied Behavior Analysis) services for children. As a student-athlete at GMercyU, he juggled his coursework and internship with playing on the men's soccer team. Learn more about Eduardo's GMercyU experience.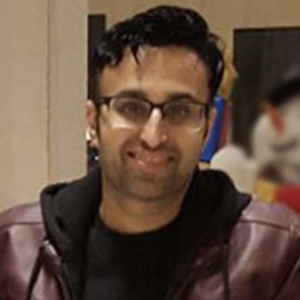 Sam Memon '20, MS
Current Position: Mental Health Therapist, Lenape Valley
As Psychology major, Sam interned with the Children's Hospital of Philadelphia, where he participated in an anti-bullying research project with local students. The experience confirmed that he wanted to eventually work with children and families. Learn more about Sam's GMercyU experience.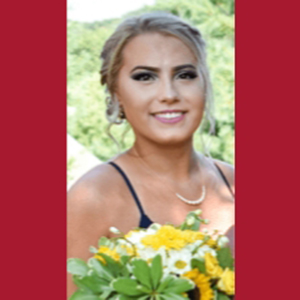 Bailey McLaughlin '20, MS, BCBA, LBS
Current Position: Board Certified Behavior Analyst, First Children Services
Bailey earned a Master's in Psychology while she worked as a Registered Behavior Technician (RBT), providing behavioral support to those with behavioral, emotional, and social issues, primarily those with children diagnosed with autism. Learn more about Bailey's GMercyU experience.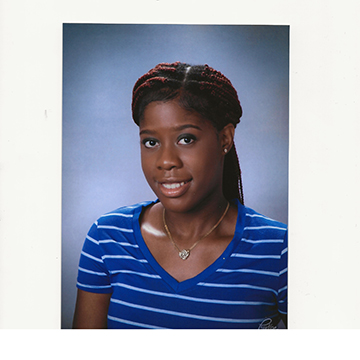 Wilnise Destin '20, MBA
Current Position: Benefits Specialist, Clear Employer Services
Wilnise is using her Psychology degree in the field of Human Resources. While gaining valuable job experience in HR, sheearned an MBA to help advance her career. Learn more about Wilnise's GMercyU experience.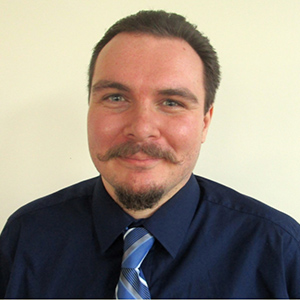 Levi Sassaman '11, MS
Current Position: Analyst, Psychology Product Research & Design, Heidrick & Struggles
Levi earned his masters in Industrial and Organizational Psychology, the study human behavior in the workforce. He has worked for organizations that produce produce soft-skills assessments used for evaluating job candidates. Learn more about Levi's GMercyU experience.
The classes I took to fulfill my [Counseling and Interpersonal Relations] minor helped me gain strong skills and knowledge for the mental health and counseling field. I added this minor towards the end of my junior year, but it never once felt overwhelming and tied into my major perfectly. 

—Alyssa Yiaski '23, Master's in Counseling degree student at GMercyU