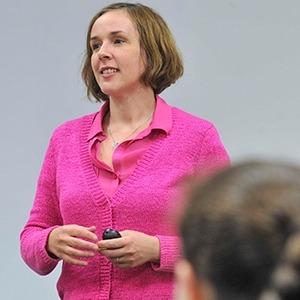 Professor, Program Coordinator
Psychology
Contact Info
Professor of Psychology and Psychology Program Coordinator Rebecca Lakin Gullan, PhD has been a GMercyU faculty member since 2009. Gullan received her bachelor's degree in psychology from Cornell University and her master's and doctoral degrees in clinical psychology (with a specialization in children and families) from Bowling Green State University.
Her current research interests include identity development and mentorship in adolescence and adulthood. Gullan has collaborated with colleagues at Rutgers University and The Children's Hospital of Philadelphia/University of Pennsylvania School of Medicine on intervention and measurement development research related to health violence prevention, empowerment, and mentorship. She has also published research on marital and family interactions in clinic-referred families, college student mentorship, and school-based interventions to support prosocial behavior and identity development in high-risk youth.
In addition to her research, Gullan has served on both regional and national child advocacy organizations. Gullan was also on the Editorial Board for School Psychology Quarterly, the official school psychology journal of the American Psychological Association and serves as an ad-hoc reviewer for a number of professional journals. Gullan teaches ethics, research methodology and experimentation, and the psychology capstone course.
Gullan's research on Mentors That Matter was featured on The Academic Minute in May 2016.
In August 2020, Gullan was interviewed by WHYY on how remote learning impacts children's socialization skills.