Bachelor of Social Work - BSW Degree

GMercyU's CSWE-accredited BSW degree is a practical, hands-on program for those who want to dedicate their careers to helping others.
And your help is needed — job growth for this field is predicted to grow 7% through 2032, more than twice as fast as the national average.
Once you complete your BSW degree and pass your Pennsylvania social work exam, you can apply for licensure through the State Board of Social Workers, Marriage and Family Therapists, and Licensed Professional Counselors.
Or, you can complete your master of social work degree in just one year instead of two, since you'll be eligible for advanced standing in CSWE's master's degree programs.
GMercyU's history is rooted in service to the community. In our BSW program, you'll prepare for generalist social work focused on economic and social justice concerns, from homelessness to community violence, substance abuse, organizational diversity, and child welfare. You'll learn to work with individuals and communities in urban, suburban, and rural areas.
Satisfaction comes with knowing your work has meaning in the lives of others, and few professions offer as much meaning as social work. 

—Social Work Program Director Wade Luquet, PhD
The Social Work program has taught me so much more about the career path I want to go on but also about myself, the people around me, and the environment. I have had such a great experience at GMercyU with my professors, making some great friends, and having great experiences. 

—Kelsey Breisch '23

With GMercyU's new Counseling and Interpersonal Relations minor, you'll gain a valuable specialization to prepare you for graduate school or entry-level positions in the field. Learn more on our undergraduate minors page.
Next Steps
At GMercyU, we strive to make a quality education accessible to all through financial aid, scholarships, and grants. As a military-friendly university, we welcome service members and participate in all VA educational benefits programs. 
Mercy is our middle name, and addressing the needs of others is what we do. Begin your journey to earning your Bachelor of Social Work degree at Gwynedd Mercy University.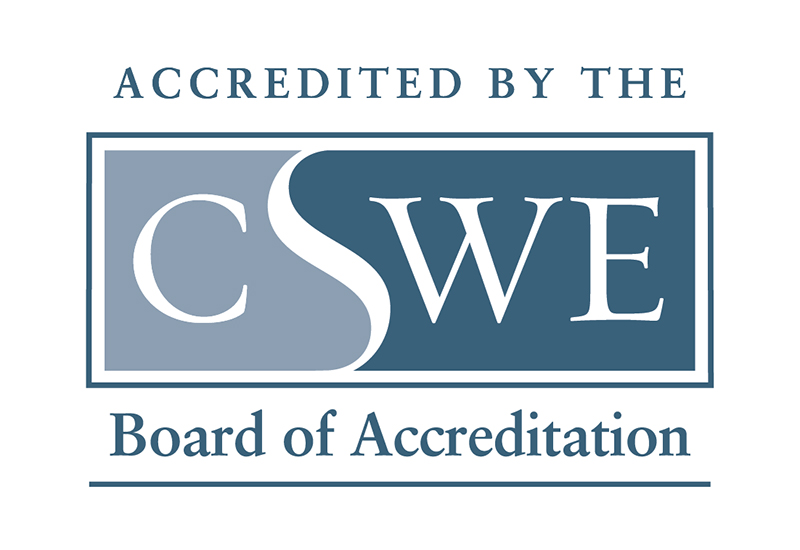 *Gwynedd Mercy University's Bachelor of Social Work (BSW) program is accredited by The Council on Social Work Education (CSWE) Board of Accreditation.
Accreditation of a baccalaureate or master's social work program by The Council on Social Work Education (CSWE) Board of Accreditation indicates that it meets or exceeds criteria for the assessment of program quality evaluated through a peer review process. An accredited program has sufficient resources to meet its mission and goals and the Board of Accreditation has verified that it demonstrates compliance with all sections of the Educational Policy and Accreditation Standards.
Accreditation applies to all program sites and program delivery methods of an accredited program. Accreditation provides reasonable assurance about the quality of the program and the competence of students graduating from the program.
For more information about social work accreditation, you may contact Accreditation.

Find information on Gwynedd Mercy University's Bachelor of Social Work Program 2023 Assessment Outcomes here. You can also view:
*Licensure: This program was designed to meet the licensure requirements of the Commonwealth of Pennsylvania. If you reside in a different state, you should carefully review your home state's licensure requirements prior to enrolling in this program. For more information, please visit our Program Licensure Requirement page.