Sam Memon
Psychology 2020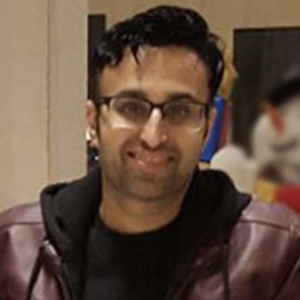 Current position: Mental Health Therapist, Lenape Valley Foundation
Story posted: Fall 2021
Job title updated: Fall 2023


Sam always pictured himself in a "helping" profession, and he took methodical steps to determine what his specific career path would look like.

First, he worked as a pharmacist technician, recommended by a pharmacist family member, to see if pharmacy was right for him. "But I grew to dread that job," he said. "I knew I needed to interact with people more."

Next, he explored nursing and enrolled in a program at a local university. However, a car accident landed him in the hospital, where he learned he enjoyed talking with other patients more than observing nurses in action. "That accident was a weird blessing in disguise," said Sam of the realization.

He then decided to pursue mental health and was drawn to GMercyU's Psychology program. "I really liked that everyone at GMercyU is so kind and empathetic and compassionate," said Sam. "Those traits help you flourish as a student." He also liked that GMercyU's class sizes are smaller, thinking it would afford him better relationships with his classmates and professors.

Sam was right — in addition to making close friends in the program, his professors made a significant impact on his college career.
I really liked that everyone at GMercyU is so kind and empathetic and compassionate. Those traits help you flourish as a student.
"Dr. Gullan helped me find the potential in myself that I didn't see. She, along with Mary Reilly, recommended that I pursue the VP of the Psi Chi Honor Society and the VP of Psychology and Social Service Association. I didn't think I could, but Dr. Gullan said, 'you know, I really think you can do this.' She helped me see something in myself that I didn't," said Sam, adding, "She was always very patient, determined to help her students. She would welcome you at her office if you ever needed anything. I miss having her as an instructor."

As a Psychology major, Sam used his GMercyU internship to confirm another hunch about his future career. "Working with kids was always something I was good at, but I wanted to test it out."

So, Sam embarked on an internship with the Children's Hospital of Philadelphia, where he participated in an anti-bullying research project with local students. The experience confirmed that he wanted to eventually work with children and families.

At his current graduate-level internship, Sam provides therapy virtually for clients at the Lenape Valley Foundation. And he now has a very clear career path — after he finishes his master's degree at the Philadelphia College of Osteopathic Medicine, he plans to earn his license to become a marriage and family therapist.

At graduate school, Sam takes special pride in a research project he worked on.

"I come from a Muslim background. I'm also gay. Those intersectionalities are very unique — we don't have many Muslim-American therapists, and there's a lot of LGBTQ+ Muslims who have taken their own lives because there's no one to really help them. I really want to help them."

Sam completed a poster presentation on the Muslim religion, including what the Quran says about homosexuality and how to counsel those coming from those two backgrounds.

"With my unique perspective, I was able to propose therapy. I want to help families and children, but also marginalized individuals, including those who are Muslim American and LGBTQ+," Sam said.