Online Master's Degree in School Counseling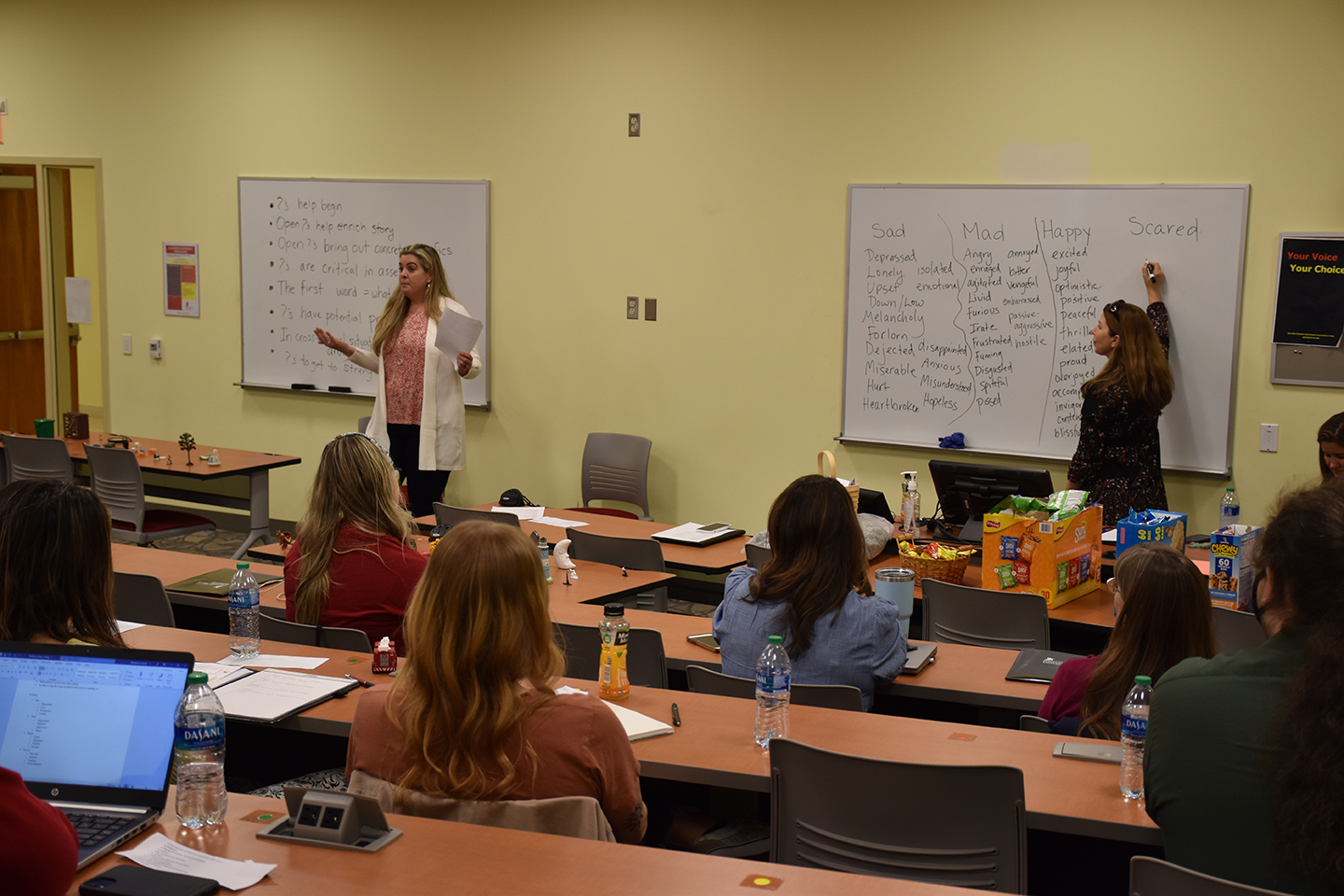 Make an impact in the lives of children and teenagers
Gwynedd Mercy University's 60-credit M.S. degree program prepares students for certification as K-12 school counselors in Pennsylvania and is aligned with components of the American School Counseling Association's (ASCA) National Model.
The program's format allows students to learn course content online and put theory into practice during two required residencies and subsequent fieldwork experiences.
GMercyU's program is based on a scholar practitioner model, meaning that students are expected to cultivate both academic accomplishment and interpersonal competence. School Counseling students are provided with a solid academic foundation that includes courses in counseling skills, human development, research methods, group counseling, multicultural counseling, counseling theory, techniques in school counseling, and school counseling orientation.
Coursework is supplemented with ample experiential learning, which gives our students hands-on opportunities to work in schools and help children and adolescents navigate difficulties with family, teachers, and peers.
Choose between a slower, traditional track (estimated completion in 3.5 years) and an accelerated track (estimated completion in 2.5 years). See a comparison here. (PDF)

Program Details
School counselors play a key role in the development of children and teenagers, especially when times are tough at home or in the classroom.

Typical responsibilities for school counselors may include:
Helping students build healthy coping skills through individual or small group instruction.
Serving as an advocate for students who are struggling personally or academically.
Collaborating with teachers, parents, and administrators in service of student well-being.
Linking students and their families to community resources and support.
Providing guidance for high school students as they make future career and educational plans.
Employing developmentally appropriate and culturally sensitive strategies to optimize student success.
GMercyU offers one of the top school counseling programs in PA that will help you succeed in starting your career as a school counselor. In our program, you'll benefit from personal attention and mentorship provided by our experienced and caring faculty members. Moreover, you'll be treated as a working professional who can meet our high standards for academic and clinical performance and ethical behavior.
Additionally, students who enroll in this degree will be eligible to pursue certification and/or licensure, the requirements for which vary by location.
Our Master's Degree in School Counseling consists of 60 credits of course work. The core curriculum makes up 30 of those credits, and the other 30 are within the concentration.
CNS 507
D

isabilities in the School Counseling Setting

3 credits
CNS 508
Needs of English Language Learners in the School Counseling Setting
3 credits
CNS 523
Intervention of Techniques of School Counseling
3 credits
CNS 525
Organization of School Counseling
3 credits
CNS 536
Group Counseling and Facilitation Skills for the School Setting
3 credits
CNS 608
Internship II (Sc)
3 credits
CNS 609
Internship III (SC)
3 credits
CNS 610
Internship III (SC)
3 credits
CNS 527
Electives
9 credits
 See the core curriculum on our Master's of Counseling page. See all course descriptions in the graduate catalog.

You will complete a total of 100 hours of practicum experience, plus 600 total hours of supervised internship. This will prepare you for eligibility for License as a Professional Counselor (LPC) in the State of Pennsylvania. Graduates from the program must pass the National Counselor Exam and fulfill the required post-degree supervision requirements to earn the LPC credential in the State of Pennsylvania.
Syllabi for enrolled or prospective students are available for review. Please contact our program director or our CACREP Liaison for any specific syllabus.

*Licensure: This program was designed to meet the licensure requirements of the Commonwealth of Pennsylvania. If you reside in a different state, you should carefully review your home state's licensure requirements prior to enrolling in this program. For more information, please visit our Program Licensure Requirement page.
Next Steps
We will consider you for admission to our online clinical mental health master's degree based on your academic ability, expression of interests and goals, life experience, and personal interview.
 
To apply, you must:
Hold a baccalaureate degree from an accredited institution of higher education;
Demonstrate completion of the following undergraduate prerequisites:

3 credits in General Psychology, Developmental Psychology, Theory or another foundational course
3 credits in Research Methods or Statistics;

Submit official transcripts from all academic institutions attended;
Demonstrate achievement of a minimum grade point average (GPA) of a 3.0 on a 4.0 scale (see below if your GPA was lower than 3.0 and you do not currently hold a graduate degree);
Complete of the Gwynedd Mercy University Graduate Application and pay the application fee;  
Submit two letters of recommendation from:

An academic who can attest to your academic ability (preferred), and
A professional or supervisor who can attest to your professional qualification, abilities, and temperament for the field.  

Complete a personal statement (3-5 pages maximum) that address the following:

Who you are and your reasons for choosing a career in clinical mental health counseling;
Why you have chosen GMercyU's online clinical mental health counseling program;
What being a clinical mental health counselor means to you, and personal characteristics that make you uniquely suited for such a career;
Your expectations of learning in an online program and your ability to meet those expectations;
How you plan to complete the field placement demands of the program.

Attend a personal interview with program staff.
NOTE: If your GPA was lower than 3.0, you must provide proof of acceptable scores on the Graduate Record Examination (GRE).  We require a combined score of 292 or higher, and you must also complete the analytical writing test.

The GRE requirement is waived for applicants who currently hold a graduate degree or applicants who achieved a GPA of 3.0 or higher.
You may transfer up to six (6) credits of graduate work completed at an accredited institution for comparable courses into the GMercyU program, provided you earned at least a B in each course. Transfer credit decisions are made on an individual basis.