Digital Communications Major
E
very organization needs an expert who knows how to pair the right messaging with the right technology. That's why jobs using digital communications skills are in high demand and well paid.

GMercyU's Digital Communications program is the perfect launching pad for a career in the industry – social media, public relations, corporate communications, content creation, and more. You'll develop production, editing, writing, and marketing skills and learn how to craft messages with impact.

While you earn your Bachelor of Science degree in Digital Communications, you'll also have the opportunity to earn certifications that will help boost your employment opportunities and salary.


About the Program
For an introduction, watch this video created by Digital Communications students.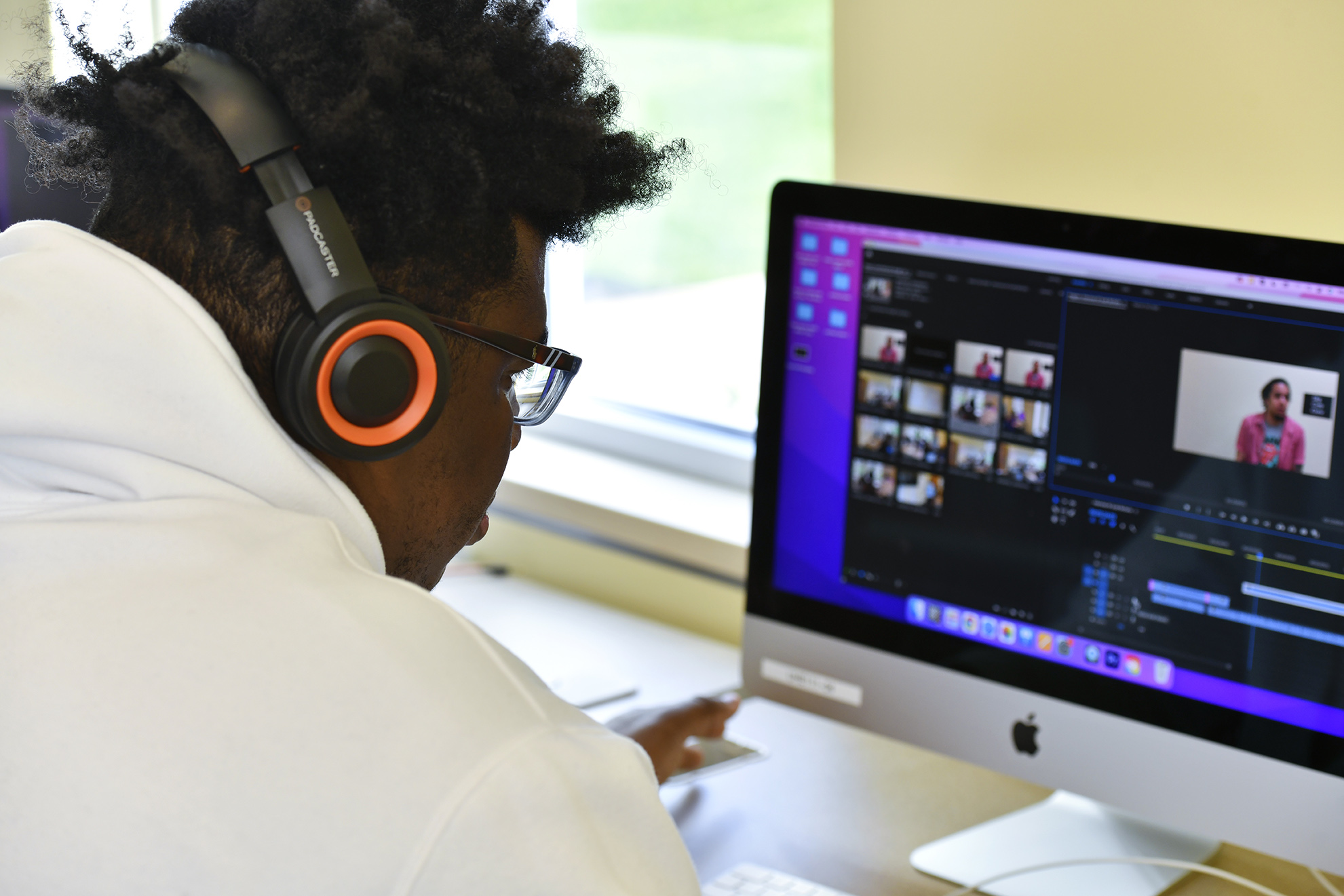 As a Digital Communications major, your hands-on work begins immediately. In your very first class, Introduction to Digital Communications, you will launch your own "brand" by creating your own personal logo and website.
In every class that follows, you'll add more pages to your website with samples of your work using platforms such as YouTube, X (formerly Twitter), Soundcloud, etc. – all branded with your logo. By the time you graduate, you will have:  
Edited your website into an impressive portfolio to share with future employers
Honed skills across a broad spectrum of platforms
Gained solid knowledge of how to best represent yourself
In the program, you will also…
Earn Certifications! As part of your coursework, you can pursue industry-recognized certifications and badges to add to your resume:
GA4 (the new Google Analytics), a platform for measuring website traffic
HubSpot, software for marketers
SEMRush Keyword Search, a platform for search engine optimization
Hootsuite, for social media professionals
X (formerly Twitter) Flight Deck, for social media professionals
Create Buzz-Worthy Social Media. Take what you already know about social media to the next level – learn how to develop, implement, and evaluate social media strategies, an integral part of every company's modern business strategy.
Gain Real-World Experience. GMercyU's campus is situated in the middle of one of the top media markets in the country. Practice the skills you've learned in the classroom and intern for major companies in the Philadelphia, New York City, and perhaps even Washington, D.C. areas.
Find Community in our Digital Communications Labs. GMercyU's new studio and lab give Digital Communications majors the space to hang out and build skills together while creating, producing, and editing content. See more on this below.
4+1 MBA Degree Option
Apply for this option during your junior year
Gwynedd Mercy University makes it easy for our business graduates to earn an advanced degree. With GMercyU's 4+1 MBA program option, students with a GPA of 3.0 or higher can earn both a bachelor of science (BS) degree in digital communications and a master's degree in business administration (MBA) in just five years.

Skip the grad school entrance exams by taking graduate credits during your senior year – as part of your undergraduate tuition – and then seamlessly completing your MBA the following year. 
In addition to general education course requirements, our Bachelor of Science in Digital Communications students will complete the following courses as part of your graduation requirements. 
Pre-Requisites - 12 credits
| | |
| --- | --- |
| BUS 207 | Principles of Marketing |
| COMD 115 | Intro to Digital Communications |
| COMD 201 | Mobile Content Creation |

Social Media & Digital Communications Core - 33 credits

| | |
| --- | --- |
| COMD 200 | Digital Analytics & Visualization |
| COMD 206 | Public Relations |
| COMD 217 | Digital Media, Culture & Society |
| COMD 300 | Online Content and Search Engine Optimization |
| COMD 301 | Podcasting |
| COMD 302 | Video Production & Editing |
| COMD 304 | Social Media Law & Ethics |
| COMD 405 | Internship |
| COMD 4000 | Capstone |
| CIS 350 | Multimedia |
| CIS 424 | Web Design II |
| COMD 310 | DigComCrew |

Select 2 of the following major electives - 
| | |
| --- | --- |
| BUS 333 | Advertising  |
| BUS 334 | Consumer Behavior |
| BUS 350 | Intro to Sports Marketing |
| COMD 400 | Digital Media Economics |
| BUS 410 | Online Bus Mark / Mgmt |
| COMD 206 | Public Relations |
| COMD 437 | Special Topics |
| ECN 103 | Macroeconomics |

Foundations of Business 
| | |
| --- | --- |
| BUS 101 | Business Issues & Trends |
| ECN 102 | Microeconomics |
| ACC 105 | Principles of Accounting I |
| BUS 212 | International Business |
| BUS 213 | Human Resources & Professional Communication |
Credit Requirements
A minimum of 120 credits is required for the Bachelor of Science in Digital Communications degree.

Undergraduate Minors
Increase the value of your degree as a digital communication major by adding an undergraduate minor that best suits your personal and professional goals.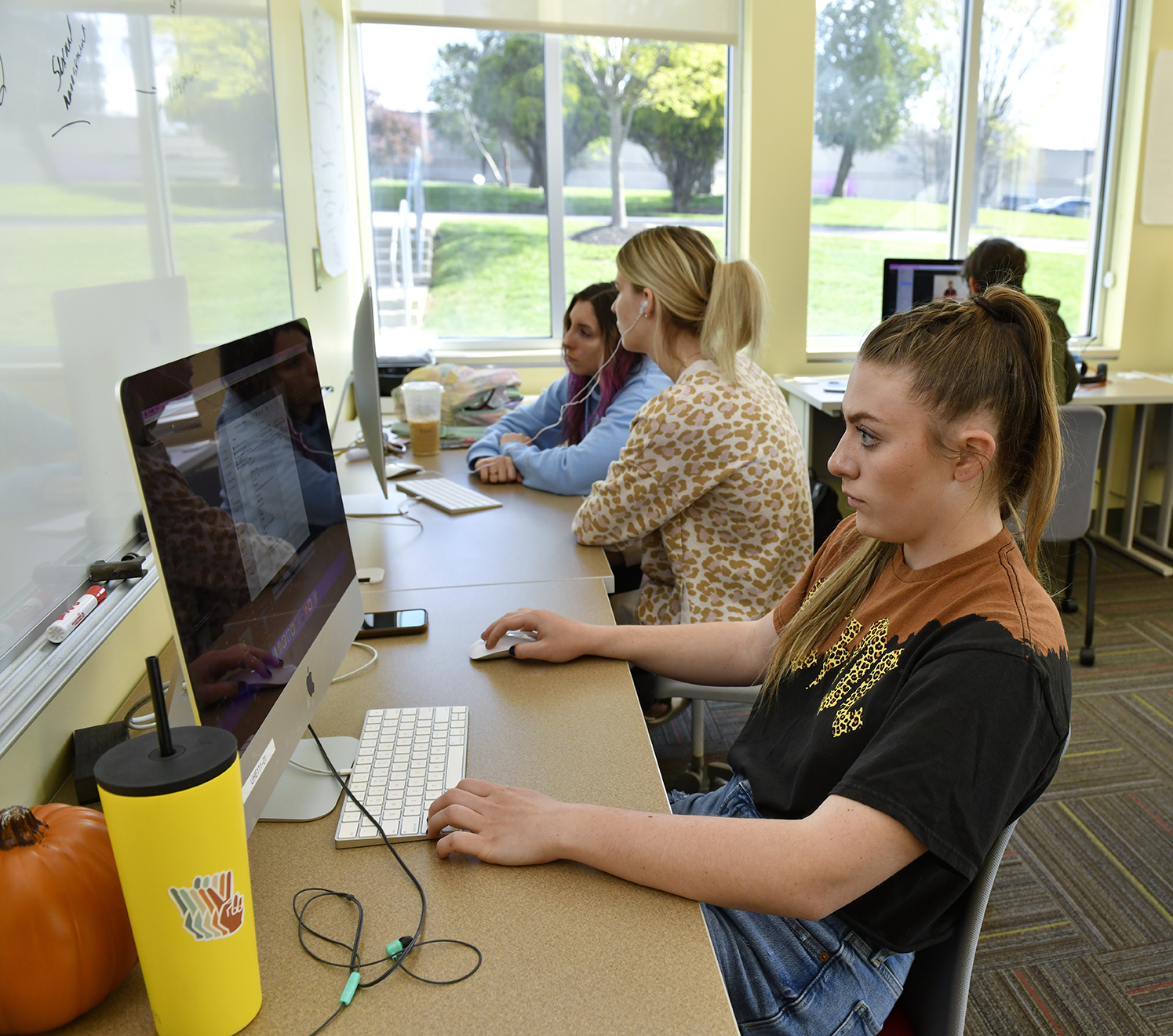 Wondering what your classes will look like as a Digital Communications major? Here are a few highlights.
COMD200 Digital Analytics & Visualization
Explore digital analytics, big data, and data visualization while earning a Google Analytics certification. Hands-on projects will focus on campaign tracking, tagging, web traffic measurement, dashboards, and more.
COMD 201 Mobile Content Creation
Create visual and audio content for social and digital media platforms using the same smart phone you use every day. Basic skills such as framing, composition, audio quality and website development will be covered in theory and with hands-on application. You will host projects on your own websites. Smartphone and app purchase required.
COMD301 Podcasting
Podcasting in journalism, publishing, and promoting continues to grow. In this course, you'll build upon the basic audio skills developed in prior courses to produce audience-targeted and technically competent podcasts. We will explore planning, recording, interviewing, editing, structure and storytelling along with technical concepts. Hosting, distribution, and monetizing will also be covered.
COMD400 Digital Media Economics and Budgeting
Digital and social media, media convergence, connectivity and immediacy have disrupted media business models, created space for few major players in social and digital media, changed the way content is produced and distributed and altered advertising and public relations messaging and profit centers. This course explores the broad economic issues impacting digital and social businesses within today's media landscape. We will discuss key economic principles influencing the communication and media industries including broadcasting, newspapers, motion pictures, music, video games, advertising, and public relations. Includes opportunity to earn Hootsuite Certification.
COMD400 Digital Communications Capstone
This capstone course is project oriented and will require students to apply skills in strategic planning, messaging to audience, gathering information, and producing content. (Students' projects are inspired by the Critical Concerns of the Sisters of Mercy; see the DigComCrew website for examples.)
For all digital communications program course descriptions, please refer to the undergraduate catalog.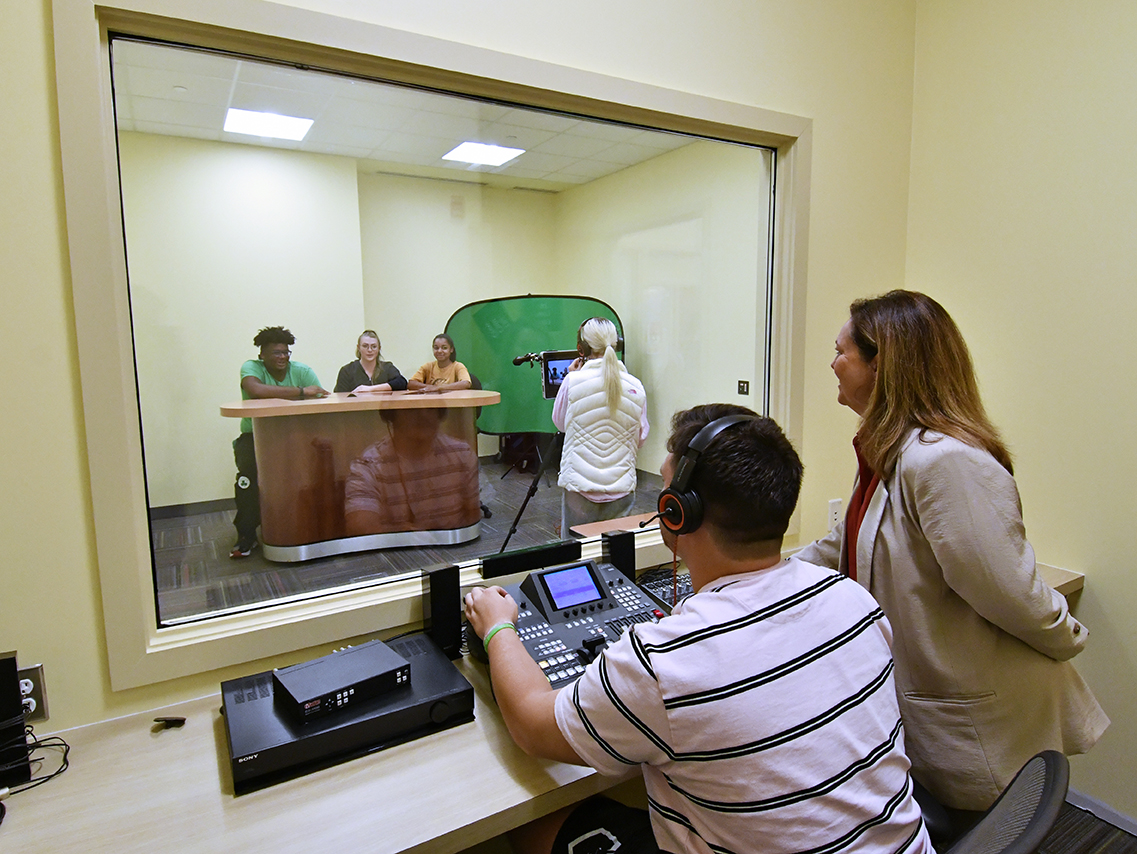 Located in University Hall, the studio and lab are equipped with modern equipment and software that students use to create and edit audio and video content, and graphics.
In the labs, collaboration and community are key. Students review each other's creative work and pitch other ideas, but also just hang out. 
"We're all very close. After all of our classes, usually we're all in our lab just talking and working on things," said Digital Communications major Justin Henderson.
In the labs, learn things like...
Audio for video
Composition
Editing
Framing
Interviewing
Lighting
Microphone placement
Post-production
Recording
Story-telling
...and more!
DigComCrew is the Digital Communications student content production team. The team covers events and issues around campus and publishes their articles and videos on their website throughout the year.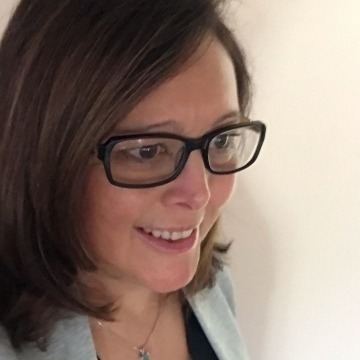 Margaret Rakus, EdD
Position: Assistant Professor, Program Coordinator of the Digital Communications and Marketing programs
Did You Know? Dr. Rakus has held various industry positions in marketing and public relations. She is also an avid kayaker and hiker, and has hiked the Andes Mountains.
Read bio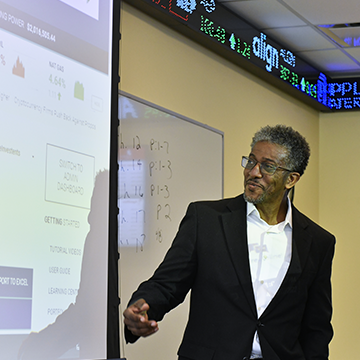 Alan Harper, MBA, PhD
Position: Assistant Dean of the School of Business and Education; Associate Professor and Program Coordinator, Finance and Management Programs
Did You Know? Dr. Harper has 20 years of management experience and has published more than 15 peer-reviewed articles.
Read bio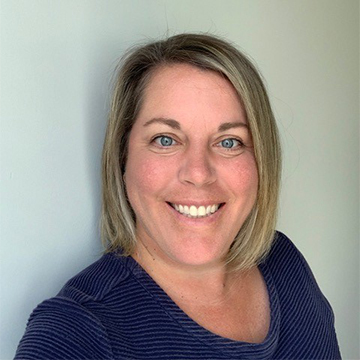 Melissa Dennis, DBA
Position: Assistant Professor, Marketing
Did You Know? Dr. Dennis spent 15 years working for Disney Parks, Experiences and Products in customer relationship and customer engagement, supporting Walt Disney World, Disneyland, Disney Vacation Club, and the Disney Cruise line businesses.
Read bio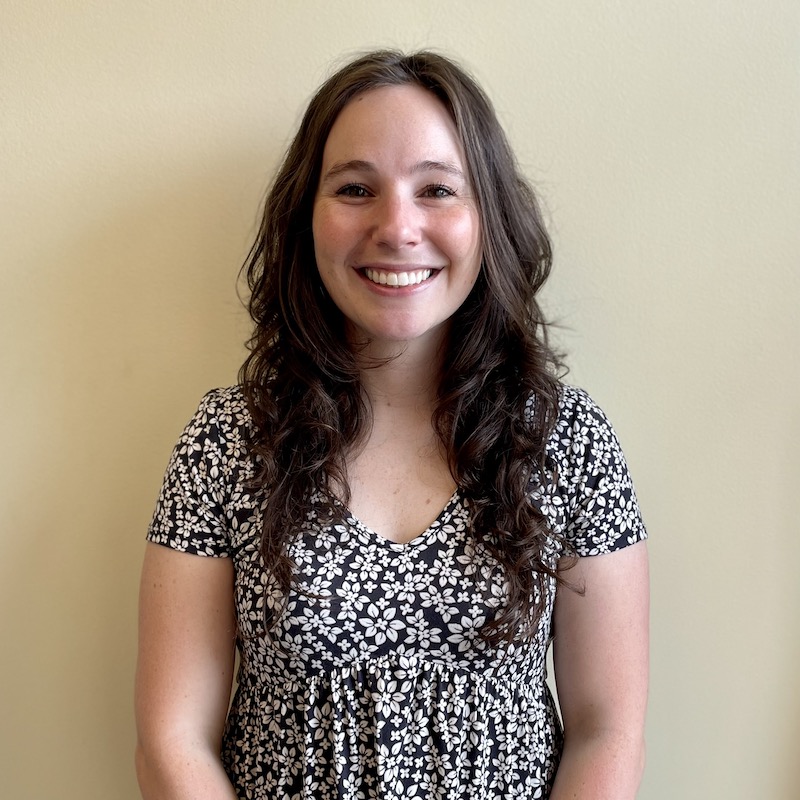 Maddie Herman, MsEd
Position: Instructor and Program Coordinator, Sport Management
Did You Know? Herman has worked for the Philadelphia 76er's and Wells Fargo Center, and ran GMercyU's Intramurals and Recreation program.
Read bio
Luigi Corrado, Jr., CPA, MT
Position: Professor of Practice and Program Coordinator, Accounting
Did You Know? Professor Corrado spent nearly 20 years in the accounting industry as a financial statement auditor, corporate controller, and senior consultant with a variety of firms.  
Read bio 
Real-World Opportunities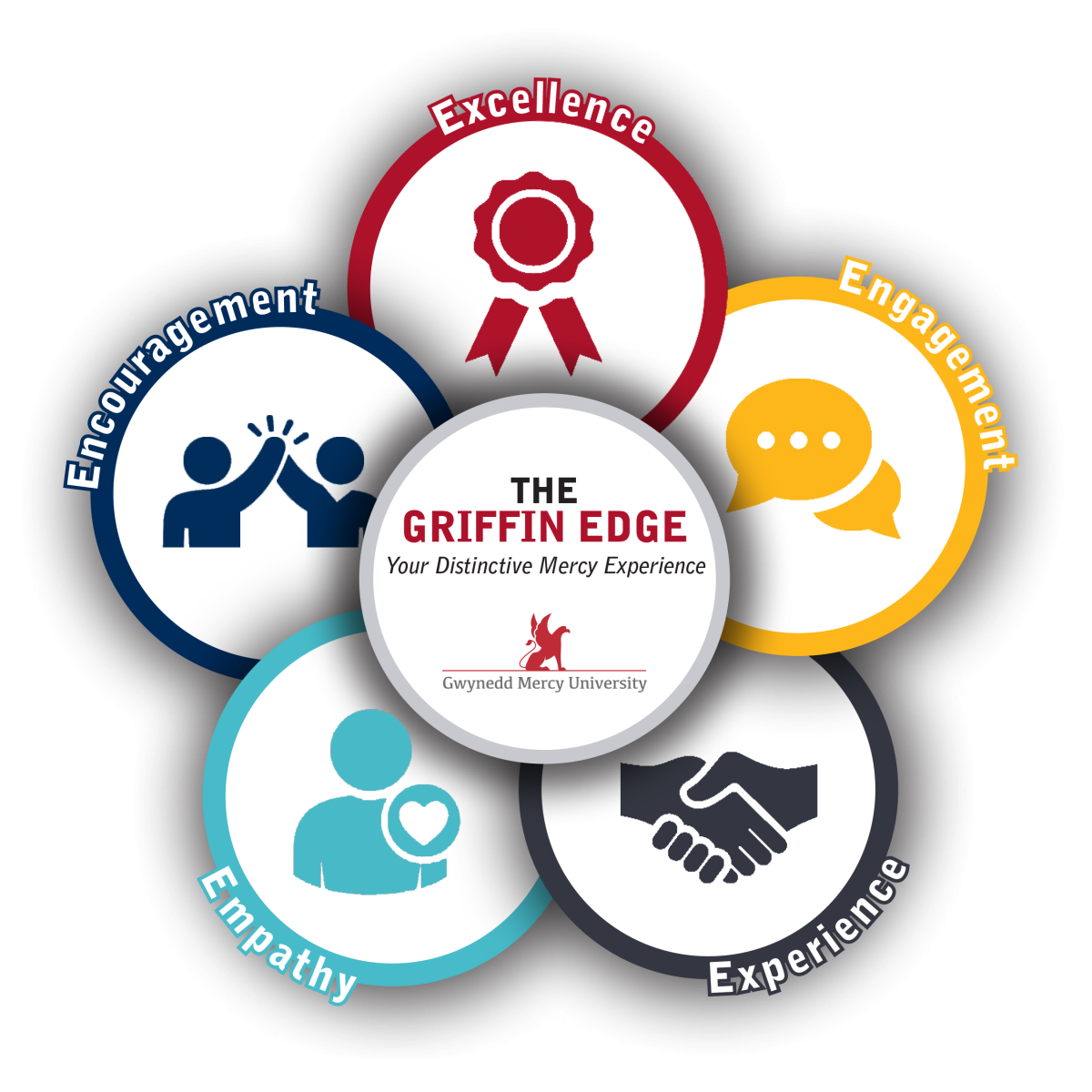 The Griffin Edge is comprised of five touchpoints -- Excellence, Engagement, Experience, Empathy, and Encouragement -- that become the cornerstones of your Distinctive Mercy Experience as a full-time undergraduate student.
The Griffin Edge includes an e-portfolio for documenting your GMercyU educational and extracurricular experiences (no matter your major), reflecting on those experiences, and receiving feedback from faculty. It's designed to help you take ownership of your educational journey and chart the right career path for you. It will also help you learn how to talk about your college experiences in meaningful ways — and that can make all the difference in a job interview. 
For example, a student might say in a job interview: "I conducted research at the undergraduate level." 
A Griffin Edge student might say: "The opportunity to conduct my own research alongside expert faculty taught me the importance of being exact in my data collection and analysis. I was even able to present my findings at our annual research conference! I know this is the career for me."
Learn more about the Griffin Edge here.
Philadelphia is the home of Comcast, a Fortune 500 media giant, but there are many more local organizations where you could intern and network. Our students have recently interned for these companies.
Donna A. Heckler Group
ESPN Radio
GMercyU's Marketing department
Juma Entertainment television studio
Malvern Retreat House
Millennium Radio New Jersey
NBC10 / WCAU Philadelphia
Philadelphia Freedoms
Public Relations at GMercyU
Redeemer Health
Saile & Saile LLP
Special Olympics Pennsylvania
Univest Corporation
WMMR - Preston and Steve
The field of digital communications is broad, so you can pursue a career path that best suits your interests. If you're a "people person," you may thrive as a communications or public relations manager, while data-driven students may enjoy working as an SEO specialist. Visual types may prefer crafting images and videos for social media – as full-time work or a side hustle. (You might even launch your brand as a social media influencer or YouTuber!)
Here are just a few of the many opportunities for Digital Communications majors.
Communications/Public Relations Manager
Description: Help organizations build and maintain a positive public image by working with the press, sponsoring events, managing crises, and more.
Degree Requirements: A bachelor's degree
Average Salary: The national median annual pay was $125,620 in 2022.
Source


Search Engine Optimization Manager
Description: Once you've learned the language of SEO, SEM, CTR, and Google Analytics, you can help boost a website's rankings with search engines, improving their traffic and consumer reach.
Degree Requirements: A bachelor's degree. Certifications in platforms such Google Analytics can help boost employment and salary opportunities.
Average Salary: The median annual pay is $76,088.
Source


Social Media Manager
Description: Build brand awareness by developing compelling, clickable, and culturally competent social media. Opportunities abound in this field, with a surge in job growth of 23.2 percent over the next 10 years, much faster than the national average.*
Degree Requirements: A bachelor's degree
Average Salary: The national median annual pay is $56,268.
Source
Other Possible Careers for Digital Communications Majors
Assistant Editor
Booking Agent
Camera Operator
Content Marketer
Copywriter
Data Analyst
Designer
Editor, writer
Electronic Publishing
Graphic Artist
Marketing Specialist
Media Director
Online Strategist
Producer – radio/television/movies
Public Relations Specialist
Publisher
Reporter
Social Media Specialist
Speech Writer
Sports Promoter
Technical Writer
Video Editor
*This is only a partial list and not meant to limit you. Some of these careers may require additional education.
Wondering Where You Might Eventually Work?
GMercyU communications alumni have recently made their mark at these organizations.
CBS Interactive
Harlem Globetrotters
NBA
Philadelphia Freedoms
The Walt Disney Company
University of Florida
Us Media, LLC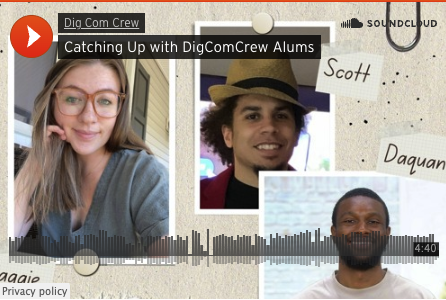 Catch up with DigComCrew alumni!
Current students interview alumni on the DigComCrew podcast. Hear what Maggie, Scott, and Daquan are up to in their respective fields, from marketing to management to content creation!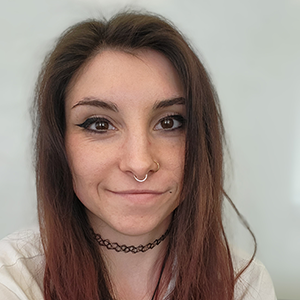 Natasha Halovanic '23
Natasha especially enjoyed the hands-on experience she learned in her Video Production, Podcasting, and her Capstone classes. Today, she is earning her MBA as a 4+1 MBA student. "I am pursuing my MBA because I hope to one day lead a team in my industry," Natasha said. Learn more about Natasha's journey here.
Watch Natasha as the host of GMercyU's campus video tour.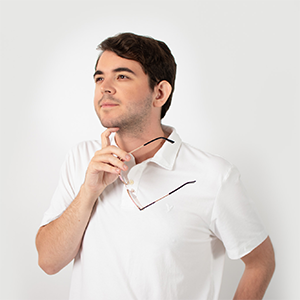 Justin Henderson '23
Justin transferred to GMercyU and found a community and major that he loves. He enjoys content creation, data and analytics, public relations, and more. He's interned with the University's marketing department and soon begins a paid internship with Redeemer Health. Learn more about Justin's GMercyU's experience.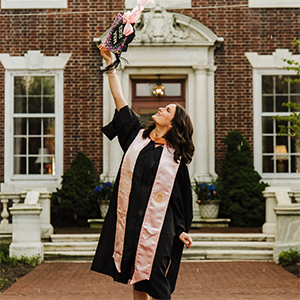 Shawn DeSantis '21 
Current Position: Brand Specialist, DeSantis by DeSign; Social Media Manager, The Dance Effect Performing Arts Center
As a Digital Communications major, Shawn built her confidence with content production and video presentation. She also found her home at GMercyU with The Voices of Gwynedd and Campus Ministry (now called The Mercy Center). Learn more about Shawn's GMercyU experience.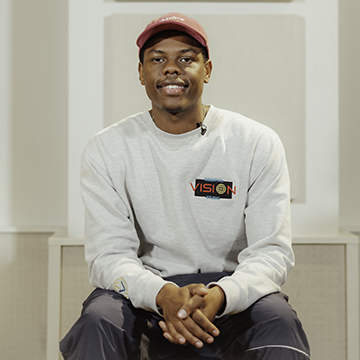 CJ Wolfe '19
Current Position: Founder and CEO of Immortal Vision Studio
In 2020, CJ launched Immortal Vision Studio, a busy Philadelphia-based collaborative studio that produces photography, videography, and digital content for small businesses and clients of all kinds. Along the way, he helped run the Instagram account for a former Philadelphia Eagle, interned with Mural Arts Philadelphia, and methodically gained the experience he needed to launch his passion project. Learn about CJ's GMercyU experience.
Read more Griffin Success Stories.
During my college search, I noticed many other communications programs focused almost entirely on the theory, which is very important, but they didn't seem to focus on as much hands-on material. GMercyU's Dig Comm program teaches podcasting, video editing, social media marketing, and more skills that will be extremely useful in the future. 

—Maggie Kraus '22, Marketing Coordinator for Iris Creative