CJ Wolfe
Communications 2019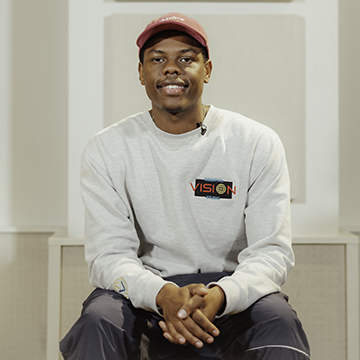 Current Position: Founder and CEO of Immortal Vision Studio
As founder and CEO of Immortal Vision Studio, a Philadelphia-based collaborative studio that launched in 2020, CJ has his hands in all facets of creative media. He oversees a team of four, including GMercyU graduate Monet McGorda '19 and multiple interns, two from GMercyU — CJ enjoys mentoring new talent and giving back to his alma mater in this way. He and his team produce photography, videography, and digital content for small businesses and clients of all kinds. They also frequently rent the studio space to photographers, event planners, and other creative professionals. "Every day is different," CJ said.

At the studio, CJ also teaches free classes to local inner-city students to give them something he didn't have at their age: exposure to creative media.
Growing up in the city, I was artsy and creative, but I never had access to resources like a high quality camera and or someone to show me how to use it. We partner with local high schools, and kids will come to the studio and learn skills or depending on their age, I'll speak to them about creative entrepreneurship.
Eventually, CJ wants to create a blueprint for his business model and launch Immortal Vision in cities around the country, to help other young creators realize their dreams.

So where did it all begin? With intrinsic passive and drive, CJ methodically obtained the skills and experience he needed to launch his business, which included transferring to GMercyU for his junior year.
Making the Most of His Time at GMercyU
A talented basketball player, CJ was recruited by GMercyU's Coach Baron to play for the team and major in Communications.

"I knew Coach Barron really cared about his players, he welcomed me with open arms. He's a leader on and off the court, and he was willing to offer his support and his connections if I needed anything, even after college. That's the kind of culture I wanted to be around. I had incredible support from my professors, too," said CJ.

"There were great things about the Communications program but to be honest, it wasn't just a basketball decision or academic decision, it was a personal 'life' decision to go to GMercyU," said CJ.

In addition to the coursework for his major, CJ took business classes and interned for the University's Marketing Department to build those skills. He joined the Black Student Union and volunteered at the Breathing Room Foundation.

He soaked up every experience, including those of the new friends he made at GMercyU. "I came from an urban community and one of my roommates had a totally different background from me – I was exposed to a different kind of life. We learned from each other," CJ said.

Despite the notorious time constraints of life as a student-athlete, CJ also freelanced as a photographer. That role helped him take his work to the next level.
Passion can fuel anything, no matter how tired you are.
Connecting With a Former Philadelphia Eagle
To develop his photography skills, CJ sought out an apprenticeship with Mural Arts Philadelphia. Working under their head photographer, CJ was sent around the city to different jobs, learning how to shoot in different light and varying weather conditions while networking with other creative professionals.

In 2018, CJ learned of an opportunity to shoot a local football workout session for NFL and Division I players. He jumped at the chance to gain experience.

"I took more than 400 photos that day, edited them, and sent them over at midnight," said CJ.

At the event, CJ also hit it off with NFL player Will Parks. Afterward, Parks hired CJ multiple times to shoot photos at his personal and charity events.

Eventually, CJ helped run Parks' Instagram account. "[Wolfe's mindset] is second to none. I think he's me in his career," Parks told The Philadelphia Inquirer.
Launching Immortal Vision Studio
After CJ graduated from GMercyU in 2019, he took a 9-to-5 job as a financial adviser with Northwestern Mutual. While this conventional job may have seemed unconventional for CJ, it was part of his plan. "I wanted to work a corporate job in finance so that I could later use what I learned there," he explained.

CJ continued to freelance while working full-time. In 2020, he took the plunge, quit his job, and launched Immortal Vision Studio.

"I run a business but I'm still a creator, that's one of the many hats I wear," said CJ of his love for his work. One of his projects includes designing creative trading cards for professional and college athletes, such as Kyler Gordon, a football player for the University of Washington who will likely be recruited for the NFL. CJ flew to Washington to shoot photos of Kyler and then designed the cards himself, which are now for sale on Immortal Vision Studio's website. He also self-published a book in 2020.
I always tell our interns, don't look for that instant gratification. You never know what your hard work will lead to – put your all into everything you do.
Learn more about Immortal Vision Studio at immortalvisionstudio.com.