Justin Henderson
Communications 2023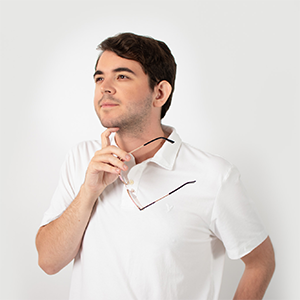 Why I Chose GMercyU
When I graduated from William Tennent High School in 2019, I knew exactly what my game plan was for college. First, I wanted to attend Bucks County Community College, so I could take care of all my general education classes and really make sure I wanted to do something in the business/communications field.
I was never someone who enjoyed the idea of sharing a class with hundreds of other students, not getting to know my professors, and not being home for months at a time. So, when it came time for me to transfer, I began to explore local colleges and universities. Going through this process there was only one standout, and that was GMercyU.
I instantly fell in love with GMercyU; it was everything I wanted in a college. It was smaller in size, close to home, had a very nice campus, and provided a lot of great scholarship opportunities. As soon as I was done with my research and visit, I applied, and now I'm going into my senior year within a blink of an eye.
Why I Chose Digital Communications
At first, I was 100% set on majoring in Marketing — until I began looking at GMercyU's
Digital Communications
program. It had everything I ever wanted, all the aspects of marketing I was looking for, plus topics like creating your content, public relations, and diving into the worlds of data and analytics.
I was sold.
Professor Margaret Rakus
has done a great job of building the program from the ground up, as it was a newer program at the time and has only helped further my love for all things marketing and digital communications, due to her passion and care for her craft and students.
While Professor Rakus has had a tremendous impact on me, there is also
Professor Cindy Casey
who is the head of the Computer Information Sciences program. I have had the pleasure of taking some courses with her and could not have asked for a better experience, especially considering I was from a different major. She helped me learn a great wealth of information and knowledge within the field of CIS and made me feel like one of her own CIS students.
The GMercyU Community
After being here for two years, I have absolutely no regrets.

During my first year here, I was diagnosed with Crohn's disease, which I battled the entire fall and spring semester. The amount of understanding, care, and concern I received from everyone from the professors to the students was astounding and is something I believe I wouldn't have received anywhere else. Without all of their help and understanding, I don't think I would have been able to attend school at all that year and would not be in the position I am in today.

If you're interested in finding out more about GMercyU, just know this: the professors care immensely about you. Your success and well-being are their number one priority. They will help in any way they can so you reach your full potential.

There are also the students. The people you get to work with and learn alongside of can become your friends, and then eventually become your family.
You will not find a more close and tight-knit community of people within your major anywhere else, in my opinion. My friends at other colleges have said they've not had the kinds of relationships with anyone the way I have.
In Fall 2022, Justin interned for GMercyU's Marketing Department. He soon begins a paid internship with Redeemer Health.