Major in Education Studies (BS Degree)

Make a Difference in the Lives of Students

If you dream of becoming a teacher who makes a lasting impact with young learners, begin with the bachelor's degree in Education Studies at Gwynedd Mercy University.
The Education Studies program provides teacher preparation without teacher certification; however, you can progress to one of the following programs that earns you teacher certification:
Or, you can opt to stay in the Education Studies program, which will prepare you for positions in Education that do not require certification, such as private school teacher, para-professional, teaching assistant, etc. You may also move on to a graduate program to attain certification.
Certification: This program was designed to meet the certification requirements of the Commonwealth of Pennsylvania. If you reside in a different state, you should carefully review your home state's certification requirements prior to enrolling in this program.
Exciting News! The Pennsylvania Department of Education has waived the requirement to pass a Basic Skills assessment in order to pursue Teacher Certification. Read more under Teacher Certification Pathways below. 
Program Details
At GMercyU, we have been helping students become the teachers they're meant to be for more than 60 years. You will have access to expert faculty and resources as you develop your teaching and classroom management skills.
Here, you'll be immersed in our core values of integrity, respect, service, and social justice. Our alumni proudly carry those values into classroom to transform students into not only lifelong learners, but good people. Learn more below.
No matter your major, all GMercyU classes are taught by full-time or part-time faculty members – no teaching assistants. In fact, the professors in our Education Programs have more than 130 years of combined experience as educators!
As an Education Studies major, your support includes:
A personal advisor

 

who will guide you through all four years.
Field Placement Director,

 

Dr. Cheryl Malfi, who will help ensure that you have a successful student teaching experience.
A Certification and Placement Specialist. Once on the teacher certification track, Dr. Pat McAleer will ensure you meet all requirements to become a certified teacher in Pennsylvania.
BONUS: GMercyU's Student Success Center is another great resource for you as you earn your degree – it's your one-stop-shop for your academic and career needs with services such as test prep and tutoring.
Education Degree Program – Teacher Certification Update
To help address the national teacher shortage, the Basic Skills requirements for candidates entering teacher preparation programs have been waived.  This means incoming Education majors do not need to pass a Pennsylvania Department of Education Basic Skills assessment prior to entering a teacher certification track. Here is the information from Dr. Kerry Helm, Pennsylvania Department of Education:
Act 55 of 2022 signed into law by Governor Wolf on July 8, 2022, requires the Secretary of Education to waive the requirement to satisfactorily complete the assessment of basic skills required under section 1207.3 and 22 Pa. Code § 49.18(c) (relating to assessment) for 3 years from July 8, 2022 through July 8, 2025. This applies to all students who enter preparation programs during this period as well as otherwise qualified candidates for licensure who make application during this period. 
Students are still required to meet the 3.0 GPA requirement, as described below.   
Transfer Students admitted to the University with a cumulative 3.0 GPA or higher and at least 48 credits will be admitted directly into the Teacher Certification track of their choice.
All Other Admitted Students, including incoming freshmen will enter as Education Studies majors. They will be eligible to enter a Certification track once they have earned between 48 and 60 credits with a cumulative 3.0 GPA or higher. Students will work with their respective advisors to monitor this progress.
With the signing of this waiver into law, students who aspire to be teachers will have a smoother path to a Certification track during the approved waiver period. Incoming students will work with the Program Coordinator to pursue that path.
Gain leadership skills, grow professionally, and make friends by getting involved!
Education Outreach Club
Its mission is to provide an opportunity for those with a passion for helping the community to come together to learn, collaborate, and share educational experiences. This club offers its members the option to connect with professionals, participate in educational and social events, and volunteer. Being a member of this club will promote understanding, education, and best practices for the GMercyU community.
Best Buddies
Our Best Buddies chapter matches GMercyU students with members of the community who have Intellectual and developmental disabilities, hosts monthly events, and participates in fundraisers.
Kappa Delta Pi Honor Society
It is the oldest and largest honor society in education. Invitations to join are based on academic achievement, a commitment to education as a career, and a professional attitude that assures the member's steady growth in the field of education.
In addition to general education requirements, you will complete the following courses for a bachelor's degree in education studies:
Core Courses -  54 Credits 
| | |
| --- | --- |
| EDU 100 | Education in America  |
| EDU 104 | Health and Motor Development |
| EDU 216  | Foundations of Teaching & Learning PreK-4 |
| EDU 226 | Reading Sequence I  |
| EDU 227 | Math Methods for PreK-4 |
| EDU 228  | Arts and Humanities |
| EDU 301   | Educational Psychology |
| EDU 305  | Children's Literature |
| EDU 309   | Technology Integration in Education PreK-8 |
| EDU 315  | Curriculum, Instruction, Assessment |
| EDU 351    | Meeting the Needs of English Language Learners  |
| EDU 395   | Field Experience I |
| SPE 205 | Exceptional Person |
| SPE 231   | Mild/Moderate Disabilities in the Inclusionary Setting |
| EDU 495  | Field Experience  II |
| EDU 4000  | Capstone Seminar |
Credit Requirements
A minimum of 120 credits is required for a bachelor's degree in education studies. This program requires a criminal background check, child abuse clearance, and certain immunizations and other health-related clearances in order to participate in student teaching experiences.
Undergraduate Minors
Increase the value of your Education Studies degree by adding an undergraduate minor that best meets your personal and professional goals.
Here's a closer look at just a few of the courses you'll take as an Education Studies major at GMercyU.  
EDU 216 Foundations of Teaching & Learning PreK-4
This is a foundation course in the teaching and learning process of children in pre-kindergarten to 4th grade. Students will be required to demonstrate knowledge of learning as a process that integrates all areas of a child's development. Student will examine curriculum models and developmentally appropriate practices for individual and group needs, with special emphasis on developmental and learning theories. Course content is based on the competencies of the PA Early Learning and Academic Standards.
EDU 309 Technology Integration in Education PreK-8
In this course, students will become familiar with the PDE Standards of Science and Technology as well as the National Educational Technology Standards (NETS) for both teachers and students. Students will design lesson plans and learning activities that integrate technology from Pre K to Grade 8. Students will be introduced to the various tools of technology including assistive technologies for students with special needs. The use of technology for assessment, management and other administrative procedures will also be addressed.
EDU-395 Field Experience I
During this stage of Field Experience, the Education Studies major will spend one day per week or equivalent in a school setting to observe in the teaching and learning process. Major focus will be on observing and understanding the four domains of effective teaching. As the semester progresses, the student will begin to work with individual students and teach in a small group setting. A University Supervisor will evaluate the student in the classroom.
For all courses in GMercyU's Education Studies program, please refer to the undergraduate catalog.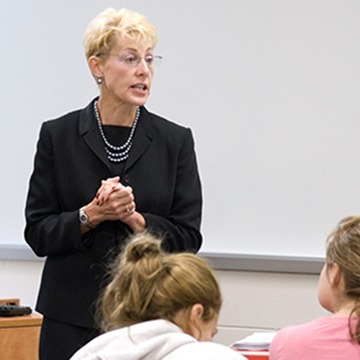 Deb Schadler, PhD, CPCRT, PRSE
Position: Assistant Dean, School of Business and Education
Did You Know? Dr. Schadler is also the Director of GMercyU's Autism Institute. She has developed and taught GMercyU's undergraduate special education curriculum.
Read bio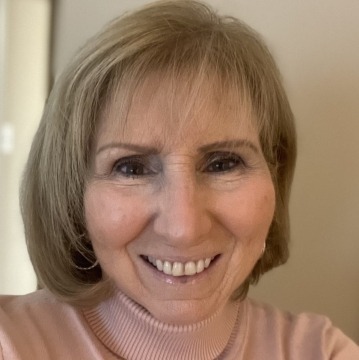 Marianne Boyd, M. Ed.
Position: Professor of Practice, Education
Did You Know? Professor Boyd has extensive experience as a classroom teacher and an elementary principal and brings a wealth of experience to her courses. She is the co-advisor of the Education Outreach Club.
Read bio
I always tell preparing teachers that, in being a teacher, you are above all, an actor. Regardless of the challenges you are facing, you must make your students feel that this is the best day of your life, because when you are with them, maximizing their learning is YOUR MOST important goal. So whatever drama is going on in your life, must be pushed aside.

—Deborah Schadler, PhD, CPCRT, PRSE, Assistant Dean & Assistant Professor of Education
Career Opportunities
In these districts and more, GMercyU students have recently completed student teaching and landed teaching positions after graduation:
Abington School District
Bensalem School District
Central Bucks School District
Colonial School District
Council Rock School District
Hatboro-Horsham School District
Lower Moreland School District
MAST Charter School
Methacton School District
Neshaminy School District
North Penn School District
Perkiomen Valley School District
Philadelphia School District
Phoenixville School District
Springfield School District
St. Malachy School
Upper Dublin School District
Upper Moreland School District
Wissahickon School District
According to the Bureau of Labor Statistics, in May 2021, the median annual wage for elementary school teachers was $61,690, with the top 10% earning more than $101,310.
The median annual wage for special education teachers was $62,950 with the top 10% earning more than $102,450.
According to this report from Businesswire.org, Pennsylvania and California teachers are top earners in the country. In Pennsylvania, teachers can expect to earn 28.5% more than the average teacher salary.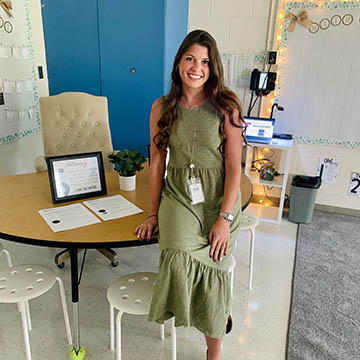 Melissa Russo '18
Current Position: 5th grade teacher in Horry County Schools, Myrtle Beach, SC (formerly a 3rd grade teacher for the Wissahickon School District)
Melissa landed her job just three days after graduation. While at GMercyU, she served as President of the Special Education Club and attended GMercyU's annual Autism Conference to complement her education. She also led our field hockey team to two conference championships in 2014 and 2017.
"Ms. Pierantozzi continuously helped me prepare lesson plans and prepare for teaching positions. She actually helped me prepare for an interview with Wissahickon School District where I was hired. GMercyU's Education Department is a very close community. We, as students, knew the professors were there to support us no matter what."
Read more about Melissa's GMercyU experience.
Meet more Griffin Success Stories.