What Do Nurses Do?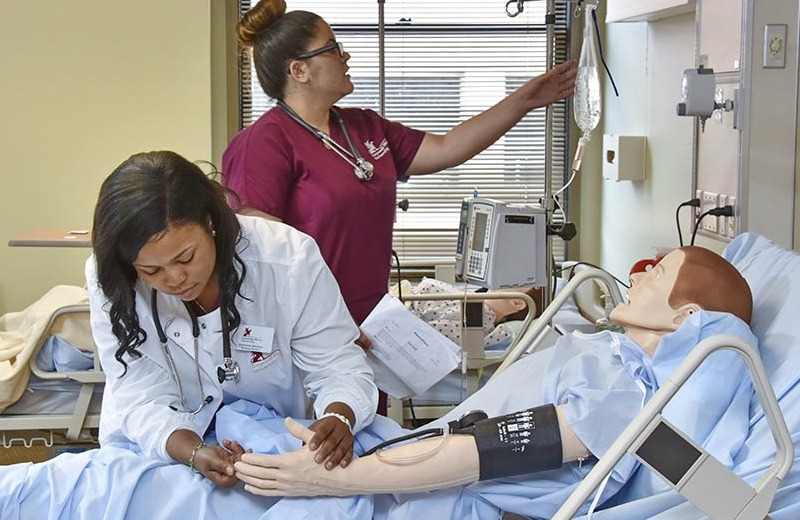 Nurses have many duties, including caring for patients, communicating with doctors, administering medicine and checking vital signs. Making up for the biggest healthcare job in the U.S., nurses play a vital role in medical facilities and enjoy a large number of job opportunities. The career growth for nursing is projected to increase by 16% in the next decade, and provides a professionally and personally rewarding experience.

What Is Nursing?
Simply put, nurses are life-savers. There are more than 3 million registered nurses in the United States. In fact, nurses outnumber doctors 3:1 in the health care industry. While doctors often specialize in one area, nurses are able to coordinate the care for all aspects of a patient's overall health. A patient experiencing chest pains, for example, might have a cardiologist, a nephrologist and an internal medicine specialist. Each of these doctors would diagnose, treat and prescribe medications solely for their area of expertise. The nurse, though, would be the care provider responsible for the patient's full care, ensuring prescriptions don't negatively interact with one another, and that a patient understands and is prepared for treatment. When diagnostic results come in, it's the nurse who reads them first and, if necessary, immediately notifies the appropriate doctor.
Gone are the days when nurses act like the doctors' handmaidens; today, they are equally responsible for the overall care of the patient.


What Is a Registered Nurse?
A registered nurse is a nurse who has obtained a nursing degree, has passed the NCLEX-RN exam and has fulfilled all other state licensing requirements. While an associates degree is the minimum education required to sit for the NCLEX-RN exam, a bachelor's degree or higher is becoming more commonly preferred among employers. For more information about becoming a registered nurse, you can read our registered nursing career guide.

General Nurse Duties 
What do nurses do? They are continuously monitoring and evaluating patients, nurses must be smart, adaptive, educated and skilled in critical thinking. Nurses' responsibilities include coordinating with multiple specialists to ensure that their patients are adequately on the road to recovery. Through the different types of care, a nurse's capabilities extend past their stereotypical personas; while many envision nurses donned in medical scrubs and running through a hospital, a nurse may come in many forms.
Specifically, here are some of the things nurses do on a typical day:
Conduct physical exams
Take detailed health care histories
Listen to patients and analyze their physical and emotional needs
Provide counseling and health care education to patients
Coordinate care with other health care providers and specialists
Stay current with advances in health care options, medications, and treatment plans
Draw blood, and perform other health-related testing
Check a patient's vital signs

Where Do Nurses Work?
Not all registered nurses work in hospitals. You can find a nurse in a wide variety of health care settings, including doctor's offices, urgent care centers, pharmacies, schools, and many other locations. Nurses have the ability to use their skills to meet the needs of their patients, pretty much wherever they are located.  For example, many nurses now assist the elderly or disabled in their homes. Some common places where nurses work include:
Hospitals
Clinics
Offices
Schools
Pharmacies
Ambulance/Helicopter
Home health care settings
Senior living communities


Types of Nurses (with Requirements)
Answering the question of what do nurses do can be challenging due to the fact that nurses are skilled in many fields and may choose to focus their trade specifically in certain types of care. Some specific nursing fields include geriatrics, critical care, pediatrics, treatment planning, and case management. From working face-to-face with patients to managing their paperwork, nurses play a huge role in our lives and the profession continues to be a prosperous career path for those considering taking on this role. Some different types of nurses and their education requirements include:
Nurse Anesthetist.

 

A nurse anesthetist assist mainly with medical procesdures, specifically with anesthetic. To become a nurse anesthetist, you must hold bachelor's degree.
Family Nurse Practitioner.

 

A family nurse practitioner delivers family-focused care as a part of a healthcare team. Family nurse practitioners must hold a master's degree.
NICU Nurse.

 

A NICU nurse works with sick newborn babies. To become a NICU nurse, you must hold a bachelor's degree.
Labor and Delivery Nurse.

 

A labor and delivery nurse assists with the birth of newborns. Labor and delivery nurses must hold an associates degree.
Travel Nurse.

 

A travel nurse works short-term contracts in multiple locations in order to explore the world while working as a nurse. To become a travel nurse, you must hold an associates degree.
Neonatal Nurse.

 

A neonatal nurse works with sick babies. Neonatal nurses must hold a bachelor's degree.
Pediatric Nurse.

 

A pediatric nurse works with children in maintaining their normal care. To become a pediatric nurse, you must hold an associates degree.
Ambulatory Nurse.

 

An ambulator nurse works specifically on an ambulance for numerous emergencies. Ambulatory nurses must hold an associates degree.
Clinical Nurse Specialist.

 

A clinical nurse specialist works with patients in a variety of specialties in an advanced setting. To become a clinical nurse specialist, you must hold a master's degree.
School Nurse.

 

A school nurse provides medical support, education and treatment within an adolescent school facility. School nurses must hold an bachelor's degree.
Nurse Educator.

 

A nurse educator instructs and teacher aspriring nurse and health professions in their journey towards their career. To become a nurse educator, you must hold a master's degree.
If you are interested in learning about more nursing specialties and their education requirements, read our guide on types of nursing degrees.


What Are Nursing Salaries?
According to labor and statistics, the median salary for a Registered Nurse (RN) is $77,600 and can range as high as more than $120,000 per year. Different classifications of nurses will earn different salaries:
Median Annual Full-Time Nursing Salaries in the U.S.
Nurse Anesthetist: $202,470
Nurse Practitioner: $118,040
Registered Nurses: $77,600
Source: Bureau of Labor Statistics

How to Become a Nurse?
Since nursing is such a highly sought after profession that requires advanced training, education is key to your successful journey to becoming a nurse. Many employers now prefer that nurses have a Bachelor of Science in Nursing (BSN) over an Associates Degree in Nursing (ASN) or RN. Nurses with a Bachelor of Science in Nursing (BSN) develop the breadth of knowledge and clinical experience needed to succeed in today's complex health care system.
Choose a Nursing Program

Earn a Nursing Degree

Get Licensed
After you have successfully completed your courses, you can sit for required licensure exams.
If you're looking to further advance your nursing career, you can go on to complete your Master of Science in Nursing degree (MSN).

Undergraduate Nursing Degree Programs
At Gwynedd Mercy University, you can choose from three undergraduate nursing programs that fit your lifestyle. Whether you're a traditional college student looking to live and learn on campus or are looking to make a career switch from another field to nursing, GMercyU has the right path for you:
Bachelor of Science in Nursing Degree (BSN): Provides the knowledge and clinical experience necessary to meet the needs of today's patients
Accelerated Bachelor of Science in Nursing (ABSN): This program is for students who already have a bachelor's degree in another field, and would like to become a nurse by earning a bachelor's degree in nursing (BSN). This accelerated 16-month program requires you to enroll on a full-time basis during the day.
Weekend Bachelor of Science in Nursing Degree (BSN): If you already have a bachelor's degree in another field, but would like to obtain a Bachelor of Science degree in nursing (BSN), this three-year program allows you to complete the degree by taking classes on the weekends.

Graduate Nursing Programs
Gwynedd Mercy University also offers four graduate-level nursing programs and two post-graduate level nursing programs.

Online Nursing Programs
In addition to traditional on-campus undergraduate degrees and graduate-level nursing programs, you can choose to take online graduate nursing programs at GMercyU to fit with your busy schedule.

Why Become a Nurse?
There is an old adage that you need a doctor to diagnose you, but a nurse to save your life. We can all recall a time when a nurse was needed most: from a normal check-up in a doctor's office to an emergency situation that required a trip to the hospital.
Most people can think of a nurse who has played a significant role in their life at some time, whether it's a family member, close friend, acquaintance, or the person you've been seeing at your doctor's office for decades. You might even have a nurse in your phonebook who you dial if WebMD doesn't quite answer your medical questions.
To become a nurse is to become someone who improves and saves the lives of others. If you're looking for a career where you can put your desire to help others to excellent use, becoming a nurse is an excellent career path for you.

Your GMercyU Path to Success
If you're interested in becoming a nurse at a top school of nursing in the Philadelphia area, Gwynedd Mercy University's Frances M. Maguire School of Nursing and Health Professions can help you achieve your career goals. Get started by earning your Bachelor of Science in Nursing degree today!