Registered Nursing Career Guide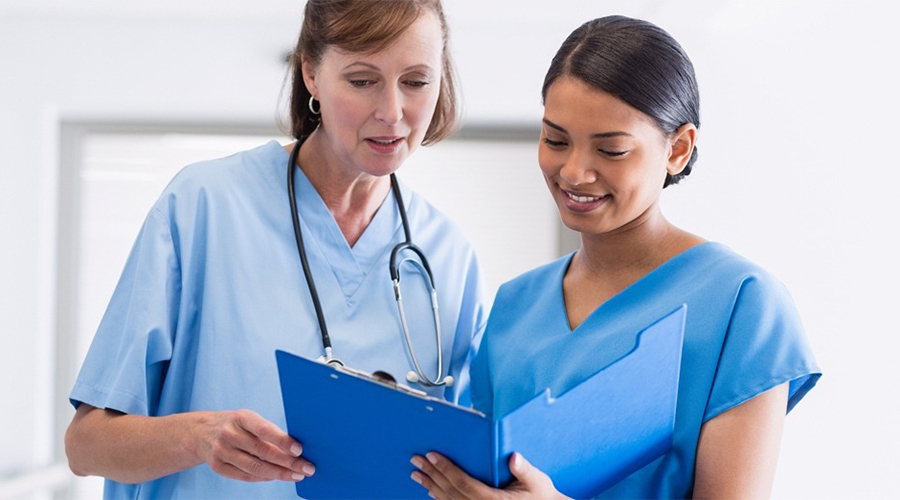 In a world where people are living longer than ever and the number of elderly people is on the rise, the demand for registered nurses continues to grow significantly. But what is a registered nurse? How do you jumpstart your registered nurse career? The process of becoming a registered nurse can be overwhelming, but with this handy guide, you will learn all about what it takes to become an RN, the registered nursing job outlook, and average RN salaries.


What Is a Registered Nurse?
How to Become a Registered Nurse
Registered Nurse Job Types and Responsibilities
Registered Nurse Work Settings
Registered Nurse Job Outlook
Salary Expectations for Registered Nurses
Registered Nurse Career Paths


What Is a Registered Nurse (RN)?
Registered Nurses (RNs) are health care professionals who have a wide variety of duties and responsibilities that are related to providing and coordinating patient care. This includes tasks such as assessing patients' conditions, operating and monitoring medical equipment, administering patients' medicines and treatments, and analyzing the results of diagnostic tests. RNs are a key factor in providing patients and their families the technical and emotional support they need, whether they are being treated at a hospital, physician's office, residential care facility, or other sites.


How to Become a Registered Nurse
Starting your registered nursing career can be broken down into five primary steps:
Choose an accredited nursing education program.
Whether you choose to pursue your

 

BSN

 

(4-year program), ADN (2-year program) or

 

Accelerated Bachelor of Science in Nursing, also known as an ABSN (2-year program), you need a degree or certificate to start your nursing career. Although an ADN gets you out into the field faster, employers value candidates with the higher degree.
 
Complete your clinical training requirements.
All accredited nursing programs require students to complete on-site clinical training. This hands-on experience gives nursing students the opportunity to gain real-world knowledge and skills before entering the workforce. The minimum number of clinical hours required for your degree varies.
 
Apply for your state license.
Following the completion of your accredited nursing program, you need to apply to a state board of nursing in order to take the NCLEX.  Once you have met all the requirements, including a background check with fingerprinting, your state board of nursing will declare that you are eligible to take the NCLEX.
 
Take the NCLEX-RN exam.
All RNs need to take and pass their National Certification Licensing Examination (NCLEX) in order to obtain their RN license.
 
Apply to jobs and start your career as an RN!
Send out those resumes and brush up on your nursing job interview questions, and ready yourself for a rewarding career in nursing.


How Long Does it Take to Become a Registered Nurse?
On average, it takes roughly about 2-4 years to become a registered nurse. You can become a registered nurse with an associate's degree in 2 years and with a bachelor's degree in 4 years, depending on the education level you wish to complete.


Registered Nurse Job Types and Responsibilities
Your RN career can look very different depending on where you work and what types of patients you work with. Below you can find a brief list of typical job types and responsibilities for registered nurses.
Ambulatory nurses
As a highly diverse RN career, ambulatory care nursing takes place outside of the traditional hospital setting. Ambulatory nurses are responsible for caring for patients with chronic illnesses and injuries with a focus on pain management and general health education. They typically work outside of a hospital setting, including physicians' offices, urgent care, outpatient care centers, and more.
 
Critical care nurses
Typically found in intensive care units in hospitals, critical care nurses provide care, monitoring, and treatment of patients with serious, complex, and acute illnesses and injuries. 
 
Specialty nurses
Many RNs can have a nursing specialty that tailors them to a specific demographic in order to provide individualized patient care. Examples of specialty nurses include oncology nurses who work with cancer patients or geriatric nurses who specialize in elderly patient care.
 
Rehabilitation nurses
This type of nursing is focused on the rehabilitation of patients who have temporary or permanent disabilities. They can be found in hospitals, nursing care facilities, and other health care facilities.
 
Nurse educator
A nursing career doesn't always necessarily mean you work directly with patients. As a nurse educator, you are still required to have an active registered nurse license and are responsible for teaching the next generation of nurses. A nurse educator can be found giving lectures, facilitating clinical work, or mentoring young nurses.


Major RN Responsibilities
A registered nurse is responsible for evaluating a patient and providing them with immediate care. The major responsibilities of an RN include:
Evaluating the patient's condition
Administering medication or physical and emotional care
Educating the patient and their families about treatment or care
Managing medical charts
Communicating with other health care professionals about treatments and care


Registered Nurse Work Settings
RNs have a variety of options when it comes to where they work, and each location has its own set of benefits and challenges. Below you can find a list of a few of the most common work settings for RNs.
Hospitals
Within a hospital, there are numerous departments which have unique needs and skills required from nurses. Nurses could specialize in departments such as the emergency room, telemetry, radiology, oncology, and countless other sectors. Since patients in hospitals tend to need around-the-clock care, RNs works in shifts that cover all 24 hours of the day, and may even be on call, which means they must be available to work on short notice.
 
Physicians' Offices
RNs in physicians' offices are responsible for taking patients' vitals, administering vaccinations, and assisting the physician during exams and procedures. Since these offices do not typically provide 24-hour care, RNs who work in this setting tend to work regular business hours with few or no nights and weekends.
 
Nursing Care Facilities
Registered nurses who work in nursing care facilities tend to care for elderly individuals who have deteriorating diseases and require special care until the end of their life. There are some nursing care facilities that specialize in patient care tailored for individuals who have memory issues, such as dementia or Alzheimer's disease. 
 
Outpatient Clinics
RNs who work in outpatient clinics, such as urgent care, need to be keenly aware of certain patients who might require a higher level of care or hospitalization. Registered nurses will come into contact with a variety of patients requiring varying degrees of care from different illnesses, injuries, or diseases.


Registered Nurse Job Outlook
Overall,  the nursing job outlook for all occupations in the health care industry is projected to grow 18% from 2016 to 2026, which will add around 2.4 million new jobs according to the Bureau of Labor Statistics (BLS). This projected job growth is higher than any of the other occupational groups. 
Specifically for the registered nursing job outlook, RN employment is projected to grow 15% by 2026. This is more than double the national average employment growth for all occupations. The continued growth in nursing and health care fields is due to the aging population given that older individuals tend to have more medical issues than the younger population.


Registered Nurse Salary Expectations
A registered nurse typically earns $70,000 annual salary according to the BLS. RN salaries will vary by state, experience, and work setting. Nurses working in government or hospital settings on average make between $72,000 to $76,000 a year, while RNs in ambulatory health care services or nursing care facilities make around $62,000 to $66,000 a year. As a registered nurse, the annual median wage is significantly higher than the national average median wage for all occupations, which is $37,690.


Registered Nurse Career Paths
There are numerous career paths for registered nurses other than working in a hospital setting. Some careers that are available to registered nurses include addiction nursing, critical care nursing, genetics nursing, neonatal nursing, public health nursing, and surgical nursing.
If you're ready to make a difference in patient care, GMercyU's Frances M. Maguire School of Nursing and Health Professions can help you achieve your goal of becoming a Registered Nurse. Learn more about GMercyU's BSN program today!
 
Source: Bureau of Labor Statistics 
Source: Nurse Journal
Source: Nursing Licensure
Source: Nurse.org