How to Become a School Counselor
Posted by MS Counseling Program at Gwynedd Mercy University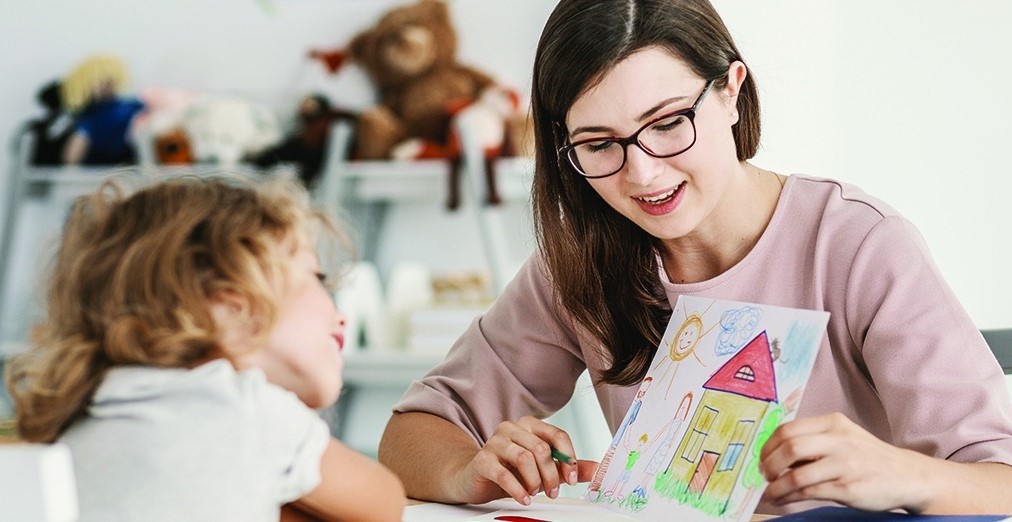 Interested in becoming a school counselor? It's a rewarding career that can play an important role in shaping the lives of young people. The American School Counselors Association (ASCA) provides a digest of studies that shows how school counselors can help improve:
Student attendance
Racial disparities in attainment or college applications
Student access to mental health resources
Awareness of occupations and career training options
Behavioral issues, such as bullying, on a school-wide basis
If you want to become a school counselor in P-12 schools, you'll need to earn a master's in school counseling plus a school counseling certification. This article provides what you need to know about this career choice, including the specific steps for becoming a school counselor:

School Counselor Job Description and Salary Info
School counselors assist students in reaching their fullest developmental level by focusing on non-cognitive factors that affect school performance and overall development. School counselors provide educational experiences that prepare students to deal with challenges in life (i.e. substance abuse, social interactions, loss of loved ones, career choices, educational choices, peer pressure, college options, preparing for life after graduation, etc.).
According to the U.S. Bureau of Labor Statistics, school counselors in the U.S. earned a median annual salary of $57,040 in May 2019.*  School counselor salaries vary depending on employer, however, school counselors (elementary and secondary) earned a median annual salary of $64,060 in 2019.*

Steps to Becoming a School Counselor
School counselors no longer need to become teachers before they become counselors. However, to enter a school counseling career, you will need a college education. That includes a master's degree in counseling with a focus on school counseling requirements for certification.
1. Earn a Bachelor's Degree
The first step in becoming a school counselor is to earn your bachelor's degree, which usually takes four years. While you can be a school counselor with an undergraduate degree in any field, ideally, you should earn a bachelor's in a field that's relevant to school counseling. At GMercyU, we require applicants to our master's degree program to show they've taken courses in:
•    General psychology, developmental psychology or a similar course
•    Research methods and/or statistics
There are a number of undergraduate majors that include courses like this in their curriculum. Here are some options.
Relevant Bachelor's Degree Majors
Psychology

 

– A bachelor's in

 

psychology

 

offers the understanding of human development and behavior, plus the research background you need to become a school counselor.
 
Education

 

– Earning an

 

education degree

 

is good groundwork for becoming a school counselor.
 
Social Work

 

– A

 

BSW degree

 

can also help set you up to earn a school counseling master's degree, thanks to its combination of counseling, sociology, and psychology courses. Just make sure your program also includes courses in statistics or research.
2. Find a Master's in School Counseling Degree Program
After you earn a bachelor's degree, the next step in becoming a school counselor is to earn your master's degree. Most master's in school counseling degree programs or counseling degree programs with a concentration in school counseling take approximately two to three years to complete. 
Some programs require 60 credits and will take longer to complete but upon graduation you can meet all the educational requirements to sit for the National Counselor exam. Regardless, these programs combine rigorous coursework with research and an internship or clinical experience. 
When it comes to choosing a master's degree to help you become a school counselor, you'll have lots of options. Here are some factors to consider.
What Makes a Good School Counselor Degree Program?
Flexible study options, including online or hybrid learning.

 

At GMercyU, we offer a blend of online coursework and in-person field experience, plus two weekend residencies to help you get to know your instructors and classmates.
 
Courses focused on today's students and their schools.

 

Our school counseling master's degree includes content on diversity, social justice, serving students with disabilities, and more.
 
Content aligned with the ASCA national model.

 

GMercyU's program has been developed with reference to the high standards set by the ASCA, the nation's leading professional body for school counselors.
 
Program that allow you to gain professional credentials.

 

Our school counseling concentration in the master's in counseling program allows students to sit for the National Counselor Exam and Pennsylvania's State Exam for certification as a P-12 school counselor.
 
Strong exam (Praxis) pass rates.

 

A high percentage of students who a pass state school counseling exam is an indicator of quality. At GMercyU, 100% of our school counseling master's students have passed the Pennsylvania State P-12 School Counseling Certification exam since 2018.
3. Complete Internship or Clinical Experience
As part of your master's degree, you'll also be required to complete a set number of hours of internship or clinical experience, depending on the state in which you plan to practice. 
At GMercyU, fieldwork for our school counseling master's degree program is divided into 100 hours of practicum experience and 600 hours of supervised internship experience.
A practicum is an in-person experience designed to help you gain more understanding of what it takes to become a school counselor. An internship is more hands-on and requires you to apply what you know in practice. 
Once you've completed your master's degree and your clinical experience or internship, you are ready to pursue licensure.
Pennsylvania School Counselor Certification Exam Requirements
If you want to become a school counselor in Pennsylvania, you will need a master's degree from a regionally accredited institution plus at least 420 hours of supervised field experience. You will also need to pass two licensure examinations: the Praxis basic skills test and the counselor-specific test. However, It is not required to take the basic skills test if you have earned a master's degree in counseling.
4. Pass Your State's School Counselor Exams
Passing the licensure exams is a critical step in becoming a school counselor. Basic skills tests cover literacy, mathematics, and knowledge of education. The school counselor discipline examination goes deeper, testing your knowledge of topics including:
•    The school counselor role
•    Human growth and development
•    Ethical and legal aspects of counseling
•    Counseling skills and interventions
•    Management of counseling programs*
The tests are administered as multiple-choice examinations via computer. It's important to choose a master's degree program with a strong track record of preparing students successfully for licensure exams.
5. Apply for School Counselor Certification
Once you have passed your exams, you will need to apply for your school counselor certification. This process varies from state to state. In Pennsylvania, applicants need to complete a form, provide transcripts and official test scores, and pay a fee. As of 2020, the fee was $200 for in-state applicants, or $260 for out-of-state applicants.* 
Navigating the certification bureaucracy can be tricky, so be sure to choose a university that has advisors on staff to help you ensure your application includes all the right materials. At GMercyU, we have both a certification officer and dedicated faculty who can guide you through the process.
6. Start Your Job Search
The final step to becoming a school counselor is to begin pursuing job opportunities. A high-quality school counseling master's program will have helped you prepare for the career search over the course of your studies. This can involve specific career advising and networking opportunities, as well as connecting you with internship and practicum sites in your area.
With the right qualifications and the support of your university, you should be well on your way to getting an interview – and your first job as a school counselor!

How a School Counselor Compares to Similar Jobs
Many people often confuse the school counseling role with other career paths, but it is a distinct occupation with its own duties.
School Counselor vs School Psychologist
School psychologists and school counselors are both interested in the behavior of students and in helping them learn. However, school psychologists are focused more on performing assessments and tests to identify cognitive and social-emotional issues for students that may be interfering in their education, whereas school counselors will assist students in their overall development and assist students in becoming better learners. 
School Counselor vs Guidance Counselor
"Guidance counselor" is an obsolete term for a high school counselor. It dates from a time when the main role of counselors in high school was to "guide" students toward post-graduation options, like career training or college. Today, "school counselor" is the preferred term because it takes into account the many other roles counselors play in high schools.
School Counselor vs School Social Worker
School social workers focus more on students' home lives than school counselors do. School counselors may become aware of issues in students' lives and help connect the students' families to resources – resources which can include the school social worker. The social worker can act as a case manager, helping students access benefits, therapy, and other programs to stabilize their home lives so they can succeed in school.
School Counselor vs Therapist
The difference between school counselors and therapists is that therapists generally work with individuals, families, and groups assisting clients with specific emotional, behavioral, and psychiatric issues. School counselors do work with individuals and groups, but they also focus on the student's academic and developmental needs, and offer comprehensive school programs to improve academic outcomes, foster community, and more.


Become a School Counselor at GMercyU
Get started on your journey to becoming a school counselor with the online Master of Science in Counseling program at GMercyU. This program offers an ASCA-aligned curriculum, meets the PDE P-12 certification requirements in Pennsylvania, and meets the educational requirements to sit for the National Counselor Exam in a flexible format designed for working professionals. Learn more today!