How to Become a Medical Technologist or Laboratory Scientist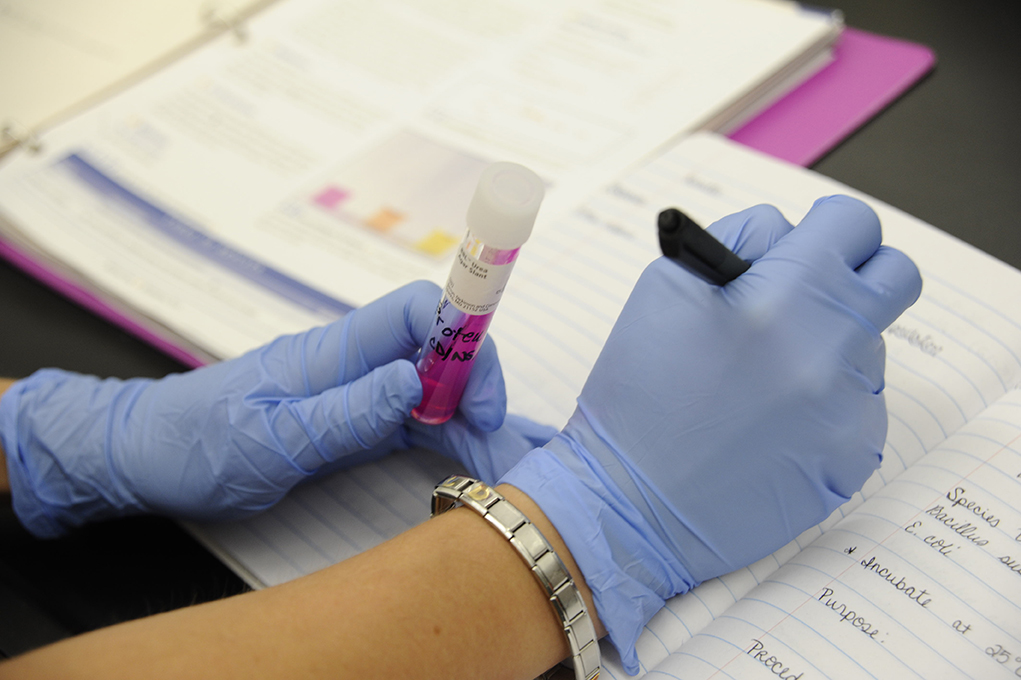 Medical laboratory scientists play a critical role "behind the scenes" in the healthcare industry, working in labs to analyze and interpret various samples from the human body in order to provide medical data that helps physicians diagnose and address illness and disease. Without these healthcare professionals, physicians would not know what is wrong with and how to best treat a patient.
Medical laboratory scientists' work has proved exceptionally relevant in 2020 — they have been busy processing COVID-19 tests since the start of the pandemic.
If you're interested in this type of crucial, in-demand work, this article covers:
What Is Medical Laboratory Science?
Medical laboratory science is the work of preparing, investigating, and analyzing samples of biological material from the human body to identify sources of disease and determine the validity of data then reporting results that allow physicians to make their patient diagnosis. As technology evolves, so can the work of a medical laboratory scientist.
Different Names for Medical Laboratory Scientists
While there are varying titles for a medical laboratory scientist, in most situations these roles have few differences and similar similar job requirements. Some of the names a medical laboratory scientist could have include:
Clinical Laboratory Scientist (CLS)
Medical Laboratory Scientist (MLS)
Medical Technologist (MT)


What Does a Medical or Clinical Lab Scientist Do?
These professionals work in labs (often in healthcare facilities), and their scope of work can vary thanks to the many specialties within the field. These span clinical chemistry, hematology, coagulation, toxicology, immunology, microbiology, transfusion services, the emerging field of molecular diagnostics, and more.
However, all medical lab scientists typically perform these tasks:
Analyzing blood and other body samples and cross-matching blood for transfusion
Interpreting medical data using high-precision lab equipment and communicating results to physicians
Overseeing medical lab technicians and assuring quality lab practices are consistently performed
Examining biological samples and verifying lab result conclusions
Participating in clinical studies and trials and presenting results to medical professionals as needed to assist patient treatment


Skills Needed to Become a Medical Scientist
Certain skills or characteristics are helpful to have prior to pursuing a medical science career path. Skills that successful medical scientists typically possess include:
Healthcare interest

 

- Medical lab scientists have a passion for helping others, while not necessarily needing a direct one-on-one patient relationship.
Great communication skills

 

- Medical lab scientists are often responsible for relaying a surplus of medical information to physicians to help patients. Solid communication skills are a necessity within this field.
Strong scientific knowledge

 

- Multiple fields of science are commonly implemented within a standard medical lab. Students should have a keen interest in biology, chemistry, microbiology, biochemistry, and more.
Basic physical requirements

 

- Medical lab scientists work with scientific equipment and advanced medical technology daily. A reliable medical scientist needs to have good hand-eye coordination, visual sharpness, and the dexterity needed to operate medical lab equipment.
Schedule flexibility

 

- Dependent on which specialization of medical lab science is chosen, many medical labs are open around the clock. Some flexibility in a medical lab scientist's work hours and schedule may be needed.

Steps to Becoming a Medical Lab Scientist
There are multiple steps to becoming a medical lab scientist. Those interested should consider the following and then work to make it happen, as there is significant job growth in the field. In fact, according to the Bureau of Labor Statistics (2017), 63% of laboratories reported difficulties hiring medical laboratory scientists.
Step 1: Accomplish Higher Education Requirements
While still in high school, it's smart to optimize your class schedule to include as many math and science courses as possible, as this will all become useful while pursuing your degree. Most medical laboratories require a four-year degree at an accredited university. Successful medical lab scientists will most commonly pursue a degree in:
Medical Technology
Biological Sciences
Step 2: Get Hands-On Experience in a Lab
Medical science students are typically required to spend time in a medical laboratory in order to get hands-on experience. This experience will allow them to get comfortable as a medical lab scientist and understand laboratory procedures. Sometimes these opportunities are built within the school's program to allow students access to a hospital-based internship. This experience can also help inform which area of medical lab science the student will want to eventually pursue.
Step 3: Consider Where to Work
Medical lab scientists all work in labs but often for different types of institutions, such as:
Hospitals
Clinics
Public Health Laboratories
Pharmaceutical Establishments
Research Institutions
Veterinary Clinics
Step 4: Become Certified
Most medical laboratory employers will require that medical lab scientists receive certification prior to employment. Certifications are obtained by passing a medical science exam through an accredited source such as the American Society for Clinical Pathology Board of Certification, the largest agency for providing certification for medical lab scientists.
Step 5: Pursue a Career in Medical Lab Science
Once a student has finished the necessary higher education requirements and has become certified, they can begin looking into medical lab scientist employment opportunities. As a field that has an optimistic amount of projected job availability and growth, pursuing a career in medical laboratory science is a smart and fulfilling choice.

Start a Career in Clinical Lab Science with GMercyU!
As natural critical thinkers and problem solvers, medical laboratory scientists are the hidden heroes within the medical field with an estimated 70% of medical decisions being influenced by their findings, reports Quest Diagnostics.
Explore the Medical Laboratory Science program at Gwynedd Mercy University to start your journey in the field!