RN vs BSN: A Guide to Understanding What Degree You Need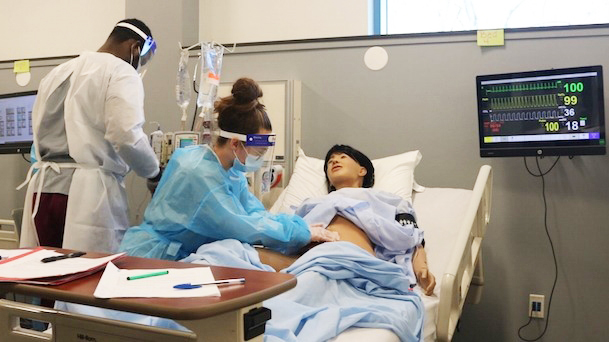 It's a common misconception that all nurses are the same, when in fact, each nurse has had to take a specialized path in order to become the type of nursing field they work in. A RN differs from a BSN in the education level a nurse has obtained, and therefore dictates the type of nurse they can become. This article will help you understand the differences between RN bs BSN degrees, and decide which may be a better path for you.

What Is a RN?
What Is a BSN? 
RN vs BSN: Education Requirements
RN vs BSN: Salary Differences
Common RSN vs. BSN Questions
Career Options for RNs
Career Options for BSNs
RN vs BSN - Deciding Which is Right for You
What Is a RN?
A registered nurse (RN) is a nursing professional who medically treats patients and provides educational and emotional support for those individuals and their families. Depending on the specialty of the registered nurse, their specific duties will vary. On a daily basis, a RN might administer medication, evaluate and monitor patients, educate patients and family members, and maintaining medical records for other health care providers.
Most registered nurses work within a specific area of care including – but not limited to – pediatrics, oncology, neonatology, and geriatrics. For every type of specialty in medicine, there is a nurse that works specifically with those patients. Registered nurses also work in a variety of environments other than hospitals and doctors offices. Some RN's choose to work in home-care, clinics, rehabilitation centers, and outpatient centers.


What Is a BSN?
You might be wondering, "What does BSN stand for?" A BSN is a bachelor's degree of science in nursing and is a four-year program for students who seek to become a registered nurse, or those who already are a registered nurse and have an associates degree in nursing. Many RNs will enroll in BSN programs to further their education in the nursing field from an associates degree to a bachelor's degree.
A BSN program typically takes 4 years to complete and is the standard for entry-level jobs in the nursing field. Those who obtain a bachelor's degree of science in nursing are more likely to be hired for many nursing occupations over those who only have an associates degree, especially those who work in hospitals. Nurses with a BSN degree can choose to further their education with master's or doctoral degree in order to become a nurse educator or a nurse practitioner.


RN vs BSN: Education Requirements
Despite the two different categories of education level for a registered nurse, both are required to pass the NCLEX exam in order to become a licensed nurse.
In order to become a registered nurse, you must obtain an associates degree (ADN) and be working within the medical field, usually under a specific specialty. An RN has also passed their state board exam (NCLEX-RN) and has completed their licensing requirements set in place by the state they work in.
A BSN is another classification of registered nurse that is defined by their higher education status. To receive a bachelor's degree of science in nursing, you must either have completed your associate's degree in nursing or have committed to the four-year program to graduate with the BSN degree from your undergraduate curriculum. 


RN vs. BSN: Salary Differences
The salary difference between RN vs BSN degrees is that those who hold a BSN degree are likely to make more than RN's who only have their associates degree. A BSN degree is favored over just an associates degree for many entry-level nursing jobs, therefore a BSN has more opportunities to make more money. Also, in order to grow within the nursing field you may need to further your education to qualify for certain positions. Having a BSN degree allows for an easier and faster transition to obtaining a master's or doctoral degree and will benefit you later in your career.


Common RN vs. BSN Questions
What is the Difference Between RN and BSN? 
Now that we've defined RN and BSN, you may be wondering, "Is BSN the same as RN?" or "Is BSN higher than RN?" The main difference between an RN and a BSN is the level of education someone has received. A registered nurse is able to practice within their field with only an associates degree, but a BSN is the preferred level of education for many nurse specialties throughout the medical career landscape. 


Can You Become a RN Without a BSN?
There are many paths one can take to become a registered nurse. The only requirement for RNs to officially practice medicinal care within their field is that they must pass their NCLEX exams. An RN can either have their ADN or BSN degrees, although a BSN degree is preferred. 


Pros & Cons of Becoming a RN with an ADN 
One of the highlights of becoming a registered nurse with an associates degree in nursing (ADN) is that you are able to obtain a degree that qualifies you to take the NCLEX in a shorter amount of time than if they were to go for a BSN degree. An ADN degree takes two years of study to complete, whereas a BSN degree will take four-years to complete. 
Along with the shorter amount of time to obtain an ADN, this also allows RNs to get practical experience by entering the workforce sooner than if they were to go for their BSN degree from the start of their undergraduate education. Beginning a career in any nursing field will allow you to get hands-on experience and will allow you to begin making more money that can aid in future schooling expenses, if you decide to pursue your BSN. 
A downside to only completing an RN associates degree in nursing is that many employers are looking for nurses who have their BSN degree since it is a higher level of education. A BSN degree allows individuals to have more training within the specialty field they are looking to work in, as well as gives employers the peace of mind that their employee fully understands what is required of them to give optimal care to their patients. 
| | |
| --- | --- |
| Pros | Cons |
| Less time in School | Less available jobs |
| More work experience | Make less money |
| Make money sooner | Future may require BSN degrees |

Pros & Cons of Becoming a RN with a BSN
A registered nurse (RN) who holds a bachelor's degree of science in nursing has more job opportunities than a RN with only an associates degree in nursing (ADN). Since there are more job prospects for registered nurses with BSN degrees, the level of their pay also increases due to the demand for BSN graduates. Along with more job opportunities for BSN graduates, the future of nursing may soon require BSN degrees over ADN degrees for practicing nurses. 
| | |
| --- | --- |
| Pros | Cons |
| More available jobs | More time spent in school |
| Better trained in specialty areas | More money to go to school |
| Make more money | Less working experience |

Career Options for RNs
Register nurses have vast options for career choices based on the specialty of care they seek to work within. RNs are able to take their medical training and apply it to numerous fields, depending on their preference of care. Some career options for RNs include travel nurse, nurse practitioner, emergency room nurse, or nurse manager. You can read a list of the 20 fast-growing nursing fields here.
Check out the charts below for a comparison of associates degree RN vs BSN salary averages for different career options.


Careers for RN with ADN 
The careers that are available for registered nurses (RN) with an associates degree in nursing include positions in hospitals, outpatient care centers, home health care services and doctor's offices. Duties for registered nurses with an ADN range from maintaining health records, assisting patients with their daily care, monitor patient health statuses and giving basic nursing card to treat injuries and illnesses.
| | | |
| --- | --- | --- |
| Job Title | Average Salary | Job Growth Projections |
| Critical Care Nurse | $71,694 | 29% increase |
| Cardiac Nurse | $67,490 | 16% increase |
| Geriatric Nurse | $66,169 | 19-26% increase |

Careers for RN with BSN
There are more career options for registered nurses who have a bachelor of science in nursing than those without this degree. Some of the most popular jobs for BSNs include pediatric nurse, surgical nurse, gynecological nurse and hospice nurse. On average, how much do RNs make with a bachelor's degree in nursing? Check out the table below to find out!
| | | |
| --- | --- | --- |
| Job Title | Average Salary | Job Growth Projections |
| Nursing Administrator | $96,540 | 20% increase |
| Orthopedic Nurse | $76,282 | 26% increase |
| Informatics Nurse | $83,000 | 9% increase |

Career Options for BSNs
If you have a bachelor's of science degree in nursing, you are better positioned to qualify for more jobs in the nursing field than those who only have an associates degree. Many hospitals require nurses working within their facilities to have at minimum a BSN degree. Some possible career options for those with a BSN degree include registered nurses within a hospital or nurse managers.

RN vs BSN - Deciding Which is Right for You
Some people wonder is BSN higher than RN. While there are many career opportunities for both RN and BSN, the decision on which one to choose comes down to personal preferences regarding time and work experience, as well as future career goals. Completing a BSN degree gives you an advantage over available job prospects in both the short-term and long-term outlook, while obtaining an ADN allows you to get registered as a nurse and work experience two years earlier.
There are also accelerated BSN programs available, such as GMercyU's Weekend BSN and Accelerated Bachelor of Science in Nursing (ABSN) programs, which are tailored for individuals who earned their ADN or other undergraduate degree and are looking to pursue their BSN.
Whether you decide an RN or BSN is right for you, GMercyU has you covered with our outstanding programs and faculty who will guide you every step of the way. Learn more about our nursing school offerings today!

Source: Bureau of Labor Statistics
Source: Nurse Journal
Source: Nursing Licensure