Brianna McDonald
Social Work 2022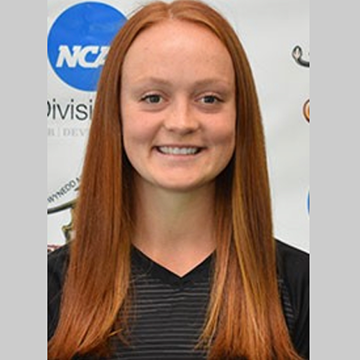 My favorite aspect of GMercyU is the simple fact that I have had endless opportunities to grow and learn as an individual. You will find yourself surrounded by amazing role models and supporters, which will ignite motivation within you.
Journey to GMercyU
Brianna McDonald, a 2017 Pennsbury High School graduate, first heard about GMercyU through her cousin and a family friend who both attended the University.

"The selling point for GMercyU was the small community aspect. I was able to communicate with professors and colleagues throughout the week when in need of support. I felt at home here and was always supported," Brianna said.
Involvement on Campus
Like many students on campus, Brianna was highly involved in the community. She held a number of leadership roles on campus, including President of the GMercyU chapter of the Hidden Opponent, an advocacy group that addresses the stigma and raises awareness for student-athlete mental health. Brianna also served as the outreach and marketing representative for the Social Work and Psychology Club (SWAP) and President of the Social Work Phi Alpha Honor Society.

Brianna also served as a Peer Mentor for the Integrated Studies program and was a member of the Griffin Student Leadership Institute where she completed her project in the area of care for the environment.

In addition to the clubs and organizations she was part of, Brianna was also a member of the Women's Soccer Team for her four years on campus and served as the team's Captain.

Brianna had the opportunity of presenting at the National Association of Social Workers (NASW) Conference two years in a row, and presented at the Interprofessional Global Outreach Research Conference.
Research
Throughout her time at GMercyU, Brianna completed various research projects, grants, and proposals. She focused much of her work on mental health and its effects on athletes in all levels of performance. Brianna also completed extensive research on trauma informed care for individuals living within the Mustard Seed Community in Jamaica.

In May 2022, Brianna will be traveling to Jamaica with a group of GMercyU nursing students to assist and inform the Mustard Seed Community about self-care and trauma. For over one year, GMercyU has been diligently working on collecting donations for the Mustard Seed Community. In partnership with GMercyU Nursing students, Brianna completed research on the connection between medical care, trauma, and an individual's behavior in their day-to-day life.
I am confident in our ability to provide this community with resources and odnations to help them thrive and for the residents to feel connected to our Mercy Mission. I am most excited to explore a new community and learn all about the Jamaican culture with those who live the culture every day,
Experience in the Social Work Program
"From the moment I entered the Social Work program my junior year to now, I have had the best experience with classes and meeting new people," Brianna said.

Brianna credits her professors and fellow classmates for providing her with expeirences she believes she would never have gotten anywhere else. The curriculum placed much emphasis on empathy, advocacy, and being a human willing to help, which translated to the professors as well.

"Dr. Luquet, Dr. Nuss, and Professor Fratantaro have shown be immense support throughout my courses and semesters. I do not believe I would have been so successful without their empathy and guidance throughout the program and for that I am eternally grateful," Brianna said.
Internship Experience
Brianna interned with Game on Philly, an organization that is part of the Philadelphia Youth Sports Collaborative. Her official title was Assistant Coach, in which she provided students in Strawberry Mansion Philadelphia with after-school programs and activities. Her students were middle-school aged and she provided a safe environment for them to learn and grow. Brianna has helped work hand-in-hand with the collaborative to focus on improving the programming and creating a client-centered arenta for students to enter.
Post-Graduation
"I am feeling bittersweet about leaving GMercyU as I have made life long connections with many individuals within the institution," Brianna said.

After graduation, Brianna is looking forward to continuing her work with the Philadelphia Youth Sports Collaborative. She plans to take one year off from school and enter graduate school in the future.