Integrated Studies

Integrated Studies at Gwynedd Mercy University is a student-centered, inclusive post-secondary program for individuals aged 18-26 with intellectual disabilities.
This program is designed to provide excellent opportunities in education, career development, and social participation within an inclusive academic setting. Integrated Studies strives to create a community that cultivates self-determination, service, self-efficacy, and lifelong learning.
NEW: Integrated Studies student Sebastian DeSimone '26 was featured in the Philadelphia Inquirer for his role in ensuring students with intellectual disabilities nationwide can compete in Division III athletics.
Program Details
Integrated Studies is a fully-inclusive postsecondary program on Gwynedd Mercy University's campus, offering two-year or four-year college experiences for students with intellectual disabilities (ID) to progressively develop skills each semester related to academic interest, employment, communication, healthy living, and technology with the ultimate goal of increased independence, meaningful employment and self-actualization. The program is based on Think College Standards and created with support from the PA Inclusive Higher Education Consortium and other successful programs.
Integrated Studies students will be active members of Gwynedd Mercy University's community as they will audit college courses, participate in community-based internships, attend sporting events, eat in the dining hall, and have the opportunity to live in the residence halls.
Students will earn a non-degree certificate of Integrated Studies and a university transcript that includes the courses and internships completed as well as a portfolio of highlighted work.
Academics
Students will audit four inclusive courses per semester (12 credits) related to their academic and employment goals. Students will receive a certificate of Integrated Studies and a GMercyU transcript that includes the courses and internships completed. Students will have the access to the Student Success Center and may receive tutoring from trained peer tutors and academic coaching for enhancing study and organizational skills.


Employment
Students will explore career interests and learn employment skills through partnerships with the Career Development Office and community / university partnerships. These activities will occur outside of class time, on an individual and group basis. Students will complete individualized on-campus and community-based internships (paid or unpaid), that can count towards audit credit with the ultimate goal of paid employment. Students will be required to attend campus workshops and webinars that relate to their individualized goals (e.g. building a resume, interview skills, career exploration, etc.)


Social Participation
Students will participate in campus and community activities like all Griffins, including extracurricular activities, intramural sports, peer mentorships, and community service to promote active membership in the community. Integrated Studies students will be required to participate in at least one campus club / organization per semester. Students will be required to attend campus workshops and events thtat relate to their individualized goals (e.g. resident hall cooking workshops, group exercise classes, etc).
Prior to the start of a student's first semester, a person-centered planning meeting will take place including the student, Integrated Studies program staff, family members, supports coordinators etc. to discuss and create an individualized plan for a student's time at GMercyU. Students will have individualized supports to maximize independence and success on campus.
Some examples include: 
Syllabus modification for audited courses – creating assignments to meet student's learning goals within each course
Weekly/Bi-weekly meeting with Integrated Studies program staff to review goals and introduce strategies for success
Academic coaches – peer students who offer academic support (time management strategies, organization etc.) outside of class time 
Peer mentors- peer students that will provide support within classes, during lunch, at the gym etc. 
Peer tutors- All Gwynedd students have access to tutors through the Academic Resource Center, who will have gone through additional training on unique teaching strategies for diverse learners
Job coaches- Students will have job coaches provided (either students who have received additional training, or through supports coordination) as needed with the goal of fading supports and introducing strategies to maximize independence 
Natural supports will be encouraged within the classroom and campus environment
Students will have the option to live in the residence halls in an inclusive environment. Students will be supported by an RA (Resident Assistant) who has received additional training in strategies to support students with ID. 
Additional information about residence hall options may be found here.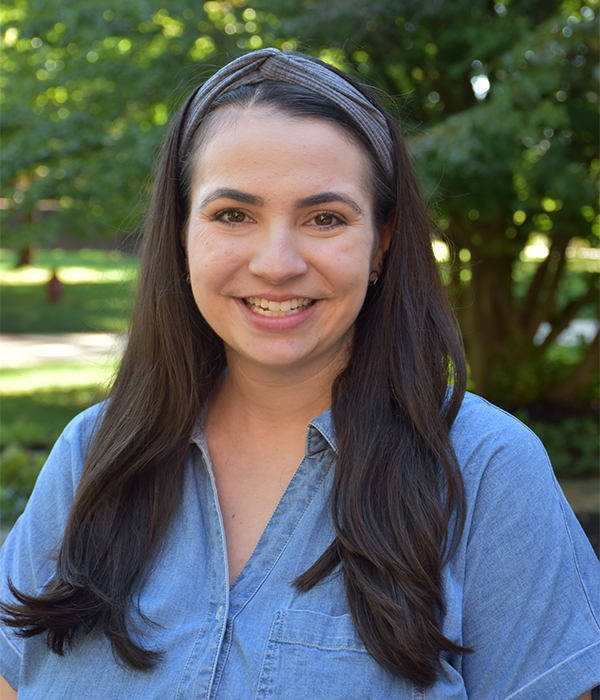 Ariana Amaya, OTD, OTR/L (she, her, hers)
Program Director of Integrated Studies
Ariana joined GMercyU in 2019 as the inaugural Program Director of Integrated Studies. She led the program's development efforts, piloting the initiative in Spring 2020 with two students and expanding the program each subsequent year through TPSID grant funding through the U.S. Department of Education. 
In June 2022, she was awarded the prestigious AAUA Exemplary Higher Education Model Award. 
Prior to her time at GMercyU, she worked in supported employment and community-based programming for young adults with intellectual disability. She is an advocate for full and authentic inclusion, minimizing barriers to participation, and creatively building capacity. Ariana earned her Doctorate in Occupational Therapy from Belmont University and her Bachelor's Degree in Psychology, Spanish and Public Health from Muhlenberg College. In her free time, she enjoys spending time with her family, crafting, and enjoying coffee and cookies of all variations.

Zack Hulings, MA (he, him, his)
Assistant Program Director of Integrated Studies
Zack joined GMercyU as a Masters Counseling Intern in 2018 and was thrilled to assume the role of Assistant Director of Integrated Studies in Fall 2021. Prior to his time at GMercyU, he worked in various roles throughout primary and secondary education with individuals with intellectual disability, autism, and emotional support needs. Zack earned his Master's Degree in Counseling Psychology from Arcadia University, and his Bachelor's Degree in Psychology and Sociology from the University of Pittsburgh. In his free time, he enjoys spending time with his family, reading all manner of things, and playing the Super Nintendo Entertainment System. Go Flyers.
GMercyU Integrated Studies is seeking peer mentors, academic coaches, and job coaches to promote independence and provide individualized support. 
If interested, please reach out to Dr. Ariana Amaya, Program Coordinator of Integrated Studies at amaya.a@gmercyu.edu.
I love how many peer mentors I have that help me, and I like having the support to get me through my classes. Integrated Studies has allowed me to make new friends. 

—Varun Parakala '25
Meet Varun to learn about his internship, career goals, the club he's launching in fall 2022, and more!