RNs in 2020: Registered Nursing Job Outlook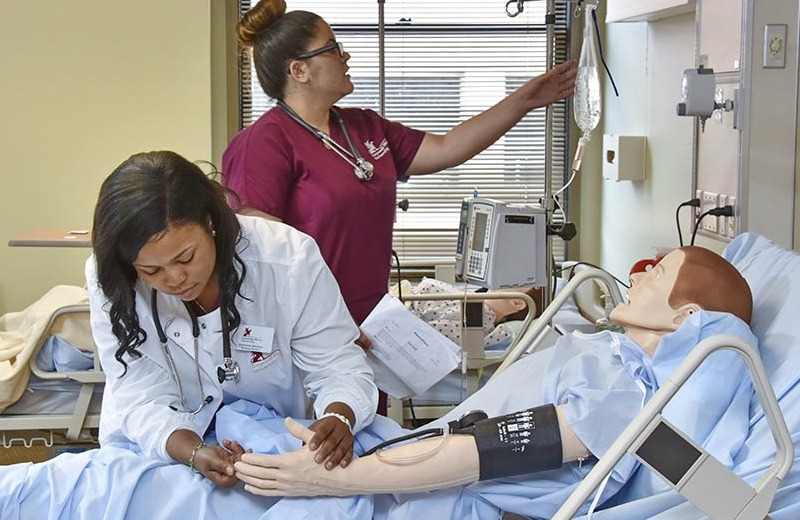 As with any field, the registered nursing career outlook is constantly shifting. With advancements in technology and the expanding responsibilities, being a nurse in 2020 is vastly different than being a nurse in 2000. In these evolving times, the education requirements are also changing and you may be wondering, "Do I need a BSN to be an RN?" This guide will answer that question and explore pathways such as an undergraduate bachelor of science in nursing or accelerated nursing programs. You'll also learn about the future of RN careers and what you'll need to be an RN in 2020.
Registered Nurse Job Outlook
With a substantial aging population, there is a growing need for health professionals in the United States. These healthcare professionals, and specifically registered nurses, account for a large percentage of job growth in the U.S. over the next several years. In order to properly care for the elderly and sick populations, the U.S. Bureau of Labor Statistics (BLS) predicts that the number of jobs for all healthcare occupations will grow 18% by 2026, which is highest among all occupational groups in the country.
Specifically for the future of RN jobs, the nursing job outlook continues to show promising growth. In fact, according to the BLS, there will be a growth of more than 438,000 new RN jobs by the year 2026. This a 15% jump from employment opportunities in 2016. The projected growth of RN job openings is also more than double the national average for job growth across all occupations, which currently stands at 7%.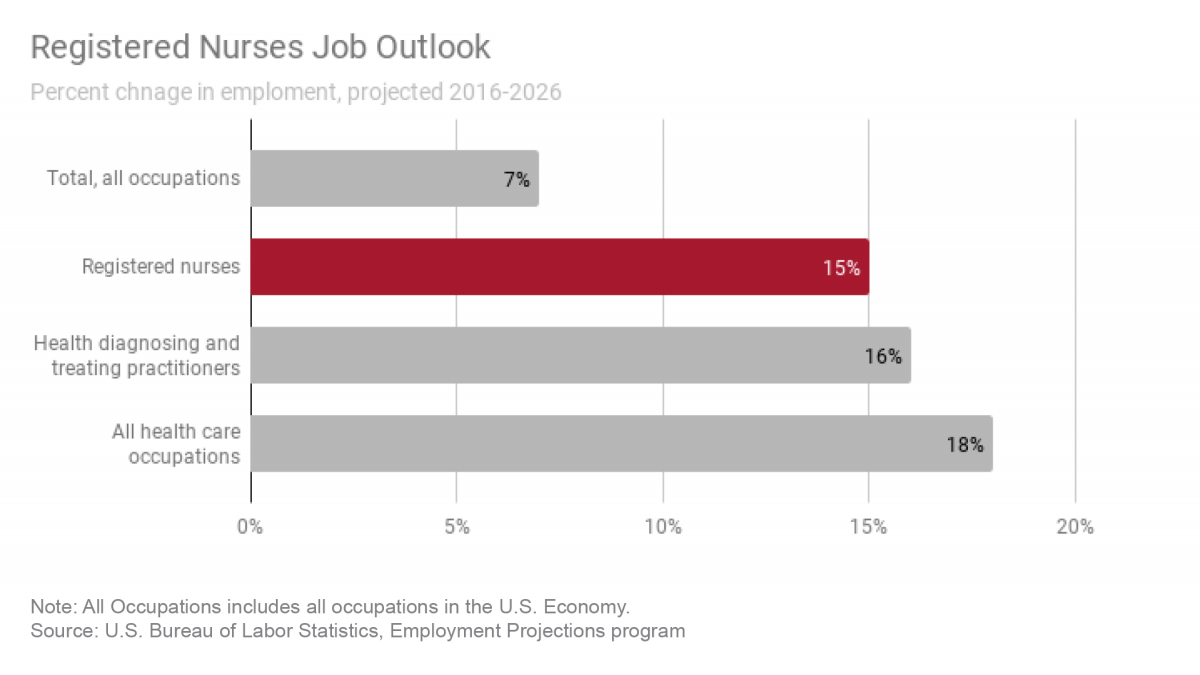 With the large scale growth and plentiful job opportunities, pursuing an RN career is a sustainable choice in the ever-changing job market. Considering the large demand, expected growth, and potential salary earnings, there's no better time to pursue a registered nursing career.


Registered Nurse Salary Outlook
Along with the positive growth opportunities associated with registered nursing career outlook, there is significant compensation that comes with being an RN. The average median salary for registered nurses is $71,730 according to the BLS Occupational Outlook Handbook. The highest 10% of nurses earned more than $106,530 annually. Below is a chart that examines the median annual wages of the top nursing industries:
TOP NURSING INDUSTRIES & MEDIAN ANNUAL WAGES

Government

$78,390

Hospitals; state, local, and private

$73,650

Ambulatory healthcare services

$68,320

Nursing and residential care facilities

$63,990

Educational services; state, local, and private

$61,850
Of course, the average annual salary of a registered nurse will vary based on numerous factors, including location, years of experience, education level, and more. The states that provide the most nursing job opportunities are Pennsylvania, California, Texas, New York, and Florida. Below is a table of the annual mean wages for these five states with the highest employment level for RNs. 
| STATE | EMPLOYMENT | ANNUAL MEAN WAGE |
| --- | --- | --- |
| California | 294,510 | $106,950 |
| Texas | 210,350 | $72,890 |
| New York | 182,490 | $85,610 |
| Florida | 177,600 | $66,210 |
| Pennsylvania | 148,520 | $70,390 |
Even though the salary for California is significantly higher than some of the other top locations, it is important to consider that the cost of living in each state varies. For example, even though you would have the highest annual median salary in California, you would also be paying more money for your basic living expenses such as rent, taxes, utilities, groceries, gas, among other things. These are some examples to keep in mind when you're deciding where you want to live and work as a registered nurse.

Registered Nurse Hiring Trends
Of course, nurses need to change with the times and many employers are choosing to hire more nurses with their BSNs. With the increasing educational expectations, nurses in 2020 need to consider a BSN as their ideal path to starting their nursing career. 
According to a study conducted by global employment website Monster.com, more than three million registered nurses are employed in the U.S. today. Of all the open nursing postings listed on Monster's website, more than 75% of them are specifically for registered nurses.
As for where registered nurses are being hired, the vast majority are employed in the health care sector, with 20% in non-clinical jobs. Hospitals are the primary setting for RNs who work in clinical nursing, while there are various groups of RNs employed in ambulatory health care services or nursing and residential facilities. For registered nurses with a BSN degree, there is an abundance of opportunities to make a difference in patients' lives.

Registered Nurse Education Trends
With changing times and advancing technologies, come new nursing responsibilities and education requirements. For this reason, employers are looking for candidates who have a strong education as a foundation, which in today's nursing environment, is a Bachelor of Science in Nursing. As the educational expectations for nurses increase, prospective nurses in 2020 should focus on a BSN as their primary degree to work as a registered nurse. You can check out Gwynedd Mercy University's Nursing school's options here.
Will a BSN be Mandatory for Nurses in 2020?
Although it is not mandatory for current nurses to have a BSN, it is becoming more and more common for hiring managers to choose BSN candidates over those with less education experience. In a report conducted by the Institute of Medicine (IOM) in 2010, they recommended that 80% of nurses in the workforce should have their BSN by 2020. Research emphasizes that having a higher percentage of BSN-educated nurses reduces morbidity and mortality, which has led to the push for more RNs with BSN degrees.
What is the BSN in 10 Law?
The BSN in 10 law was passed in the State of New York in 2017 which requires all nurses to obtain a Bachelor of Science in Nursing (BSN) degree within 10 years of obtaining their initial Registered Nurse (RN) license. In this case, registered nurses who do not receive their BSN within 10 years of joining the workforce will have their license suspended. This law was enacted to help give patients the quality care and expertise given by BSN-educated nurses. As of right now, New York is the only state that has a BSN in 10 law in place, though many other states are looking to enact similar legislation.

BSN Requirements by 2020: A Forecast
Although every employment opportunity is different and needs varying requirements, it's clear that many RN employers are looking for candidates with their BSN. In fact, the RN career forecast is constantly changing and evolving, which requires future nurses to be even more knowledgeable and adaptable. For 2020, it's apparent that there is a desire for well-educated nurses, and more employers are hiring BSN applicants over ADN applicants. Although it is still possible to find nursing jobs with only an ADN, having a BSN gives applicants a competitive advantage as well as a salary boost.
Preparing today's nursing students for the shifting landscape of the health care field is essential. With Gwynedd Mercy University's Bachelor of Science in Nursing (BSN) program, you can pursue your passion for helping others while learning directly from our expert faculty. In addition to our traditional 4-year BSN program, GMercyU offers other nursing degree options to earn your BSN, whether it's an accelerated 2-year program or a Weekend BSN program.
*Source
*Source
*Source
*Source
*Source
*Source
Your GMercyU Path to a BSN Degree
Whether you're a recent high school graduate, a transfer student, or a college graduate looking to earn your BSN degree, we can help you become the nurse you are meant to be. GMercyU's undergraduate Bachelor's of Science in Nursing Program is fully approved by the Pennsylvania State Board of Nursing and accredited by the Commissions on Collegiate Nursing Education. One of the most established undergraduate nursing programs in Philadelphia, Gwynedd Mercy University's Frances M. Maguire School of Nursing and Health Professions has built a reputation for innovation and leadership in nursing that spans more than 60 years. GMercyU has a long history of preparing nurses who not only have outstanding clinical skills, but are known for providing compassionate care that focuses on the whole patient. You will develop your sense of professional ethics as well as the leadership, interpersonal, and technological skills you will need to become a well-rounded nurse leader. For more information, take a look at our BSN Degree Program.

Your GMercyU Path to an ABSN Degree
GMercyU's Accelerated Nursing Program (ABSN) is a second-degree nursing program; it is designed for students who wish to obtain a nursing degree while already having a bachelor's degree in another field. GMercyU's accelerated nursing program is a full-time, 16-month, 67-credit degree program that will  prepare you to become a confident, capable nursing practitioner with the comprehensive health science knowledge and practical clinical skills employers demand. In addition, you'll establish a foundation for your future in the profession, with course content that covers leadership strategies and research capabilities. By completing a second bachelor's degree in nursing in 16 months, rather than 4 years, you can enter the workforce much more quickly. For more information, take a look at our ABSN Degree Program.