How to Become a Travel Nurse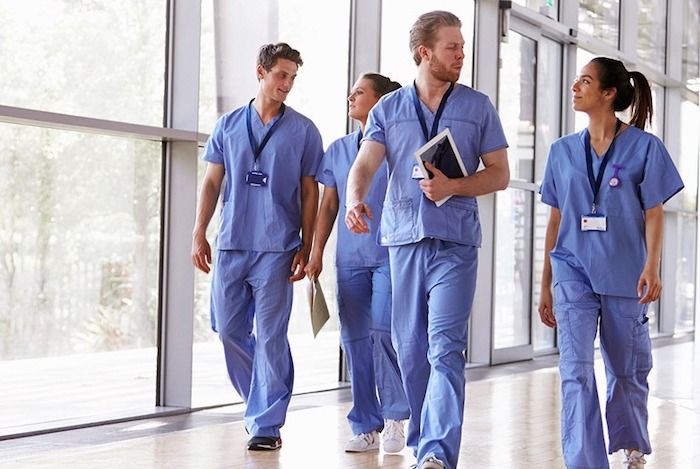 Travel nursing can be a great career option for nurses who have some experience in the field but want to explore new cities. While the standards of nursing care are the same across the country, the people and experiences can vary. If you're interested in learning how to be a travel nurse, check out our guide for travel nurse requirements.

What Is a Travel Nurse?
Travel nurses are professionals who fill short-term staffing gaps in hospitals and medical facilities around the country. These contracts normally last between eight and 22 weeks, though sometimes travel nurses are offered extensions.
Travel nurses fill gaps in a variety of specialties, from the NICU to the medical-surgical unit and beyond. Although they plan to stay for just a short time, they interact with patients and perform the same duties as any permanent employee.

What Do Travel Nurses do?
Travel nurses have all of the same responsibilities as permanent staff in the hospitals in which they work. However, they are hired by contract on a temporary basis to fill a staff shortage. The average travel nurse assignment is 13 weeks in one hospital.
Travel Nurse Job Description
The travel nurse job description includes caring for patients using diagnoses, evaluations, and assessments, much like standard nurses. You may be required to visit patients in their home if they are not mobile. As a travel nurse, you'll find yourself caring for patients as part of the team of permanent staff, despite your temporary role. In fact, when your contract ends, many of your co-workers might be surprised to learn you weren't a permanent employee!
Core duties of a travel nurse also include:
Educate patients and their families about conditions/treatments
Tend to injured or sick patients
Perform tests and analyze test results
Administer medication
Follow up with patients after treatment

How Much do Traveling Nurses Make?
Travel nurse salaries can vary depending on education, region, and contracts. For example, many hospitals prefer an advanced nursing degree, such as a Bachelor of Science in Nursing; others may accept an Associate in Nursing or Registered Nurse. Hospitals in major cities also tend to pay more than hospitals in rural counties, because of cost-of-living expenses are higher. And, some travel nurse contracts allow for bonuses or extensions, which would increase base pay. In addition to salary, many travel nurse contracts include a housing allowance, meal stipend, and travel reimbursements.
While all of these things should be considered, the national average annual salary of a travel nurse is about $75,000, according to Payscale.
| | |
| --- | --- |
| State | Average Salary |
| New York | $101,365 |
| Florida | $77,761 |
| California | $93,941 |
| Colorado | $87,783 |
| Hawaii | $92,831 |

Advantages of Being a Traveling Nurse
Travel nursing has many advantages, including being able to work with people from all different walks of life and explore parts of the country you may have never seen. While it may seem daunting to interview for a new position every couple of months and move to a new city, there are many travel nurse agencies that can help smooth the process.
Many times, these agencies can set up the interviews with the hospital administration for you. Of course, then it's up to you to let your talents shine! The agencies can also help find you fully-furnished housing, which is often free for travel nurses and located in close proximity to the hospital. Many of these accommodations are also pet and family friendly, so you don't have to take the journey alone.
Many contracts allow for a meal stipend during your assignment. Some include bonuses or contract extensions. Each assignment can be different, so you'll gain experience from different hospitals, equipment, and people.

Steps to Becoming a Travel Nurse
If you're interested in becoming a travel nurse, there are a few steps you have to complete before you can begin applying for travel nurse assignments. While some steps may seem obvious, like making sure to get the proper education, there is more to a career in travel nursing than just having the right degree.
Step 1: Earn your degree.
If you're wondering how to be a travel nurse, you should know that travel nurses have the same credentials as any nurse; so earning a degree in nursing would be the first step to becoming a travel nurse. Programs, such as the Bachelor of Science in Nursing degree, offered at Gwynedd Mercy University are traditional undergraduate degree programs in which you can enroll immediately after high school.
However, if you already hold a bachelor's degree in another field and are interested in how to become a travel nurse, you can earn a degree such as GMercyU's Accelerated Bachelor of Science in Nursing degree, which is an intensive full-time 15-month program.
Step 2: Gain some real-world experience.
After you earn your degree, you should take some time to work in a hospital setting to get used to the feel of it. Working in a clinical setting during your education will start your first hands-on experience within the nursing field. Obtaining an entry-level job within a doctor's office or hospital will also better prepare you for a travel nursing role.
Another way to ensure that you gain real-world experience is to make sure that you're enrolled in an accredited nursing program. Two popular accreditation agencies are the ACEN, or Accreditation Commission for Education in Nursing, and the CCNE, or Commission on Collegiate of Nursing Education. Accredited nursing programs will guarentee a specific standard of education within their program so that employers can trust that they are hiring a highly skilled and knowledgable nurse.
Step 3: Find an agency.
After you have some experience as a nurse, you can begin your search for a travel nurse staffing agency. You'll complete an application and be paired with a recruiter. This person will get in touch with you to talk about your skills and experience, expectations for the job, and your preference of cities. Then, you'll be matched with the hospitals that are looking to hire travel nurses.
Step 4: Brush off your interview skills.
You won't automatically be paired with a hospital; you'll have to interview for the job by phone or video chat. This is your opportunity to show the hospital administrators what you're made of, what you're excited about, and what you can bring to their facility. Your recruiter might even be able to offer you some interview tips to calm your nerves.
Step 5. Away you go!
Once you're matched with a facility, you'll begin your journey! Agencies can provide you with free housing or housing reimbursement. If you are familiar with the city you're sent to, you may be able to find housing on your own. In that case, you'll receive a housing allowance that varies depending on the city you're in. The free housing option will always come fully furnished, and will usually be located in close proximity to the hospital. Keep in mind that the housing provided by your agency will be an efficiency or one-bedroom apartment, so you may prefer to find your own housing and pay the difference if you will need more space.
You can decide if you'd rather fly or drive, but the agency will give you a travel allowance that should cover the cost of transportation to your new hometown.


Requirements for Traveling Nurse
If you're ready to become a traveling nurse, you should be aware of some of the travel nurse requirements. For starters, you'll need to at least be a registered nurse (RN) with some hospital experience. Many hospitals prefer nurses with a Bachelor of Science in Nursing, like the one offered at Gwynedd Mercy University. If you already have a bachelor's degree, you could earn an Accelerated Bachelor's in Nursing degree, which is an accelerated degree for individuals who already have a bachelor's degree in another field. Once you earn your bachelor's degree, you can go on to earn a graduate degree in nursing.
In addition, you'll need to make sure you are certified to practice in the state where your assignment is. If your home state is part of the Nurse Licensure Compact – Pennsylvania is not – you are eligible for one multi-state license. However, because the NCLEX is a nationally recognized licensure examination, obtaining a license in another state should not be too difficult. Plus, your staffing agency will be able to provide some assistance. Rest assured that the licensing requirements for traveling nurse certification will not delay your new career as a travel nurse!