How to Become a School Principal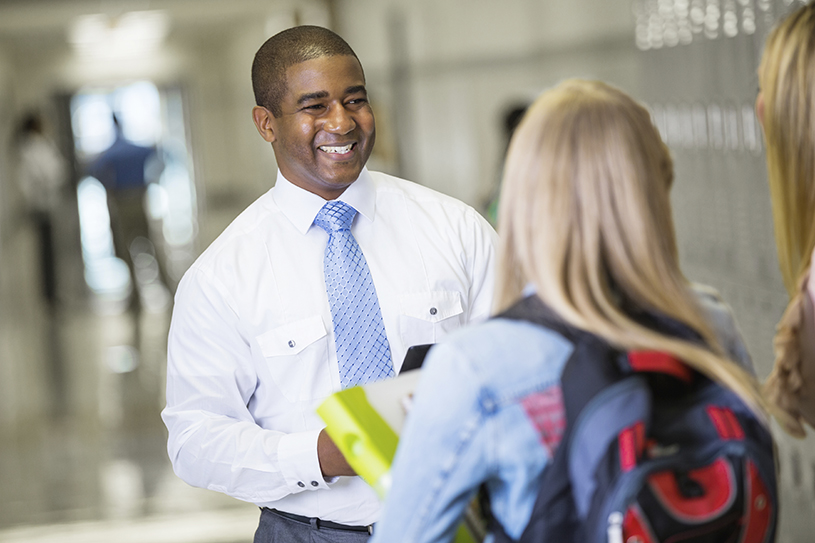 Principals take on a range of responsibilities encompassing almost every aspect of running a school. They guide curriculum, set agendas, and ensure the school is giving every student the best possible opportunities. 
If you are considering becoming a school principal, this article can help answer the following questions:
If you would like more information on becoming a school principal, explore the Online Master of Science in Educational Administration or Doctorate in Education (EdD) Programs offered by Gwynedd Mercy University, or call 844-707-9064 to request more information. 
 
What Is a School Principal?
A school principal manages the operations of their school, including staff and budget management. They usually lead elementary schools, middle schools, or high schools. They report to the superintendent and ensure their school runs smoothly while adhering to local, state, and federal requirements. They are responsible for school safety and scholastic performance, and keeping their students and staff happy and performing to the best of their abilities. Daily responsibilities will vary depending upon the size of the school and its resources.
 
What Does a School Principal Do?
School principals juggle many roles, including but not limited to the following: 
Instructional leader:

 

Guides academic goal setting, curriculum development, and organizes professional development programs and workshops for teachers and other staff
 
School leader:

 

Manages operations, oversees budget needs, maintains funding, organizes district-level policy, and coordinates security and safety
 
Student and family advocate:

 

Assesses student needs, addresses parent concerns, manages student relations, and handles disciplinary actions
 
Public representative:

 

Advocates for school needs, justifies funding to legislators, and addresses community concerns
 
Staff manager:

 

Oversees the hiring of faculty and other staff members. Observes teachers and evaluates their performance.
 
Policy creator:

 

Creates and enforces school policies, such as dress codes
 
Academic architect:

 

Creates academic calendars for the school, creates new programs, and restructures old ones
 
Recruiter:

 

Oversees student recruitment and admissions into the school
 
Skills Needed to Become a School Principal
The most successful school principals often possess the following qualities:
Teachers at heart: Because principals manage curriculums and faculty, they must understand what successful classroom learning entails. Most schools require that administrators have several years of teaching experience before becoming a school principal. 
 
Budgeting know-how: Principals oversee the budget for their schools, so understanding where to apply financial resources and where they can make savings is critical for the role.  
 
Scheduling skills: School principals understand that time is a resource that must be managed successfully. Principals need to make wise decisions when allocating their time and the time of their staff.
 
Invested in helping their staff improve: Like all good managers, the best principals find joy in helping their staff reach their goals.
 
Sensitive to the needs of all students: Principals help develop and maintain effective teaching programs that consider the needs and abilities of various student segments. 
 
Project management skills: School principals are always constrained by a finite budget and timescale. They need to be able to leverage their skills, knowledge, and experience to achieve objectives. 
 
Relationship builders: Principals are the faces of their schools and need to be comfortable speaking on their school's behalf in various settings, from legislative meetings to school concerts. The best principals are comfortable answering challenging questions and understand how to craft messaging.  
 
Conflict management skills: Principals need to keep a level head while dealing with different disputes, from student-on-student disagreements to faculty arguments and everything in between. Principals often play the role of negotiator in disputes to help all parties involved come to a fair understanding. 
 
They sweat the details: The best principals appreciate the fine details. When taking on a task, they take all factors into account; even the minute aspects like having enough seating at a talent show. 


Steps to Becoming a School Principal
Becoming a school principal starts with building a solid foundation of education and then moving on to gaining practical experience in the field. Most schools require principal candidates to have classroom teaching experience. Most public school principals must be licensed school administrators in their state, most often with a graduate degree in education administration or a related field.
The common steps to becoming a school principal are:
Step 1: Complete
 

a bachelor's degree in education

 

or a related subject that includes a teacher preparation program.

Your bachelor's degree will introduce you to key concepts in education and student assessment methods. 
Step 2: Complete a student teaching internship.
Internships allow you to apply what you've learned in your classes to real-world scenarios and hone the skills you'll need as an educator.
Step 3: Pass your state's tests for teacher licensing.
Before you can become a certified teacher, you must pass your state's required licensing exams.
Step 4: Apply for your teaching license.
The final step in becoming a teacher is to apply to your state's department of education for a teaching certificate. 
Step 5: Gain three to five years of experience as a teacher.
Now, it's time to gain more real-world experience. When you're working as a teacher, pay attention to how your school's leadership operates and the tasks associated with making a school run well. 
Step 6: Earn a master's, specialist, or doctoral degree in education administration or a related subject.
Earning a master's degree or doctoral degree (like the ones offered by Gwynedd Mercy University) will allow you to develop practical managerial skills that will help you nurture talent in your teachers and staff and gain insight into issues of school finance, law, and community relations.
Step 7: Fulfill your state's testing and licensing requirements
Before you can take an administrative position with your school, you'll need to pass your state's school administrator license tests and apply for your school administrator's license.
Step 8: Apply for administrative positions
Now you're ready to take on the added responsibility of school management. You can apply for roles such as vice-principal and principal. 
Step 9: Continue your education
The best administrators make continued learning and improvement a priority. You can continue your education, earn more credentials, and position yourself to further your career by earning post-master's certificates like GMercyU's Online Principal Certification Program (K-12) Post-Master's.
 
Advance Your Career to Become a Principal with GMercyU!
We hope this article answered your questions about pursuing a career as a school principal. If you have more questions or are interested in taking the next steps in your professional journey by earning your Master of Science in Educational Administration, Doctorate in Education or Online Principal Certification Program (K-12) Post-Master's, don't hesitate to reach out. Call 844-707-9064 to request more information.