How to Become a Hospital Administrator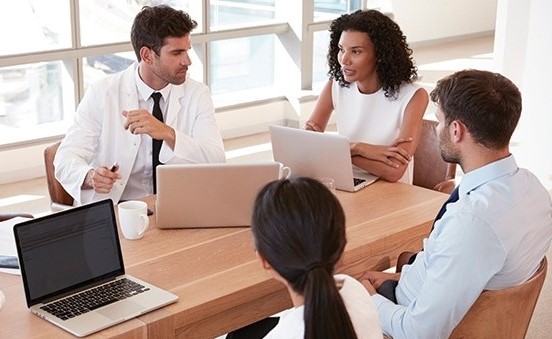 Hospitals are busy places full of life's drama. While most people will focus on the doctors, nurses, and patients, behind the scenes, hospital administrators play an important role in keeping the hospital running smoothly. In fact, career opportunities for medical and health services managers, including hospital administrators, are projected to grow very rapidly over the next 10 years. 
According to the U.S. Bureau of Labor Statistics, job openings for healthcare managers should rise by 28% nationwide from 2021 to 2031, more than five times the national average for all occupations.
If you're interested in pursuing a career as a hospital administrator, this short guide can help you learn more about the role, its duties, and how to get started on the path to a job in the field. We'll answer some frequently asked questions about the hospital administrator career path in this article, including:

What Is a Hospital Administrator?
A hospital administrator is a professional who handles the business side of healthcare. They may manage a specific business function, such as finances or human resources, or they may manage all business functions for a specific department, such as pediatric medicine or general surgery. At the highest level, hospital administrators are the executives of an entire hospital facility.
Hospital administrators usually hold at least a bachelor's degree in healthcare administration, though MBAs in healthcare administration are becoming more common (and may be more preferred by employers).
 
What Does a Hospital Administrator Do?
Hospital administrators plan, coordinate, and assess the quality of healthcare services. Their day-to-day duties will depend on whether they manage a hospital facility or a specific department, but will often include: 
Consulting and communicating with doctors, nurses, and other members of the medical staff, including department heads
Developing goals for their department or facility
Identifying opportunities to improve quality and efficiency of care
Recruiting, training, and supervising staff members, including developing or approving staff schedules
Ensuring appropriate safety, security, and emergency procedures are in place for their department or facility
Taking responsibility for ensuring the facility and care practices are in line with laws, regulations, and codes
Developing budgets, monitoring spending, and ensuring billing and payments are handled correctly
Overseeing the maintenance of facility records and ensuring statistics or data are reported to relevant governing bodies — e.g., state medical boards, the Centers for Disease Control (CDC), etc.
Attending board meetings on behalf of their facility or department
 
Skills Needed to Become a Hospital Administrator
Hospital administrators need a range of skills that cover knowledge of business administration, finance, human resource management, healthcare law and policy, medical terminology, medical insurance practices, and much more. Hospital administrator qualifications usually include evidence of higher education in business administration or healthcare administration.
Specific skills may include:
Working knowledge of medical science, including pathology, infection control, and the types of treatments their department or facility provides
Leadership, team building, and management skills, including delegation, motivation, conflict resolution, and more
Financial management skills, including specific knowledge of healthcare finance and revenue cycle management
Human resource management for clinical and non-clinical staff, including training, recruiting, performance evaluation, and retention
Professional writing, research, speaking, and presenting skills
Knowledge of legal, regulatory, and ethical considerations which can impact the management and provision of healthcare at their facility
Qualitative and quantitative analysis skills, including a working knowledge of statistics
An understanding of the U.S. healthcare system, including public and private providers, insurance options, insurance and billing processes, and more
 
Steps to Becoming a Hospital Administrator
Hospital administration job requirements include education and training. For people from a non-medical background, this will include four to six years of education in business or healthcare administration. 
Current clinical professionals who want to move into healthcare administration may be able to gain the knowledge and skills they need with just a graduate program, such as GMercyU's MBA in Healthcare Administration or our online Graduate Certificate in Healthcare Administration.
Below, we focus on the steps a non-clinical professional can take to become a hospital administrator.
 
Step 1: Earn a Bachelor's Degree (Four Years)
First, you will need to earn a bachelor's degree. A bachelor's teaches the foundation of skills you will need to qualify for entry-level management roles. 
While a business administration degree is a good start, the increasing complexity of the healthcare system means it may be better to earn a healthcare-focused business degree if you want to become a hospital administrator. 
GMercyU's Bachelor of Science in Healthcare Administration is one option. If you have an associate degree (or an equal number of transferable credits), you may be able to complete your healthcare administration bachelor's degree online with us.
After you graduate from your bachelor's, you have a choice: move right into an MBA program, or build experience before returning to graduate school. 
 
Step 2: Earn a Master's Degree or Grad Certificate (1-2 Years)
Earning a master's degree to become a hospital administrator typically takes about two years. The good news is, there are many programs now available online, which means you may be able to work and study at the same time. GMercyU's online Master of Business Administration in Healthcare Administration is an accelerated two-year program that can accommodate full-time careers.
If you already have a master's degree or don't want to commit to a full MBA yet, you can opt to earn a graduate certificate instead. This type of program, such as our online Graduate Certificate in Healthcare Administration, teaches a selection of MBA-level courses targeted to a specific field. You can complete our graduate certificate program in one year. 
 
Step 3: Gain Experience in Hospital Administration
Next, you will want to build your resume with jobs in healthcare or hospital administration. Your bachelor's degree should help you pursue entry-level roles within hospital departments. If you already have your MBA or graduate certificate, you may qualify for more senior roles, especially if you already have management and administration experience in another industry or another area of healthcare.
 
Step 4: Obtain Industry Certification (Optional)
Finally, you can pursue certification to enhance your resume, although this is optional — no states require licensure or certification for hospital administrators.  However, if you become certified, you send a signal to employers that you are dedicated to a career in healthcare administration. 
It also sends an additional signal of quality — usually, certification programs require you to complete advanced education (such as an MBA in healthcare Administration) or demonstrate that you have significant experience in the field. 
 
Start a Career in Hospital Administration with GMercyU!
We hope this guide has helped you gain some clarity about what it takes to become a hospital administrator. Find out how GMercyU's online MBA in Healthcare Administration or online Graduate Certificate in Healthcare Administration can help you get started on a hospital administrator career path: contact us today!