How to Become a Digital Marketing Manager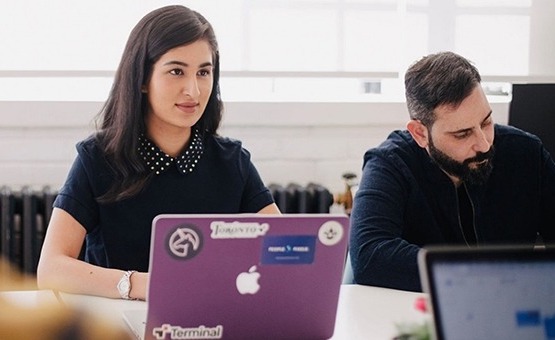 By GMercyU Digital Communications Graduate Shawn DeSantis '21
Marketing has thrived off of the past decade's digital renaissance, and today, digital marketing is an exciting and ever-evolving career path. Want to become a digital marketer? Whether you're a recent graduate, an experienced marketer, or someone looking for an exciting career change, this article will share what being a digital marketer is all about, including the skills needed and how to become the best digital marketer you can be. You'll learn:
What Is Digital Marketing?
Digital marketing is something every company needs to be successful today, no matter the industry. It's a powerful means of introducing a company's services or products to new customers and keeping all customers (new and loyal) engaged by reaching them where they are: online. "Digital marketing" is a term that encompasses marketing strategies like pay-per-click ads (PPC), search engine optimization (SEO), content marketing, digital analytics, and social media marketing.
 
What Does a Digital Marketer Do?
Becoming a digital marketer means you will help oversee a company's overall marketing campaign, including advertising and communication projects. As a digital marketer, you will be expected to understand and test new digital tools and platforms, use analytics to monitor business performance, and track consumer behavior, to name a few.
Here are more examples of what a digital marketer does:
Identifies User Behavior
Understanding who your target audience is, and what their needs are, allows you to strategize how best to reach them through ads, social media, and more. You can use analytics platforms, perform keyword research, and follow social media platforms to better understand your audience's "user behavior."
 
Tracks Industry Changes and Trends
Technology and therefore, our cultural trends are ever-changing. Popular social media platforms evolve, as well as marketing trends and the different facets of each platform. For example, Snapchat was the first social media application to offer an option for users to upload a "story" (a photo or video that lasts for only 24 hours). Instagram, Facebook, and even Twitter quickly followed, and now those platforms have story upload options, too. This is a trend that is effective for digital marketing, for the mean time, at least. An effective digital marketer will keep up with current trends and platforms that are most popular for the age group of your company's demographic, and then implement marketing plans accordingly.
 
Utilizes a Wide Range of Tools and Software
Gaining an understanding of useful software and tools can benefit your company and help you keep everything organized. Social media platforms such as Sprout Social or Hootsuite allow you to effectively manage your social campaigns and analytics all in one place. You may also want to research new design, logo, and graphic tools that can be used for visual brand distinction. Be sure to approach new tools and platforms with a positive attitude and willingness to learn!
 
Studies Data and Analytics
To be a digital marketer, a background in data analytics is necessary. Data analytics will help you understand what kinds of people your business attracts and help you measure how successful your marketing campaigns are. Get comfortable with various computer applications and web navigation (more on this below), as well as platforms like Google Analytics.
 
Optimizes Online Marketing Campaigns
When launching a campaign, consider all details that can make them successful. For example, when marketing with social media, you'll want to narrow down the type of people your campaign will cater to, to help inform which social media channel to use. You might ask:
 

What age range will my campaign interest?
How can I reach my specific audience?
How will my campaign help my audience? Why would they care?
 

Then, once you've studied user behavior, data, and analytics, you can tweak your campaigns to garner better results.
 
Skills Needed to Become a Digital Marketing Manager
Wondering how to become a digital marketer? Digital marketing is relatively similar from company to company, so your job market is wide and varied — if you have the skills employers are looking for.
Written and Oral Communication Skills
These skills are critical for digital marketers, internally and externally. When communicating with clients or your colleagues, active listening, warmth, and professionalism are as important as being able to convey a business' mission and goals clearly. When communicating with your audience, you must be able to use a tone and style that connects with them.
 
Critical Thinking Skills
Thinking "outside of the box" and problem solving are key to being a fruitful digital marketer. It takes a creative mind to trouble shoot and solve unexpected problems, such as why an ad isn't performing as well as you'd like it or why a campaign isn't meeting its goals.
 
Technology Savvy
Experience with specific marketing technology can be gained in college and through digital marketing/social media internships. Participate in projects and assignments that put your knowledge to use while accumulating skills, hands-on experience, and confidence.
 
Managing Large Sets of Data
Gain familiarity with organizational tools to help you manage large sets of data. Excel, for example, is great for creating tables, forms, and lists that can help you condense information and make sense of your data.
 
Steps to Becoming a Digital Marketer
Find a path that works for you! Narrow down your options by honing in on what you would like to do as a digital marketer.
Step 1: Earn a Bachelor's Degree
Start your journey by earning an undergraduate degree with a major such as Digital Communications or Marketing with a concentration in Digital Communications. In a bachelor's program, you can learn things like consumer ("user") behavior, content creation, basic search engine optimization, even coding! With the right school, you'll also gain critical hands-on skills and real-world experience, and make industry connections to prepare you for post-graduate success.
Step 2: Discover Your Interests
What are you passionate about that you would love to share with others? It could be a personal interest, a company with a mission you admire, or something new you want to discover. This will help inform where you want to work when it's time to job search. 
Step 3: Find What Makes You Marketable
Maybe you're great with design and social media, or you love analyzing ad performance and traffic. Find your niche or brand and go with it! Start a resume, portfolio, or website that highlights your skills. 
Step 4: Get Certified
Certifications related to your niche — from Google Analytics to Hootsuite to Twitter Flight Deck — are great for resumes. 
Step 5: Network, Then Job Seach!
Success in digital marketing is a combination of what you know and who you know. Attend in-person or virtual networking conferences, join online groups, and get to know others at internships. Launch a profile on LinkedIn and add your new connections, experience, certifications, and education. Then use the platform, and your networking connections, to find employers where you'd like to launch your career!
 
Start a Career in Digital Marketing with GMercyU!
Digital marketing is an ever-growing field with endless possibilities. No matter the industry, every organization needs a digital marketer to take their business to the next level.
The first step in becoming a digital marketer is to earn a bachelor's degree in a related program. Learn the skills needed to become a digital marketer by enrolling in GMercyU's Digital Communications program, or choose GMercyU's Marketing program with a concentration in Digital Communications.  Start your journey today!