How to Become a Nurse Educator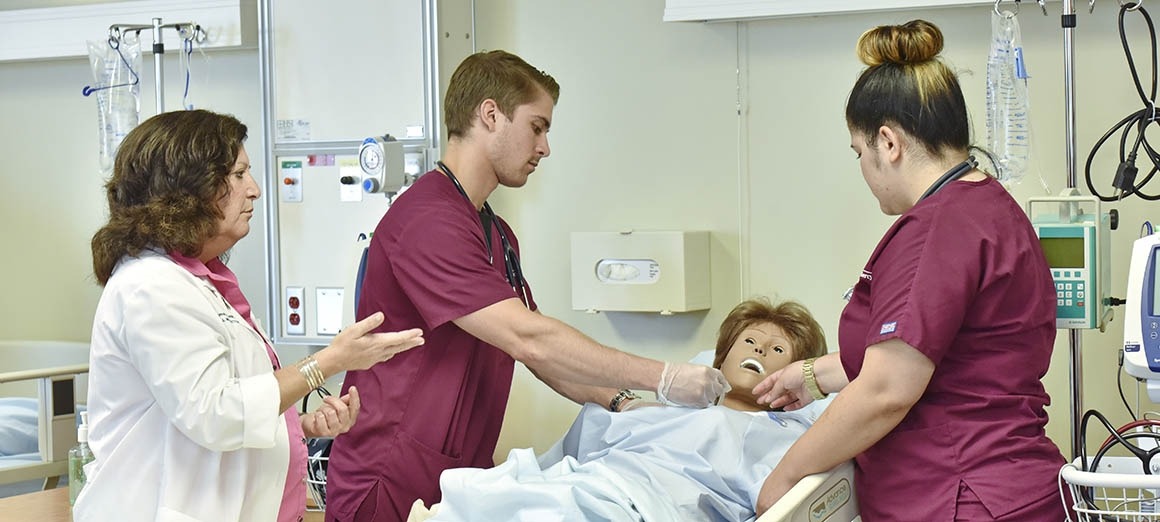 The U.S. health care system needs more and more nurses each year. However, there aren't enough faculty members in master's degree in nursing education programs to help meet this demand. In fact, per the American Association of Colleges of Nursing, U.S. nursing schools turned away 68,938 qualified applicants during 2014-15 because they lacked the staff necessary to teach them.

If you're an experienced nurse, you can help secure the future of the profession—and expand your own career horizons—by becoming a nurse educator. As a nurse educator, you will teach student nurses to care for patients in classrooms and in clinical settings. You may teach nursing students in two-year or four-year programs. It's a rewarding career path that offers you the opportunity to have a lasting impact on the quality of patient care by training the next generation of nurses.

This short guide to becoming a nurse educator lays out the steps you should follow, what qualifications you should pursue, and how long it takes to become a nurse educator—as well as explaining what nurse educators do. For more information about the nurse educator career, including salary prospects and other information, visit Nurse Educator Career Facts: Duties, Salary, and Job Outlook.

Steps to Becoming a Nurse Educator
How Long Does it Take to Become a Nurse Educator?
What Does a Nurse Educator Do?
GMercyU: Your Pathway to Success

Steps to Becoming a Nurse Educator
If you're wondering how long it takes to become a nurse educator, be advised that the process can last several years. Generally, nurse educator requirements include an RN license plus a master's or doctoral degree in nursing. In addition, you may need to obtain certification as a nurse educator to qualify for positions in many settings.

Step 1: Choose a Nurse Educator Degree Program
Finding the right educational program can be challenging, especially if you're already employed full-time in the health care field. You should consider several factors when selecting a nurse educator degree program, including:
Accreditation status for the university and the degree program
The institution's reputation in the education and health care communities
Availability of online courses for students already working full-time
Graduation and employment rates
Cost of the program after all scholarships and direct aid has been considered
Any of these program characteristics can impact your overall success in pursuing a career as a nurse educator. We recommend choosing a university that offers personalized support from an admissions counselor.

Step 2: Complete Your Coursework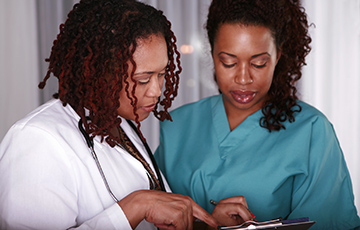 Once you've found your prograNurse educator in trainingm and enrolled, you will need to complete your coursework. Courses for a nurse educator master's degree can cover the following areas:
Theories of education and learning
Assessment and evaluation of student performance
Curriculum design and development
Special topics in pharmacology, physiology and other areas of medical research
Educational technology for training nurses
Teaching strategies for nurse instructors
Reviewing and evaluating research in both nursing practice and nursing education
In addition, you will complete hands-on teaching practice in either a classroom or clinical setting. These courses and experiences provide you with the skills and competencies you need to educate future generations of nurses.

Step 3: Obtain Your Nurse Educator Certification
After graduating from your program, you will be eligible to pursue roles right away. However, we recommend you seek certification as a nurse educator as soon as you are eligible. While not all employers will require it, earning this national certification can help you stand out from the crowd.

The Certified Nurse Educator program offered by the National League for Nursing is open to licensed nurses who hold a master's or doctoral degree and who have two years of experience teaching at an educational institution. To earn CNE certification, you will need to take an examination and pay a fee. Please visit the National League for Nursing for more information.

How Long Does It Take to Become a Nurse Educator?
It takes between 6 to 10 years to become a nurse educator. Although, it can take as little as two years of study at the master's degree level if you are already a licensed nurse with a bachelor's degree. If you choose to pursue a Doctor of Nursing Practice or other certification (such as Family Nurse Practitioner certification) or decide to study part-time, you may need more time.

Typically, you can gain certification in the field only after completing some entry-level service. Becoming a certified nurse educator can take another two years after you finish your graduate degree.

What Does a Nurse Educator Do?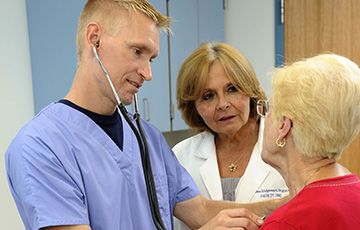 As a nurse educator, you will be responNurse educator supervising student nurse with patientsible for ensuring your students' success in both nursing theory and clinical practice. You may:
Evaluate nursing curriculum, plan and deliver lessons
Design courses or revise existing course material
Assess student learning and identify their strengths and weaknesses
Offer career development advice to student nurses
Assist with finding clinical placement sites and/or observe students in clinicals
Model best practices in patient care and nursing administration
It's important to note that many nurse educators continue to practice as nurses while they teach. This is because educational employers want you to be able to offer teaching points grounded in real-world experience that reflects the current state of the field.

GMercyU: Your Pathway to Success
We hope you've found this list of steps to becoming a nurse educator informative. One of the most trusted nursing schools in the region, the Frances M. Maguire School of Nursing and Health Professions at Gwynedd Mercy University offers varied nursing programs at the undergraduate and graduate level.

Contact us today to learn more about one of our nursing programs or begin your application.

*Source

Request Information
Complete the form below and an admissions counselor will contact you to answer any questions and help as you assemble all the components of your admissions file.