Nurse Educator Career Options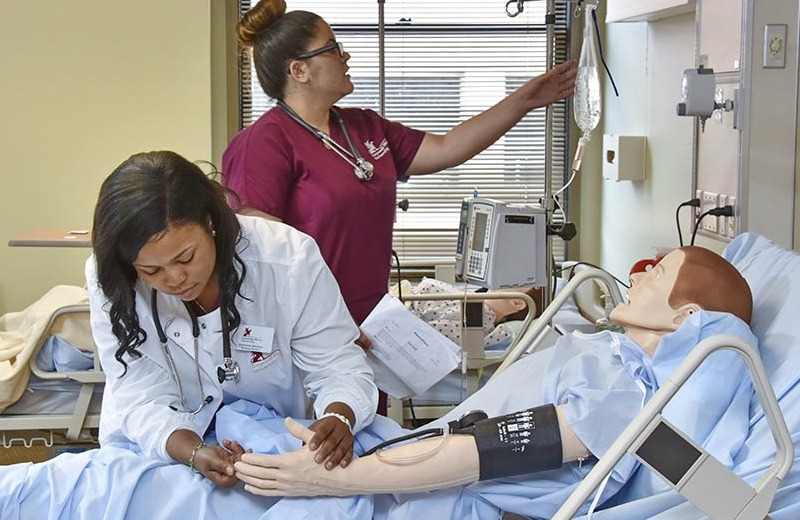 What Is a Nurse Educator?
How to Become a Nurse Educator
Nurse Educator Job Titles
Nurse Educator Job Description and Work Environment
Advancing as a Nurse Educator
Nurse Educator Salaries and Job Growth Outlook
GMercyU: Your Pathway to Success

What Is a Nurse Educator?

Nurse Educators are responsible for training the next generation of nurses and ensuring continual improvement of clinical standards and knowledge through the practice and promotion of evidence-based care. 

How to Become a Nurse Educator
In order to become a nurse educator, you must first obtain your bachelor's of science in nursing (BSN) and become a certified registered nurse (RN). Often, a few years of experience in the nursing field is recommended before you continue your education to become a nurse educator. Below are the steps required to become a nurse educator.
Take an accredited nursing program to earn your Associates Degree or

 

Bachelor's of Science in Nursing (BSN)
Pass the NCLEX-RN examination
Become licensed to practice nursing within your state
Work in the nursing field to gain experience
Enroll in an accredited master's in nursing education program or doctoral degree program

Nurse Educator Job Titles
When searching for work in nursing education, you may find jobs listed under titles such as:
Nurse Educator
Nursing Instructor
Nursing Curriculum Coordinator
Nursing Education Consultant
Nursing Professional Development Specialist
Clinical Competency Coordinator


Nurse Educator Job Description and Work Environment
The typical job description includes teaching and administrative duties. You may:
Plan and deliver lessons in classroom or clinical settings
Evaluate nursing teaching materials
Revise or develop courses
Supervise student nurses in clinical settings
Assess and review student performance
Perform research or participate in studies designed to enhance nursing education
Most Nurse Educator roles split time between college/university classrooms and teaching hospitals. You may teach new nurses, or provide continuing education for current nurses—for example, in an RN to BSN program.
In addition to performing teaching duties, you are likely to be required to maintain your own professional knowledge through participation in continuing education. Finally, you may be eligible for roles that focus more on nursing research—although these roles are often taken by nurses who have earned a Ph.D. in nursing or education.

Advancing as a Nurse Educator
As you gain experience, you may be eligible for more senior roles in nursing education and nursing administration. For example, you might become involved in reviewing clinical standards to ensure the quality of care. You may be able to lead curriculum development for training new nurses or professional development programs or act as director of nursing research for your institution.
There are many opportunities for experienced nurse educators. Entering this field and gaining experience can lead to exciting work that has the potential to make an impact on the entire profession.

Nurse Educator Salaries and Job Growth Outlook
According to the U.S. Bureau of Labor Statistics (BLS), the median salary for nursing instructors in 2018 was $73,023.  In addition, the BLS predicts that the number of job opportunities expected to open in this field between 2016 and 2026 will grow by 15% above current levels.
Nurse Educator salaries can vary depending on geographic location and the institution at which you teach. Compensation can potentially reach six figures for nursing instructors at the top of their professional careers, or for nursing instructors who move into administrative positions.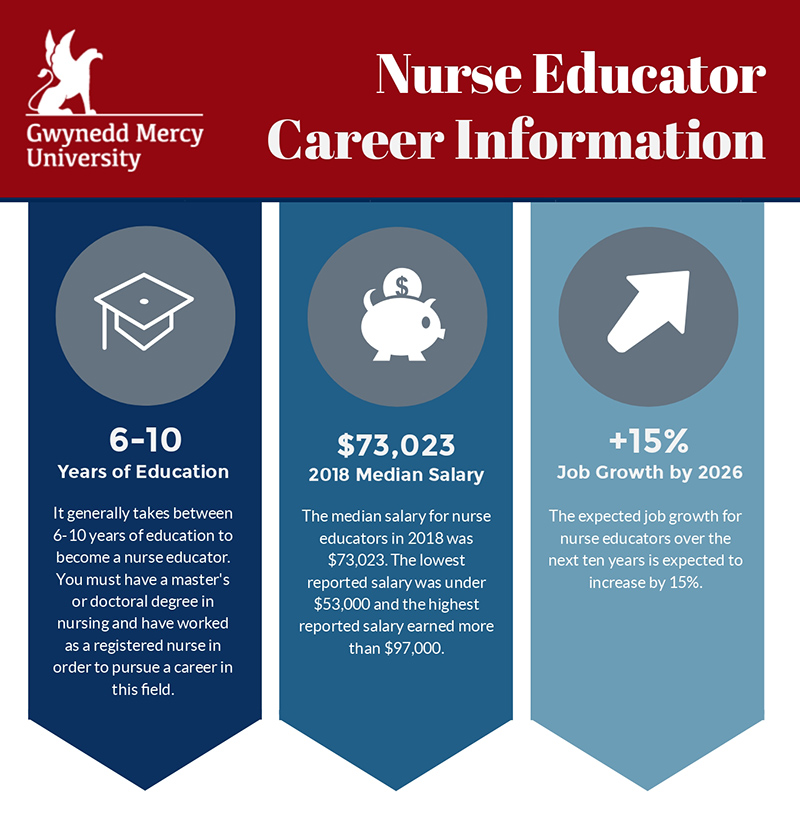 GMercyU: Your Pathway to Success
Launch your career as a nurse educator with one of the most trusted nursing schools in the region – Gwynedd Mercy University. Begin with our BSN program and then earn a Master of Science in Nursing – Nurse Educator (MSN) degree. Or, pursue one of GMercyU's nurse practitioner programs offered in a flexible format that fits your demanding schedule. Contact us today to learn more or to begin your application!

Request Information
Complete the form below and an admissions counselor will contact you to answer any questions and help as you assemble all the components of your admissions file.