Maximo Alberto
Finance 2015/2017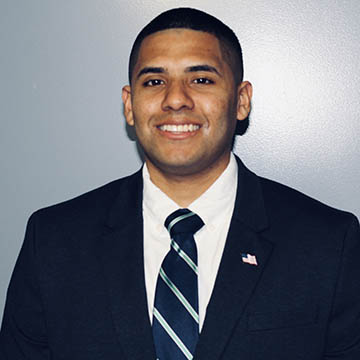 Current Position: Mortgage Loan Originator, Movement Mortgage
Through my education, I learned the aspects of being a professional in the finance industry in addition to building my abilities in communication, leadership to become the well-rounded business professional I am today.
Story posted: Fall 2018Job title updated: Fall 2023


My decision to attend Gwynedd Mercy University [as a Finance major] with came from my interest in a smaller school with great values. As a graduate of Mercy Vocational High School in Philadelphia, I had an idea of what GMercyU had to offer through their core values in the traditions of the Sisters of Mercy. In addition, the welcoming community of GMercyU as a whole and in the School of Business made my decision to attend GMercyU an easy one.
During my time at GMercyU, I was part of the baseball program under Head Coach Paul Murphy. I spent two years as a member of the team and after my second year at GMercyU, I made the decision to enlist in the Pennsylvania Army National Guard. With this decision, I stepped away from the baseball program as a team member, however, I was able to offer some of my time as an assistant to Coach Murphy when I was not fulfilling my duties as a student and soldier.

My time at GMercyU introduced me to a number of community members that made an impact - Professors Stephen Mumford, Ron Bruce, Carlo Silvesti, Dr. Alan Harper, in addition to campus staff members Michelle Murray and coach Paul Murphy.
Post-Graduation Success
Upon graduating from GMercyU, I accepted a part-time position with Resource Real Estate in South Philadelphia after initially joining the company as an intern. I always knew that I wanted my career path to be related to real estate, I just did not know in what capacity or which direction I would be headed. I worked with Resource Real Estate for three years while pursuing my MBA at GMercyU.

Upon completing my MBA, I decided to begin my career in the mortgage industry. I began working for Freedom Mortgage in Mount Laurel, New Jersey for a short period before deciding that I wanted to focus on the Philadelphia market in the mortgage business. This decision led me to Greentree Mortgage Company L.P. in Center City Philadelphia where I have been working since February 2019.

It is with Greentree Mortgage where I learned of fellow GMercyU alum Steven Hull's real estate venture with RE/MAX Access in Philadelphia. I felt this was the perfect opportunity to partner with a former classmate in an effort to not only learn each other's business, but collaborate on marketing opportunities in order to reach the market of homebuyers in Philadelphia and specifically come up with ways to reach the market of former GMercyU graduates who may be making the decision to purchase their first homes in the near future.
With my background and degree in finance, along with Steven's background and passion for marketing, we seem to have found a way to incorporate our careers to not only grow our businesses but help others in many ways throughout the homebuying process.

Currently, my focus is on the Philadelphia mortgage market. I am a licensed mortgage loan originator serving both Pennsylvania and New Jersey. I have experience in a number of mortgage loan programs and aim to not deliver a product, but an unforgettable customer experience to my clients. In addition, as a soldier, I have a strong passion for veterans. Serving my country is an honor, and now I am honored to serve my fellow veterans as a VA loan specialist. I am also in the process of developing a program to educate local veterans on the home buying process and the benefits they have with the VA loan program.

In addition to my full-time career in the mortgage industry, I serve on the city leadership team with Bunker Labs Philadelphia. Bunker Labs, a 501(c)(3) non-profit is a national network of veteran and milspouse entrepreneurs dedicated to helping the military-connected community start their own business. We are committed to seeing that every entrepreneur in the military-connected community has the network, tools, and resources they need to start their own business.

GMercyU taught me many things that have translated into my career path. Through my education, I learned the aspects of being a professional in the finance industry in addition to building my abilities in communication, leadership to become the well-rounded business professional I am today. My time at GMercyU and in the military shaped me into an individual who values integrity, respect, service and social justice in the world.