Levi Sassaman
Psychology 2011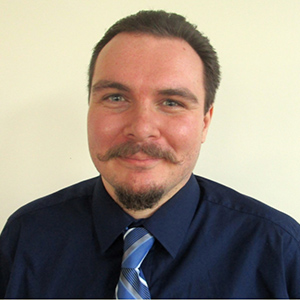 Current Position: Doctoral Student; Analyst, Psychology Product Research & Design at Heidrick & Struggles
Story published: Fall 2021
Job title updated: Fall 2023

Much attention has been paid to the post-pandemic workforce in 2021, how employees will (or won't) transition back to the office, and the ways employers are wooing and retaining new and current workers.

A fascinating field of psychology, called Industrial and Organizational Psychology (or "I/O Psychology"), studies human behavior in the workforce. Levi Sassaman earned his masters in I/O Psychology and is currently working on his dissertation for his PhD in the field. He also consults part-time for Yobs Technologies, a platform that features soft-skills assessments used for evaluating job candidates. Levi helps create the assessments and reviews them.

"In many ways COVID has changed how we think about work," said Levi. "There has been a fair amount of recent research in psychology looking at work-life balance from this new perspective. The potential increased emphasis on personal wellbeing may be one good thing to come from an otherwise troubling situation. It'll be interesting to see where this all lands."

Levi knows first-hand the benefits of flexible work arrangements. He cares for his young son in the mornings, works afternoons, and conducts his personal research for his dissertation on the weekends. His wife's work schedule allows her to pick up the parenting baton in the afternoons. Their careful juggling of work and childcare are familiar to many modern families, especially during the pandemic.
More About Industrial and Organizational Psychology
The field spans various topics about the workforce, including diversity. For example, a colleague of Levi's studies the difference between men and women in the workforce and the disparity between their professional outcomes.

Levi's master's degree thesis, which was published in a peer review journal, focused on how organizations are perceived and how they can turn potential job applicants into applicants. "For example, if you're Microsoft, you're in a pretty good spot, but what do you do if you're a smaller tech company sitting in their shadow? My thesis looked at organizational personality and its influence on how job candidates are attracted to companies," Levi explained.
GMercyU Experience
In high school, Levi was interested in the arts and knew he wanted a future job where he could interface with people, which led to his Psychology major.

GMercyU's Presidential Scholarship set up him for financial success, he said. He also alternated between commuting to GMercyU to save money and serving as an RA in the residence halls.

In addition to psychology courses with Dr. Rebecca Gullan and statistics (Levi's research requires statistics), he feels that the communication skills and basic writing skills he shaped at GMercyU have contributed to his success. "Those specific skills are critical to understanding language, which is an enormous part of what I do right now," he said.

Levi also met his future wife, Adriana (then a fellow Psychology major), at GMercyU.
Career Goals
Levi has taught courses at SUNY Albany, where he earned his master's degree and is earning his PhD, and he could go the route of a full-time academic. "But I'm more interested in continuing to pick up work as a consultant or an Industrial Organizational Psychologist who works in organizations, developing and improving selection systems," he said.