Kelly Anderson
Social Work 2012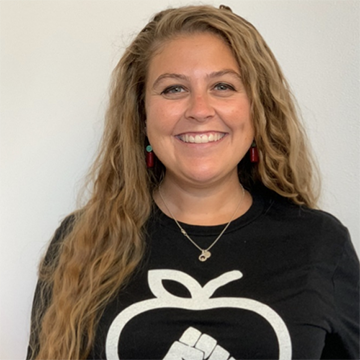 Current Position: Social Worker at KIPP New Orleans
Sometimes "Plan A" doesn't always work out like we planned. For Kelly Anderson '12, her plan to become a teacher blossomed into her journey to be a social worker, which turned out to be her true calling.
I chose GMercyU initially because of the reputation of their education program. Thank goodness I did too, since they started me in the classrooms so early I didn't need to wait until my junior year to realize education wasn't the right path for me.
With the help of GMercyU's Career Development, Kelly discovered the Human Services major (now the Bachelor of Social Work program), which opened doors to the type of careers she wanted to pursue. Her connections with Dr. Wade Luquet and Dr. Rebecca Gullan renewed her excitement and pushed her to be even more successful than her prior semesters.
In fact, Kelly traveled with Dr. Luquet to New Orleans on a trip that changed the course of her life. The trip's purpose was to reinforce the idea that care providers, such as social workers, psychologists, and nurses, needed to be able to engage in unique cultures.

That trip encouraged Kelly to set her sights on a new goal: graduate school. After graduating from GMercyU, Kelly applied to multiple Master of Social Work (MSW) programs, but when she heard she was accepted to her dream school, Tulane University in New Orleans, she couldn't wait to move.

After graduating with her MSW in December 2014, Kelly got her provisional license (LMSW), and continued working at her internship site, the Children's Hospital of New Orleans (CHNOLA) on their behavioral health unit. She provided individual, group, and family therapy and case management to adolescents throughout Louisiana, Texas, and Mississippi. In June 2017 she transitioned from CHNOLA to KIPP New Orleans Schools and started working at one of their middle schools.

"I am still working at KIPP Leadership Academy (KLA) with grades 5-8 where I provide individual and group therapy to students with IEPs, crisis intervention, psychoeducation, emotional support, and case management to all students and staff," said Kelly. "In August 2018, I completed the requirements necessary to earn my clinical social work license (LCSW)."

With her license secured, Kelly looked ahead to her next objective. After her first year at KLA, she applied to the Doctorate of Social Work (DSW) program at Tulane. DSW programs differ from PhD programs because in order to apply to a DSW, you must have a minimum of three years of experience in the field. Kelly tackled the challenge head-on and completed her doctorate in August 2020. She even has an article published in the International Social Work Journal.

Here's more about Kelly's experiences, in her own words...
How GMercyU Prepared Me for Graduate School
"GMercyU prepared me for graduate school by showing me that I can not only enjoy education, but I can also excel. I was an awful student in high school and got into college by the skin of my teeth (thank you community service!). GMercyU's small classes provided a more intimate experience with teachers and classmates making in the moment feedback and encouragement possible. It allowed me to feel supported by my professors, and that provided me the confidence to apply for graduate school, something no one thought would happen based on my previous track record with school. The fact that I officially received my doctorate in December is still hard to believe, even for myself!"
Why Should Others Choose GMercyU?
"When I attended GMercyU, they did not have a BSW program and I still started my MSW program with just as much knowledge as those who did. The professors make sure that you will be prepared for the challenges that this field will face you with, including graduate school. Social Work is a unique career that in order to practice with a license you are required to have a master's degree. Starting in a program that is going to teach and reinforce your knowledge from day one is only going to grow your confidence within the profession. I was terrified when I had to sit in front of my classmates and role-play a therapy session. That would not be my last time role-playing in front of a room of people, but it would be the last time I felt anxious about it."
My Future Goals
"My future plans include trying to remember what it is like to have free time! While I am very happy working with my beautiful students at KLA, I am going to try my hand in academia, teaching courses in Tulane's MSW program. I also hope to branch out and provide outpatient therapy services. This past August made it seven years that I moved to New Orleans, so in the next couple of years I also plan to move back towards the North East."