Cameron Ostroff
Accounting 2022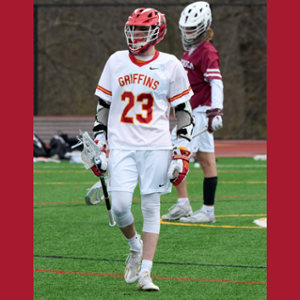 Current Position: Commission Analyst at CoastalOne
My favorite part about GMercyU was the friendly atmosphere and all of the friends I have made along the way. It truly is an experience unlike any other.

Story posted Fall 2022

Cameron Ostroff graduated from Brandywine High School located in Wilmington, De. Former Head Men's Lacrosse Coach Dana Lindstrom first introduced Cameron to GMercyU.
"The main selling points for me were the close-knit feel of campus and the community, as well as the smaller classroom sizes, which allowed me to have a more personal relationship with professors and faculty," Cameron said.


Involvement on Campus
Cameron was a four-year member of the Men's Lacrosse team and served as an Academic Captain during his junior and senior years.
In April 2021, Cameron was inducted into Sigma Beta Delta, the International Honor Society for Business, Management, and Administration.
He was also a member of the Investment Club and served as peer tutor in the Student Success Center for courses in accounting, finance, economics, statistics, and general business.


Experience in the Accounting Program
"My experience in the Accounting program was phenomenal. The professors were always encouraging students to meet with them after class about anything they may have been struggling with and were truly there to help their students succeed," Cameron said.
One aspect of the program that Cameron felt was most beneficial was the Accounting and Finance Fair held each year. "It gives students a great opportunity to talk to accounting and finance professionals, and to get an idea of what career path they would like to take," he said.
Cameron claims he would not have been as successful without Professor Carlo Silvesti, Professor Ron Bruce, and Dr. Alan Harper. Professor Silvesti was Cameron's primary professor within the program.
"He was always there to help students, and he made class very interesting and entertaining," Cameron said.
Cameron described Professor Bruce as "very encouraging and supportive of his students, and he somehow found a way to make learning taxes not boring."
Dr. Harper served as his finance professor and proved to be a great resource for anything related to finance due to his diverse background prior to teaching.
"He has such a vast knowledge of the financial industry, which he is more than willing to share with his students," Cameron said.


4+1 MBA Program
Cameron graduated in May 2022 with his Bachelor of Science in Accounting, but he is still a member of the GMercyU community in the 4+1 MBA Program.
Cameron chose this path because it offered a faster and more financially stable way to obtain his MBA, and have the opportunity to play lacrosse for one last season.
The experience so far has been great! The professors have tons of outside business experience, which is great to get insight into real-life scenarios and situations that you will be faced with. They are also available outside of classroom hours and are very understanding of scheduling conflicts that may arise due to work.
He is currently working as a Commission Analyst at CoastalOne and plans to graduate from the 4+1 MBA Program in May 2023.


Why GMercyU?
"Gwynedd Mercy University is a school that allows you to get a great education while also being able to make tons of new friends along the way. The smaller class size is very beneficial, as it allows you to connect with your professors and be able to talk and discuss various topics throughout the year. The professors are very dedicated to seeing their students succeed and setting them up for a bright future," Cameron said.