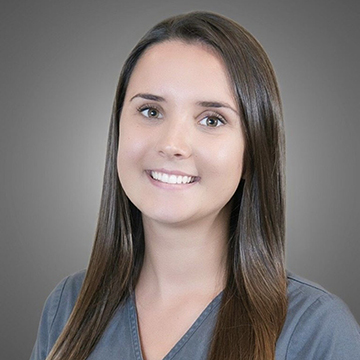 Current Position: Critical Care Nurse, recipient of The DAISY Award for Extraordinary Nurses
I chose Gwynedd Mercy University because of the values. Integrity, Respect, Service and Justice are important principles that I use in my career on a daily basis. This was an important aspect when I was searching for the right school and nursing education program. GMercyU offered an abundance of opportunities and tradition to achieve and become the nurse I am today. Coming from a small Catholic high school, GMercyU was perfectly suited for me and my desire for personal relationships with professors through the small class sizes.
GMercyU Experience
As a first-year student, I attended try-outs for the Women's Lacrosse Team. To my delight, I was named to the team and began my career as a lacrosse player for GMercyU. I was named Captain my senior year and am now going into my third season as an assistant coach. Being a part of this team as a player and a coach has helped me grow mentally, professionally, and emotionally, on top of already being a Distinctive Mercy Graduate.

As a Critical Care Nurse, I use the essentials of being a teammate and captain every day when caring for patients and being a part of the interdisciplinary team. I am uniquely shaped into an impassioned nurse who cares for the critically ill day in and day out while also enjoying every moment and lesson.

While finishing BSN classes, I attended the Nursing Mission Trip to the Dominican Republic. On this mission, 20 students embarked to the bateyes of La Romana to give supplies and provide care to more than 300 people over 3 days. This was a humbling experience and opened my eyes in many ways as a nurse. Professor McCabe, Professor Warnick, Professor O'Hara, and Professor Brinkman all helped us during this journey. We all grew very close while helping this very vulnerable population. During my career, I often think about the people of La Romana and am reminded daily why I chose this career path. I owe this to my professors at GMercyU.
Maguire Scholar
Being a Maguire scholar is a gift that means the world to me. This foundation has given not only me, but many other students from grade school all the way through college, the dream to be the adult and professional they have always aspired to be.
When I finally became a registered nurse, I felt accomplished. This was an opportunity that I was given and able to achieve, because of the Maguire Scholarship. It is an honor for them to have believed in me so much, that they helped me on my way through that journey as a student. They were us once. They were students. In Mr. Maguire's book, Just Show Up Every Day, he provides us six steps to success. I have used these steps throughout college and in my career to get me where I am today. Because they believed in me, I am successful.
Post-Graduation Success
In January of 2018 while finishing up my BSN, I proudly accepted a position as Assistant Women's Lacrosse Coach for GMercyU. I strive to instill Mercy values in the soon-to-be Mercy Graduates while competing. I serve as a mentor to the team, having graduated from GMercyU just a short time ago. This season will be my third season of coaching. Being involved at GMercyU, even after graduation, is something I value. This institution has given me so much and I plan to continue giving it my time.

In May 2018, I accepted my first nursing position at Hahnemann University Hospital on their Heart Failure Unit. This is where I learned my basis of how to be an excellent and meticulous nurse. Unfortunately, Hahnemann announced closure just a year later and I found my second home at Thomas Jefferson University Hospital in Center City Philadelphia. I currently serve as a Registered Nurse in their Intermediate Coronary Care Unit. Here, I provide specialized care and continuous cardiac monitoring required by patients with cardiopulmonary and cardiovascular disease, interventional cardiac and electrophysiological procedures, and vascular and cardiothoracic surgeries.
As a nurse, you want to help people and as a student at GMercyU I learned how to do that through the values that inspired me.
At Jefferson, our mission is "We Improve Lives." This was a great transition for me because it brings me back to the six steps to be successful from Mr. James Maguire. The second step is "Be passionate and positive about your dream…If you don't love it- you'll never make it." I became a nurse because I wanted to not only help people, but to improve their lives. We can't cure everyone, but we can improve their lives through the care and knowledge we provide to our patients. If you are not passionate about that, this isn't the career for you. If you don't love it, you'll never make it. At TJUH, I work alongside a group of people who truly improve lives every day. I see nurses, techs, and other members of the team go above and beyond to provide the highest quality of care for our patients. This is what I was meant to do.
Why I Give Back to GMercyU
There are a million reasons why I continue to support GMercyU. I still work closely with student-athletes on campus as the assistant women's lacrosse coach. I try to help out when I can with multiple things in the athletics world to give these students a great experience.
I was honored to receive the Maguire Scholarship as a surprise in October of my freshman year and that gift from the Maguires was something that meant a lot to me at that time in my life. I constantly wish I could give more to support these students in the way that I was supported by our donors during my time as a student-athlete. Here, you aren't just a number and GMercyU is still showing that to me even after graduation.