GMercyU Alumna Presented with The DAISY Award
GMercyU nursing alumna Aubrey Cook, RN '17/'18 was recently presented with The DAISY Award from The DAISY Foundation for her compassionate care as a Registered Nurse with Jefferson Health.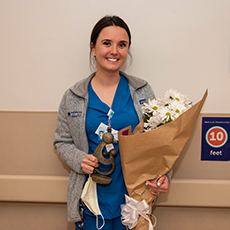 The DAISY Award for Extraordinary Nurses is a recognition program designed to honor super-human work nurses do for patients and their families each day.
Aubrey graduated from GMercyU in 2018 with her Bachelor of Science in Nursing degree and has since returned to the University as Assistant Coach for the Women's Lacrosse team.
"Last month, I was honored with the award that every nursing student dreams of achieving. I was awarded the TJUH DAISY Award for Extraordinary Nurses. I was nominated by a patient of mine a few months back and was shocked and speechless when I was surprised by the Nursing Administration at Jefferson with this award after a long 12-hour shift," shared Aubrey.
One of Aubrey's patients had the following to say about her: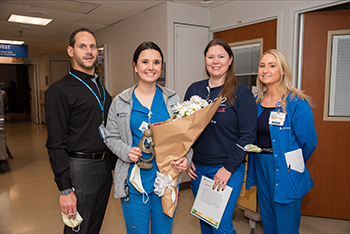 "Aubrey was my bedside nurse for the first three nights of my hospital stay. Being a nurse myself, this was my first time being admitted to the hospital, and needless to say, it was terrifying and I was also in a ton of pain. Aubrey was extremely attentive to my pain and my concerns. She anticipated my needs and gave me comfort during those long nights. Every night she came in with the goal of having me in less pain than the previous night and had a plan to do that. I felt comfortable and safe having her be my nurse overnight and I am thankful for all she did for me." – The Daisy Foundation
After receiving this award, I am reminded what I have always longed to do for aspiring and new to practice nurses. I want to show them what it is all about. I want to remind them why we do what we do. I want to set an example and inspire them to be the best version of themselves for not only their patients but themselves. I always dreamed of that through school and honestly, I never would have thought I would be where I am today in my professional career. I have the best job in the world. I am forever grateful to that patient who took the time to nominate me. She reminds me of what I do and I will carry that forever. I can't believe I'm that nurse that a once young (and sometimes scared) nursing student looked up to. - Aubrey Cook '17/'18.
About The DAISY Foundation
The Daisy Foundation was created in memory of Patrick Barnes, who was diagnosed with the auto-immune disease Idiopathic Thrombocytopenic Purpura (ITP) at the age of 33. During his hospitalization period, Patrick's family was treated with kindness and compassion by every nurse they encountered.
Several days after Patrick passed, his family wondered what to do with their loss and grief. Tena, Patrick's wife, created the acronym DAISY, standing for Diseases Attacking the Immune System, and filed papers to become a 501(c)3 not-for-profit organization.
As a way to thank the nurses who helped throughout the process, Patrick's family created The DAISY Award for Extraordinary Nurses.
Today, The DAISY Foundation also has The DAISY Award for Extraordinary Nursing Faculty and The DAISY Award for Extraordinary Nursing Students.
Learn more about The DAISY Foundation here.
Read Aubrey's Success Story and see what inspires her to give back to GMercyU.