Coronavirus Brings Respiratory Therapists Into Spotlight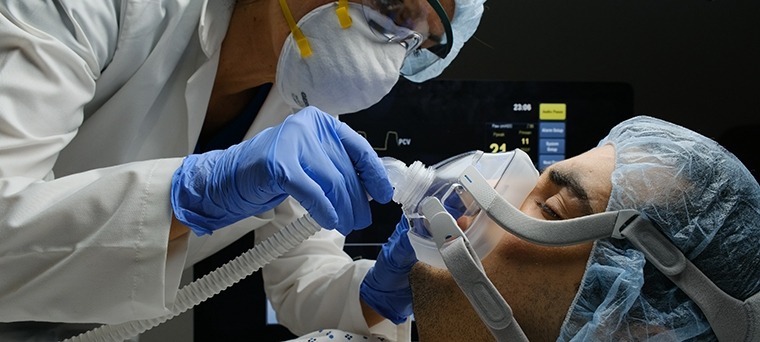 Posted May 8, 2020

COVID-19's impact has been far-reaching and without borders. People and businesses across America (and the world) have struggled to first accept, understand, and then respond to the demands the pandemic has created.

From the first U.S. diagnosed case in Washington state in mid-January, to the recent one million mark in diagnosed cases and more than 70,000 deaths, U.S. healthcare workers have been desperate to keep up. Respiratory care in particular has seen a drastic, significantly higher increase in demand. Their role has been central and at the front lines of this crisis.
So, what is a respiratory therapist?
How have respiratory therapists helped during the Coronavirus pandemic?
The key role ventilators play in supporting patients fighting COVID-19
Are respiratory therapists in high-demand due to COVID-19?
Start your career in respiratory care at GMercyU
So, what is a respiratory therapist?
A respiratory therapist is a highly credentialed healthcare professional who specializes in assessment, diagnosis, and treatment of the heart and lungs. Respiratory therapists treat medical conditions including viruses, infections, and diseases such as asthma, lung cancer, COPD, emphysema, bronchitis, pneumonia, chest trauma, and more. These medical specialists work alongside nurses and doctors, often using high-tech medical equipment like ventilators and are vital members of the code and rapid response teams.

Read more about what respiratory therapists do here.

How have respiratory therapists helped during the Coronavirus pandemic?
Respiratory therapists work in the critical care areas with the more serious respiratory-impaired, COVID-19 patients that require advanced and life-sustaining ventilator care. They regularly complete a variety of jobs and tasks throughout their daily duties. Some of these can include:
Examining and interviewing patients suffering from cardiopulmonary complications and disorders

Developing treatment plans through working with doctors

Measuring lung capacity through diagnostic testing

Treating patients using a wide range of treatment options, including aerosol medications and chest physiotherapy

Participating on the Code/Rapid Response Team and providing basic and advanced cardiopulmonary life support

Maintaining natural and artificial airways

Teaching patients how to properly use and take medications


Showing patients and monitoring how basic pulmonary equipment, such as ventilators, work
COVID-19 has amplified the need for and importance of respiratory therapists across the country. The virus can cause a condition known as acute respiratory distress syndrome (ARDS), which results in a stiffness of the lungs, difficulty breathing, and a low blood oxygen level. The common denominator in virtually all critically-ill COVID-19 patients is an oxygenation problem. When symptoms are severe enough, patients suffering from COVID-19 might require high-flow oxygen or need to be intubated and put on a ventilator.

The key role ventilators play in supporting patients fighting COVID-19
Ventilators are complex and sophisticated machines that help patients breathe. They take over the natural process of breathing and help get oxygen to the lungs. After intubation, where a tube is inserted into the airway, the ventilator is set at a rate, volume/ pressure, and percentage of oxygen and end expiratory pressure, so the lungs don't have to work as hard. For the sickest of the COVID-19 patients, ventilators could mean the difference between surviving the virus and death.

Many medical facilities across the country have faced a lack of ventilators and personal protection equipment (PPE) to protect medical workers on the front lines. To help, Gwynedd Mercy University donated ventilators and PPE to local hospitals in need. Read more about that here.


Are respiratory therapists in high-demand due to COVID-19?
Respiratory therapists have always been in-demand, even prior to COVID-19. Yet while they've been a central component of the healthcare industry for decades, the importance of what they're doing now, to combat the pulmonary complications resulting from the virus, is unprecedented.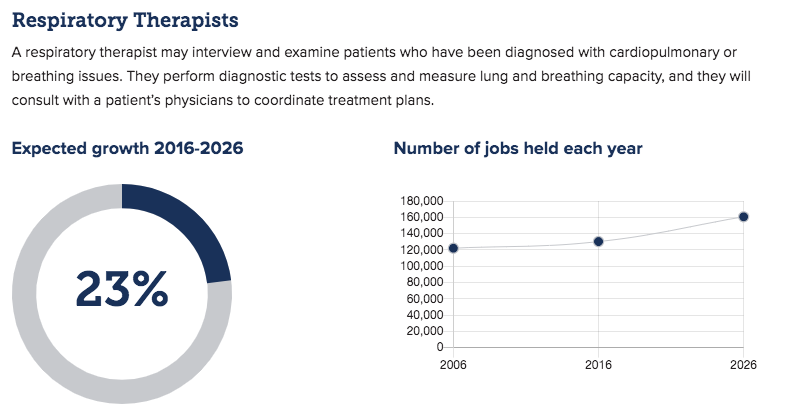 Respiratory therapists understand all the intricacies of mechanical ventilation technology. They're familiar with how to set up the machines and they understand how they work. Perhaps most importantly, they know how to troubleshoot them and address the ventilatory complications brought on by the Coronavirus. In fact, according to the American Association for Respiratory Care (AARP), respiratory therapists go through more than 900 clinical hours of training, plus didactic and lab instruction on oxygen delivery, aerosol therapy, pharmacologic agents, pulmonary diagnostic testing, and mechanical ventilation.
But there's more to their value and experience than just the mechanics of the machines. "[Respiratory therapists'] education also goes beyond technology as we teach them how to interface the ventilator with the particular needs of the patient," said GMercyU Respiratory Care Program Director William (Bill) Galvin, MSEd, RRT, CPFT, AE-C, FAARC of his program.
As GMercyU's Class of 2020 graduates this month, Professor Galvin said his graduating students are ready to jump in and help out. "Their role will be significant, as they will provide care to the less critically-ill hospitalized patients suffering from asthma, COPD, pneumonia, etc. that need breathing treatments, oxygen therapy, etc. This will allow the more experienced and seasoned therapists to work in the units with the more gravely ill."
All of the graduates immediately secured employment at prestigious healthcare institutions including Penn, Jefferson, CHOP, the Lehigh Valley Health Network, and more. GMercyU faculty were instrumental in having the Pennsylvania State Board of Medicine issue temporary permits for the students to start working even before graduation. The students are excited to get started and play a role in quelling the crisis, said Professor Galvin, adding, "The faculty are proud of them."

Start your career in respiratory care at GMercyU
There's never been a better time to start on the path to a career in respiratory care. If you're interested in finding out more about what it takes to become a part of this incredibly important, essential part of the healthcare industry, GMercyU's program is among the best in the country.
GMercyU students have a 100% pass rate on the Certified Respiratory Therapist exam (administered by the National Board for Respiratory Care) and our Registered Respiratory Therapist exam pass rates exceed the national average by more than 20%. GMercyU has been nationally recognized by the Commission on Accreditation for Respiratory Care (CoARC), receiving the Distinguished "RRT Credentialing Success Award" with a 90+ percent pass rate. Our dedicated faculty and professional leaders strive to offer the best in professional development and growth for our students. We offer all the classes, training, and development in a state-of-the-art lab and simulation center that you need to start your career as a respected respiratory therapist. It's not just a degree, and it's not just a job — it's the start of a lifelong journey you can be proud of.
Find out more about our Associate of Science in Respiratory Care here, or our Bachelor of Health Science in Respiratory Care here.