What Does a Respiratory Therapist Do?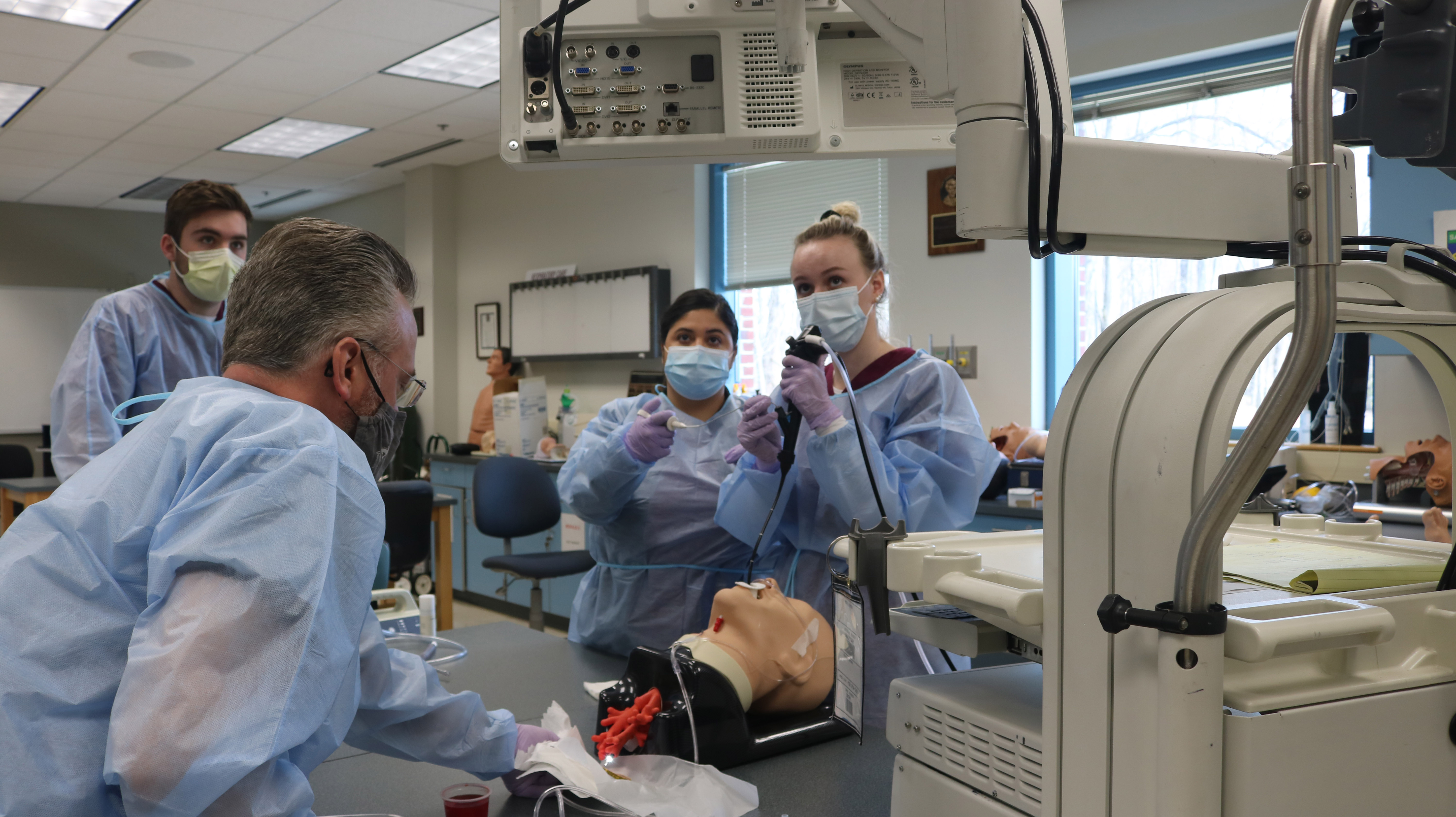 A respiratory therapist (RT) is trained to help people with lung diseases or disorders that can result from a myriad of issues. They treat patients dealing with pulmonary distress due to complications from asthma, bronchitis, COPD, pneumonia, chest trauma, prematurity, lung cancer, and more. Respiratory therapists are in high-demand, too, with industry growth projected to be at least 23 percent over the next decade according to the U.S. Bureau of Labor Statistics.
Future respiratory therapists can earn an Associate of Science in Respiratory Care degree and entry-level certification as a Certified Respiratory Therapist (CRT) to begin a career in the field. Those pursuing leadership roles can earn a Bachelor of Health Science in Respiratory Care degree and the highest level of credential as a Registered Respiratory Therapist (RRT).
Interested in learning more about the life of a respiratory therapist? Read on, as our career guide covers everything you need to know about this rewarding career path. We'll cover:

What Is a Respiratory Therapist?
A respiratory therapist is trained and skilled to assess, diagnose, and treat patients who have difficulty breathing. They work with people of all ages, from infants to the elderly, in conjunction with physicians and nurses to come up with treatment plans aimed at best helping restore as much natural breathing function as possible.
From initial interviewing and examining, to teaching patients how to administer treatments on their own, respiratory therapists are a critical component in helping people living with cardio-pulmonary disease and disorders.

Respiratory Therapist Job Description
A day in the life of a respiratory therapist can involve meeting and assessing new patients, as well as administering treatment to and following up with existing patients. RTs work in a variety of healthcare settings, including hospitals, clinics, physicians' offices, critical care units, neonatal intensive care units, ERs, and even in patients' homes. RTs should be detail-oriented, patient, compassionate, and possess stellar interpersonal skills as they interact with vulnerable patients who often need as much genuine comfort as they do medical treatment.


What Does a Respiratory Therapist Do? An Expert Explains
GMercyU's Respiratory Care Program Coordinator Randy Solly MS, RRT, RPFT, AE-C gives an overview of respiratory therapy and why it makes a great career path:
Respiratory Therapist Job Duties
Respiratory therapists have a wide range of duties throughout their days. A typical day or shift can consist of: 
Meeting with and examining patients who have pulmonary diseases, disorders, or complications 
Conducting, performing, and analyzing diagnostic and function tests to assess lung capacity and capability
Working with physicians and nurses to create treatment plans
Treating patients with aerosol medications and chest physiotherapy
Evaluating progress of treatment
Administering inhalants
Documenting care by updating charts and records
Operating mechanical ventilators and other machines
Completing discharge planning by working with other members of the medical team
Training patients how to administer treatments and use equipment on their own
Recommending equipment and treatment for outpatient or home health
Protecting patients (and other healthcare employees) through stringent protocols

How Much Do Respiratory Therapists Make?
The average annual respiratory therapist salary in the U.S. is $70,540. Those with a more advanced RRT certification typically earn more than entry-level CRTs. Most respiratory therapists work full time, and they can work shifts during "normal" business hours, or they may work shifts during nights and weekends.

Where Do Respiratory Therapists Work?
There is opportunity for work in a multitude of medical settings in addition to hospitals, including outpatient and long-term nursing care facilities. Some RTs even travel to patients' homes for home health visits. RTs can work long days, and often spend more hours on their feet than some other professions, but hours and work weeks can be flexible.
Regardless of where a job is, RTs will perform similar duties for patients. That said, certain settings may demand slightly different focuses on care. For example, RTs working in a nursing home will work with the elderly, whereas in a neonatal intensive care unit, the care for newborn and premature babies could look very different.

Respiratory Therapist Workplaces
Responsibilities can be based on where an RT works.
Hospitals -

 

By far the most common workplace environment for an RT, treating patients who have the most need. Therapists often are members of the code/rapid response team, assisting with endotracheal intubation, airway care, cardiopulmonary resuscitation, and management of a trauma patient. Additionally, they perform pulmonary function testing to determine disease state and course of treatment, drawing blood samples and performing chest physiotherapy to remove mucus from the lungs. They can also administer therapeutic gases and administer medications for asthmatics and patients suffering from COPD. Finally, they institute, monitor, and maintain mechanical ventilators for patient on life support.
Pulmonary Rehab Clinics -

 

An outpatient respiratory therapy office is a place where patients with pulmonary complications can go for check ups, treatment, and breathing therapy. Respiratory therapists there could perform a range of duties, including counseling, educating, and rehabilitating to help patients breathe more easily.
In-Home Care -

 

RTs can do at-home care for patients who have a difficult time or are unable to get to a physical location. They can help train patients and families on machines and equipment for breathing assistance.
Sleep Disorder Centers -

 

Respiratory therapists who work at sleep disorder centers can help diagnose and prepare treatment plans for those with sleep disorders. They run in-lab sleep studies and work with patients who may have pulmonary disorders like obstructive sleep apnea.

Ideal Skills for a Respiratory Therapist
Like most jobs in the healthcare profession, respiratory therapists need to have a unique skill set that allows them to multitask while remaining hyper-focused on the needs and conditions of their patients. All respiratory therapists should have the following skills:
Verbal communication skills
Calm bedside manner
Compassion
Deep understanding of infectious control
Ability to work with a medical team
Good judgment and quick decision-making ability
Time management skills
Physiological knowledge
Patience and ability to teach and train patients
Detail oriented
Science and math skills

How to Become a Respiratory Therapist
Making the decision to go into respiratory care is exciting. You're committing to a world where your help and knowledge will save the lives of countless patients over the course of your career. To become a respiratory therapist, you'll need at least an associate degree, but many RTs choose to get their (and some employees will favor) bachelor degree.
Accredited schools have RT programs that include clinical components in addition to basic education, so you can not only complete course credit, but also get the necessary supervised training in practical experience with patient treatment. Actual requirements can vary by state, but licensure is required almost everywhere (Alaska is the exception). Learn more about how to become a respiratory therapist with Gwynedd Mercy University today.

Become a Respiratory Therapist with GMercyU
GMercyU students have a 100% pass rate on the Certified Respiratory Therapist exam (administered by the National Board for Respiratory Care) and our Registered Respiratory Therapist exam pass rates exceed the national average by more than 20%. GMercyU offers leading respiratory therapists programs that have been nationally recognized by the Commission on Accreditation for Respiratory Care (CoARC), receiving the "Distinguished RRT Credentialing Success Award" with a 90+ percent pass rate.
In 2023, GMercyU was just one of 10 schools of 400+ respiratory programs nationwide to receive the APEX award, meeting stringent quality and educational criteria.
Students have two options to choose from - an Associate of Science (AS) or a Bachelor of Health Science (BHS) in Respiratory Care.