How to Become a Business Operations Manager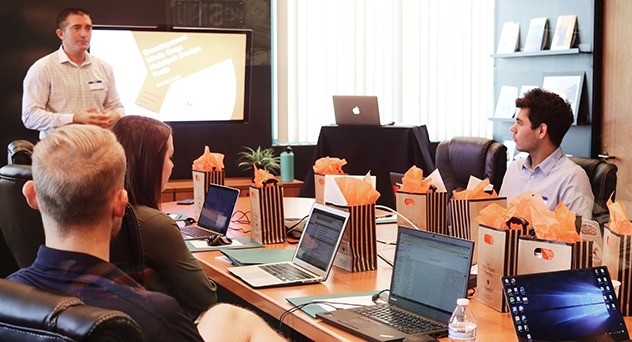 Interested in advancing your business career to the management track? You may be interested in becoming an operations manager. While this job title may sound a little vague at first, in reality, operations managers play a crucial role in business effectiveness. They also have the opportunity to wear a variety of "hats" by managing supply chain, financial, and HR issues to maximize production efficiency.
According to the U.S. Bureau of Labor Statistics, demand for general and operations managers is projected to grow by 5.8% over the 2019-2029 period — growth that could lead to as many as 143,800 new jobs. What's more, U.S. News & World Report ranked business operations manager as #11 in its Best Business Jobs listings for 2021.  In this article, we'll explain more about what operations managers do, who can qualify to become an operations manager, and how to start a career in operations management.
What Is an Operations Manager?
An operations manager is a member of the management team who is responsible for overseeing the day-to-day functions of a workplace. This can vary depending on the nature of the business. For example, the operations manager at a financial services firm will have different concerns than the operations manager at a pharmaceutical manufacturing plant.
Regardless of the industry they work in, operations managers play a critical role in keeping their organizations on track to meet their goals. Each and every day, operations managers coordinate and direct multiple departments to ensure the company carries out its primary mission, whether that mission involves health care, construction, or industrial production. 
 
What Does an Operations Manager Do?
Every day, operations managers will work with people in multiple departments to ensure their business or organization functions effectively. They will also make longer-term strategic decisions to improve operations and confer with other members of the management team about business goals and needs they can help support through process improvements and other decisions.
Specific responsibilities may include:
Reviewing performance data to assess operational progress towards goals, determine areas of improvement, and identify potential areas for cost reduction
Directing administrative, IT, and financial activities to ensure efficient operation of the business or department
Evaluating suppliers and the supply chain to ensure necessary goods and services are being provided in line with budgets
Directing and/or coordinating human resource management, including hiring, performance evaluation, assignments, and scheduling
Setting departmental policies, goals, objectives, or procedures in conjunction with board members, organization officials, or staff members
Skills Needed to Become an Operations Manager
Because operations managers oversee so many different functions in their work, you will need a versatile set of knowledge and skills in order to become one. These can include:
Business communication skills, including report writing, giving presentations, contributing to policies or training documents, chairing meetings, and active listening
Financial analysis and financial management capabilities, including interpreting financial statements, gathering and evaluating financial data, creating budget forecasts, and more
Supply chain management skills, including pricing, purchasing, supplier evaluation, etc.
Project management skills, including budgeting, procuring resources, troubleshooting, and so on
Strategic planning skills, including critical thinking, forecasting, etc.
Steps to Becoming an Operations Manager
To become an operations manager, you will need a college degree — at least a bachelor's degree, although candidates with a master's degree or a master's-level graduate certificate may have better prospects in the job market. For example, GMercyU's online MBA in Strategic Management and Leadership offers an advanced suite of skills that can apply to operations manager jobs in many industries. 
This next section looks at steps you can take to become an operations manager. 
Step 1: Earn a Bachelor's Degree Related to Business and Operations Management
Complete a bachelor's degree in business administration or business management. If possible, choose a program that offers electives or a minor/concentration in supply chain management. Once you've graduated, you can pursue entry-level management roles (Step 2) or progress straight to an MBA-level program (Step 3). 
At GMercyU, we offer a "4+1" MBA pathway that can take you from a bachelor's degree straight into our MBA program. With just an extra year of study, you can complete an MBA and enter the job market with an advanced degree.
Step 2: Gain Work Experience in Management
Look for roles involved in managing supply chains, personnel, or supporting a more senior operations manager. If you can gain experience within a particular industry, that can also be helpful — having a few years of experience with the needs of a specific sector can help you define yourself professionally later.
Step 3: Earn an Advanced Degree or Graduate Certificate
After gaining three to five years of progressive experience in operations, consider earning your Master of Business Administration or a graduate certificate that teaches MBA-level content related to strategic leadership, operations management, or supply chain management. 
GMercyU offers both an MBA and a Graduate Certificate in Strategic Leadership. Delivered online, these programs provide specific knowledge and skills that can help you prepare for a career in operations management — skills you can apply in your workplace right away, thanks to the convenience and flexibility of virtual education.
Step 4: Earn Industry Certification in an Operations Management-Related Area (Optional)
Finally, to help raise your profile as you pursue your operations management career, it can help to obtain industry certification. The Association for Supply Chain Management (ASCM) is the main association for operations management professionals in the United States. It offers a range of industry certifications you can pursue as you build experience and complete additional professional development. These are optional, but can enhance your resume and demonstrate to employers that you're committed to becoming the best possible operations manager you can be.
 
Start a Career in Operations Management with GMercyU!
We hope this guide to becoming an operations manager has helped you gain insight into this varied and exciting career field. If you're interested in earning an accelerated online MBA that can prepare you for operations management jobs, take a look at our online MBA in Strategic Management and Leadership today!