William Allen
Criminal Justice 2022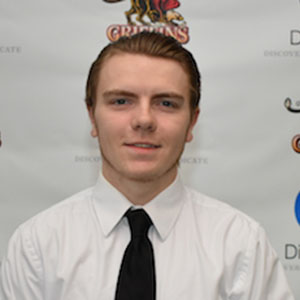 Current Position: GFCC Screening Analyst IV, JP Morgan Chase & Co.; Master's Degree in Global Affairs student; Middle School Boy's Lacrosse Head Coach


At GMercyU, you can explore your passions while getting involved with clubs and organizations at the same time.
Story posted: Summer 2022
Job titles updated: Fall 2023

When first looking for colleges where he could play lacrosse, William originally considered a couple of larger state schools, but GMercyU's smaller, more close-knit size appealed to him. Getting to meet GMercyU's former Head Lacrosse Coach Dana Lindstrom, the team, and learning more about GMercyU's Criminal Justice program really hooked him.

"Doc's [McGrain] Criminal Justice program fit well with my career aspirations at the time. The main selling point for me was Coach Lindstrom and the way he portrayed his program and the culture of his team," William said.


Why Criminal Justice?
"I always liked detective shows, the idea of solving problems where I didn't have to use math," William said. "My favorite television show [in high school] was Dexter, and I fell in love with the investigations and various other parts about being a detective."
As a Criminal Justice major, one of the things he loved most about the program was the breadth of topics covered.

"Through all of the classes you take with Doc [McGrain] and other professors, they really open your eyes to the different paths you could take. It's not as straightforward as other majors - there's so much to explore and experience, and that's what I liked most about it," William said.


Experience in the Honors Program
In addition to majoring in Criminal Justice, William was also a member of the Honors Program at GMercyU.

"My Honors classes have been really diverse in subject material, from music to politics to literature," he said. "And the classes were so small — one class was just me and three other people — so you really get individualized attention. I think my favorite Honors class was 'Dangerous Books' with Professor Clinton. I think I wrote the best paper I've ever written for that class, where I had to connect different 'dangerous' texts by different authors to each other."

GMercyU's Dangerous Books Course exposes students to a "dangerous" canon of works that have been regarded at various points in history as being prohibited, radically transformative, and/or subversive. Students analyze these texts according to their philosophical content and historical context and assess their enduring impact on society.


Internship Experience
During his time at GMercyU, William completed two internships. He worked with the Delaware Department of Natural Resources and Environmental Control as a Seasonal Park Patrol Officer. In this role, he assisted the full-time police officers with law enforcement issues and performed administrative duties within the parks in northern Delaware.

His second experience was with the Department of Homeland Security within their investigations unit. William assisted special agents with a number of cases where he did some surveillance work and transcribed interviews.


Getting Involved on Campus
During his junior and senior years, William served as President of the Student Athlete Advisory Committee (SAAC). He was also a four-year member of the Men's Lacrosse program.

He also served as the Co-Founder and President of GMercyU's Adventure Club, where the organization was able to "adopt" Evans Road, an accomplishment William was particularly proud of. "As a club based in outdoor activities and knowing the Sisters of Mercy's Critical Concerns, particularly for Earth, we decided to try and join the PA Adopt-A-Highway Program."
Fortunately, Evans Road was an available option. 

"Essentially, what adopting means is having a little control of the entire section of road from Sumneytown Pike to Welsh Road. Twice a year, we conduct clean-up activities along the entire stretch of road," William said. The club also got sign-ups within the community to not only promote the club, but to increase GMercyU's presence within the community.

William also completed the Griffin Student Leadership Institute of Exceptional Leaders Program and was a member of Student Government Association (SGA). Additionally, he served as a peer tutor within the Student Success Center.

He was inducted into three honor societies: Alpha Phi Sigma, the National Criminal Justice Honor Society; Sigma Phi Sigma, the National Mercy Honor Society; and Chi Alpha Sigma, the National Student-Athlete Honor Society.

As resident student, William had the same roommate for all four years. "We hit it off immediately. I don't think he appreciated when I had to wake up at 6 a.m. for training for lacrosse," said William, laughing, "but we got along great."

At the 2022 Honors Convocation Ceremony, William was awarded with the Outstanding Student Leadership Award.



Post-Graduation
William graduated from GMercyU in 2022. He is currently in the process of securing a position with JP Morgan as a Client List Screening Analyst.
I am most excited to start my career in anti-money laundering and use the education I received from GMercyU in a constructive way.
In Fall 2022, he will pursue a Master's in Global Affairs degree with a concentration in Transnational Security from New York University.

"My favorite part of my experience at GMercyU was the ability to learn new things and evolve my interests over the four years. Through not only my Criminal Justice classes, but my Computer Information Science and Honors Program classes as well, I developed new interests that I do not think I would have otherwise. GMercyU grants a kind of freedom to explore that, to me, is very valuable," he said.