Stephanie Holtz
Education 2017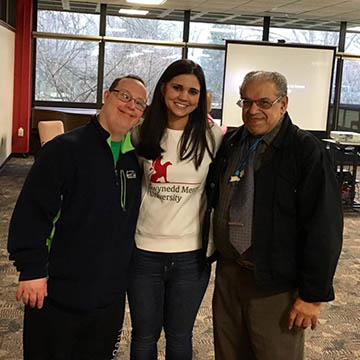 Current Position: Special Education Teacher in Pennsylvania
Story Last Updated: May 2016
Current Position Updated: March 2019

In my college search, I visited many schools, but I immediately felt when I got to Gwynedd Mercy University that the atmosphere was very different to the other schools. I loved the size of the campus. My first visit to campus, I met the education department and the amazing professors. After speaking to the professors, I knew that GMercyU was where I wanted to be.

From the start, my relationship with the professors felt like a family. Each professor truly shows how much they care about you, not only as a student but as a person. The passion and motivation for teaching show each day with the professors I have gotten to know. As a student of GMercyU, you get to know your professors on a personal level, and they are always your biggest supporter.

During my first visit, I learned about the courses offered at GMercyU. Each course has evolved from the Mercy Core Values, in which collaboration serves as a key factor. In the education department, I was immediately impressed by the Teacher Apprentice Program. With this program, I had the opportunity to experience teaching in the classroom, beginning my freshman year. I was able to collaborate with amazing faculty and staff in different settings. This clearly differentiates GMercyU from other schools and reassured me that I had made the right choice.

GMercyU has broadened my knowledge of education, and specifically special education. I have had the opportunity to attend the Autism Conference since freshman year. This conference enlightened me on many of the topics I was already curious about. At the conference, I was able to learn so much more about special education. I have brought that into my student teaching and it has taught me more about autism and other special needs. It has been very beneficial to all aspects of teaching.
The Education program at GMercyU is great because the faculty implements the most innovative resources. The professors are always staying up-to-date with best practices to meet the needs of all learners.
Throughout my TAP program, I have worked in many schools teaching in fourth grade, first grade, kindergarten, and special education. Last semester for pre-student teaching, I was in an autistic support preschool classroom at Easter Seals, where I learned many valuable strategies. This semester for student teaching, I am at Skippack Elementary in Kindergarten. I have had the opportunity to work with my Kindergarten teacher, which has been an amazing experience. Since five years old, she has been my role model and has not only provided me with strategies for the classroom, but most importantly life lessons for the future. Being able to co-teach with her was extremely gratifying for me.

GMercyU is a campus with a mission centered around service. This was a great fit for me because I want my mission in life to be one of service and helping others. As I approach graduation, I am able to look back and reflect on the values, which GMercyU has provided me the past four years.
The values I will take with me in my career as a teacher include: a responsibility to help others, the fostering of compassion and mercy, and the concept of education being an ongoing process, in which we create an active role in society. I am proud to be on a path to becoming a Distinctive Mercy Graduate.
I believe my superpower is helping others, which is truly my passion in life. While at GMercyU, I became deeply involved in our chapter of Best Buddies. I was given the opportunity to be the Secretary and Membership Coordinator. I was then promoted to President for my last two years. This organization has opened my eyes to the incredible possibilities that lie in Special Education. My mission in life is to spread awareness. I wish to impact the lives of those with special needs, as they have changed mine. My desire to teach stems from my passion to make a difference and promote inclusion in all aspects of my life. GMercyU has reassured me that I have chosen a major, in which I can truly make a difference in life.